Want to know how to travel in style, just like the pros? We check in with frequent fliers to find out how often they fly, their favorite destinations and what they never leave home without.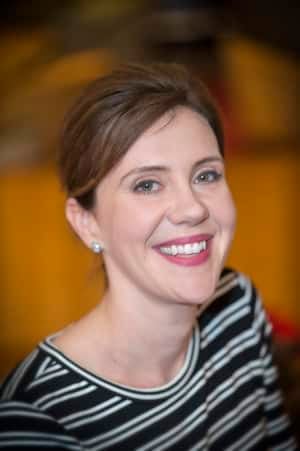 Name: Carley D. Thornell
Occupation: Director of Product Marketing at Vantage Deluxe World Travel and freelance travel/food writer
Hometown: Boston, MA
Residence: Melrose, MA (hottest zip code in the US, according to Realtor.com!)
College: University of Massachusetts
College major: English & History double-major
Facebook: Carley Thornell
Short bio: Carley Thornell's work as a travel writer and journalist has appeared in such outlets as The Boston Globe, the Boston Herald, Boston Magazine, Shermans Travel, TravelAge West, and the Eagle-Tribune, where she was on a team that won a Pulitzer Prize. In the past four years, she's been to more than 25 countries, where the hunt for street foods like okonomiyaki pancakes in Japan and the perfect pisco sour in Chile has led to several adventures. Most recently she started blogging for OpenTable restaurant reservation service, which includes tasty research in her hometown of Boston.
LinkedIn: Carley Thornell
How often do you fly? I love to fly as much as possible (at only 5'4" I fit into the seats!); and am amazed at how neatly everything is packaged into those tiny meals and what the total stranger sitting next to you will share on an overnight.
How many countries have you been to? 25 in the past 4 years.
How many continents have you been to? 5
Earliest travel memory: New Hampshire to go camping—I'm making up for lost time since my family didn't travel much when I was a kid.
Favorite American city: I have a deep and abiding love for my hometown of Boston; in three words it's historic, walkable, fervent.
Favorite international city: Kyoto, Japan.
Least favorite country: Dubai…although it's technically an Emirate.
I have no desire to go to: I didn't travel much as a kid, so there's almost no place I won't aim to get a passport stamp for (although I try not to repeat a destination).
Friendliest people in the world: Tanzanians, who will always wish you jambo jambo.
Country with the meanest immigration officers: Germany (although in their defense I'm always arriving at 5 am after the overnight on Lufthansa!).
Favorite World Heritage Site: The 19 working windmills of Kinderdijk, the Netherlands.
Favorite airlines: KLM, Lufthansa, Latam.
Favorite aircraft type: Any one where I'm not in the center row.
Aisle or window: New convert to aisle (interestingly, I recently met an oddball who is a middle-row fan).
Favorite airport lounge: Any lounge I have access to!
Favorite U.S. airport: Charlotte (when you could eat a Krispy Kreme in a rocker).
Favorite international airport: Schipol, Amsterdam.
Favorite hotel: Hotel Des Indes, The Hague, Netherlands; Waldorf Astoria, Chicago.
Favorite cruise line: My day-job would probably not be happy if I didn't say Vantage River Cruise Line…
Favorite travel credit card: United MileagePlus Explorer.
Favorite island: Iceland.
Favorite beach: Coki Beach in St. Thomas, or any place where my best girlfriends dip their toes in the sand with me.
Favorite fancy restaurant: While not "fancy," Sarma (in Somerville, MA) is special—the creative Turkish meze and cozy, vibrant atmosphere never fails to teleport me to a grand bazaar.
Favorite hole-in-the-wall: JJ Foley's is a neighborhood place where all the Boston journalists hang that's been in the same family for over a century; it has great food and perfect Guinness pours.
Favorite bar: Ballet barre.
Favorite fruit: The easily portable banana.
Favorite food: The steak at Alto El Fuego Parrilla in Bariloche, Argentina, puts all others to shame.
Least favorite food: I don't have any least favorites, pray for my waist!
Drink of choice (in the air and on the ground): Water.
Favorite travel movie: The Secret Life of Walter Mitty.
Favorite travel show(s): Anthony Bourdain: No Reservations.
Favorite travel book(s): I have a DK Eyewitness guide for every country I've been to.
Right now I am reading: "The Accidental Tourist."
Top 3 favorite travel newsletters/magazines/blogs: Travelzoo, Travel + Leisure, Sunday Boston Globe travel section.
Favorite travel website(s)—besides JohnnyJet.com, of course! TripAdvisor.
5 things you bring on a plane: Noise-canceling headphones, reusable water bottle, Bucky 40 Blinks Sleep Mask, gum/mints, inflatable Bucky pillow.
What do you always seem to forget? Nothing—my fatal flaw is overpacking.
What do you like least about travel? Screaming babies on overnight flights.
What do you want your loved one to buy you from an airport Duty Free store? Anything from a boutique in Barcelona, where the airport shopping is basically an airport Champs-Élysées.
Favorite travel app(s): White Noise has helped me fall asleep in noisy hotels in most countries.
Most embarrassing travel moment: Getting escorted briskly through TSA with a heavy-duty frisk thanks to the driver service cleaning supplies that set off a bomb scanner.
I'm embarrassed I haven't been to: I've been all over the world, but I've never visited one of Massachusetts' most iconic locations: Martha's Vineyard.
Worst travel moment: Hitting turbulence and hearing fellow flyers panic when they realized the airline didn't stock sick bags…I still have nightmares about it.
What's your dream destination? I'm excited about seeing Norway's fjords via the Hurtigruten this summer; but India has always intrigued me, too.
Favorite Travel Charity: I've been blessed to work for travel companies that have their own excellent non-profits, but because my dad was a veteran, I'm especially pleased to now work with the Vantage Heroes program.
Best travel tip: Bring sealable plastic bags for organizing, dirty clothes or shoes, and for putting in wet laundry on the journey home.