Want to know how to travel in style, just like the pros? We check in with  frequent fliers to find out how often they fly, their favorite destinations and  what they never leave home without.
Name: Candace Rose Rardon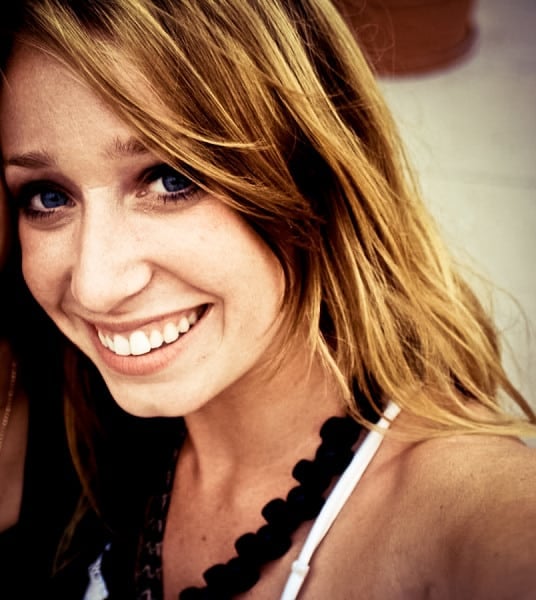 Occupation: Travel writer and sketch artist
Hometown: Suffolk, Virginia
Residence: Currently location independent (i.e. homeless by choice)
Website: CandaceRoseRardon.com
Twitter: @candacerardon
Facebook: /GreatAffairTravels
Instagram: /candaceroserardon
Short Bio: Candace Rose Rardon is a travel writer and sketch artist originally from the state of Virginia, although she has called the UK, New Zealand and India home. Five years ago, she fell in love…but with the world, not "the one." This journey has taken her from a pearl farm in the South Pacific to a rickshaw run across India. Candace's travel blog, The Great Affair, was recently featured in the New York Times, and her writing has appeared in AOL Travel, Gadling, the Huffington Post, the Guardian Weekly, and TNT Magazine, among other publications. Her first book is "Beneath the Lantern's Glow: Sketches and Stories from Southeast Asia and Japan."
How often do you fly: Around a dozen times a year – generally to and from the starting and ending points of a journey. Otherwise I travel overland as much as possible, to get a closer look at the landscapes and in-between places of a country.
How many countries have you been to: 40+
How many continents have you been to: 5 (still need to get to South America and Antarctica)
Favorite American city: Seattle – I loved the city itself, but also how easy it was to get out of town and explore areas like Olympic National Park and the Yakima desert canyon.
Favorite international city: Saigon – there's a real creative energy here that drew me in immediately. As a sketch artist, it was great to meet so many local artists and musicians.
Least favorite country: I really don't have one. I find that when I don't connect with a place, it's usually because I didn't spend enough time there, or was moving around too quickly to form a deeper connection with it. So it's more my fault, and not the country's.
Country with the meanest immigration officers: The UK's immigration officers definitely intimidate me. When I was living and working in London, I was always afraid one of my answers would throw up a red flag for them.
Favorite World Heritage Site: Giant's Causeway in Northern Ireland – it was amazing to think that the geometric columns were entirely natural.
Favorite airline: I don't fly enough with one particular airline to have a favorite, but I generally find European airlines like British Airways, KLM, and Swiss Air all offer great service and food. American airlines such as United don't seem to measure up.
Favorite aircraft type: I'm afraid I don't pay much attention to the type. As long as it has a seat-back entertainment system, I'm happy – long-haul flights are usually when I catch up on the films I've missed while traveling.
Aisle or window: Window
Favorite airport lounge: The Koru Lounge in Wellington, only because I worked in it for a few weeks while living in New Zealand.
Favorite U.S. airport: I don't fly enough domestically to have one.
Favorite international airport: Changi in Singapore – the airport's gardens are a literal breath of fresh air during long-haul flights.
Favorite hotel: Hotel La Residencia by Orient-Express on Mallorca – I could never have stayed here on my own dime, but I was grateful for the chance to review it and experience such a beautiful resort. Did I mention they have their own traditional olive oil press?
Do you unpack into the dresser/closet? Or live out of your suitcase? It depends on how long I'm staying in a place, but as often as possible I like to unpack. It helps me feel like I'm living there.
Favorite cruise line: Never been on one!
Favorite island: Ahe, a tiny coral atoll in the Tutamotu Archipelago of French Polynesia. I spent three weeks here volunteering on a Tahitian black pearl farm, Kamoka Pearls, and even got to help out with the pearl harvest.
Favorite beach: As much as I've enjoyed discovering tropical beaches around the world, my favorite beach will always be the one I grew up visiting every summer, the Outer Banks of North Carolina.
Favorite fancy restaurant: After spending ten months in India, it doesn't take much for a restaurant to qualify as 'fancy' for me. I'm not picky when it comes to food!
Favorite hole in the wall: I loved all the sidewalk restaurants in Saigon, where you can pull up a tiny plastic chair to a metal table and have a bowl of pho noodles and freshly pressed sugarcane juice for just a couple of bucks.
Favorite fruit: It's a tie between mangoes and coconuts.
Favorite food: Anything Mexican, especially if there's guacamole involved.
Least favorite food: Salmon
Drink of choice (In the air and on the ground): White wine in the air and cider on the ground.
Favorite travel movie(s): Up in the Air
Favorite travel show(s): I don't watch a lot of TV, but when I'm home, I like to catch a few episodes of House Hunters International – if that counts.
Favorite travel book(s): The Snow Leopard by Peter Matthieson and Terra Incognita: Travels in Antarctica by Sara Wheeler – both beautifully explore the intersection between the outer and inner journeys.
Right now I am reading: The Black Book by Orhan Pamuk, in preparation for an upcoming trip to Turkey.
Top 3 favorite travel newsletters/magazines/blogs: National Geographic Traveler, AFAR, and Drawn the Road Again, a fantastic travel blog by illustrator and sketch artist Chandler O'Leary.
Favorite travel website(s) – besides JohnnyJet.com, of course!: I like using Wikitravel for pre-trip research, especially their "Get Out" section at the end of each entry. And for overland travel suggestions, I always turn to Seat61.
Five things you bring on a plane: Eye mask, scarf (I'm always freezing on planes), journal, camera, and MacBook Air. I use flights to transition between places, backing up photos on my hard drive and catching up on notes before landing somewhere new.
What do you always seem to forget: Cash – I'm forever on the hunt for an ATM when I travel.
What do you like least about travel? The constant goodbyes – to friends and family before you go and to the people you then meet on the road.
What do you want your loved one to buy you from an airport duty free store? Nothing please! I'm generally on the move with only a backpack, so things like perfume and alcohol would just weigh me down.
Favorite travel app(s): Language apps for whichever country I'm visiting.
Most embarrassing travel moment: On a local train in Chennai, India, I waited too long to make my way to the door as we reached my station. Before I could get off the train, it started moving again, but I thought it would be a good idea to jump off anyways. Although I tried to find my footing, I ended up falling flat on my face in front of about 20 or 30 men. Not my finest (nor wisest) travel moment.
Worst travel moment: I seem to do a poor job of keeping valuable possessions in, well, my possession. I've had my passport and wallet stolen in Belfast, my laptop stolen in London, and my camera and passport stolen again in San Francisco.
What's your dream destination: Antarctica and Easter Island – I've got a thing for faraway, hard-to-reach places.
Favorite travel charity: While living in India, I volunteered with Jeevika Trust, an NGO that focuses on rural development in some of the country's poorest communities. They're also focused on women's empowerment, and I'm grateful to have seen their excellent projects at work first-hand.
Best travel tip: Have an idea of what you want to do and see in a place, but stay open to serendipity and the unexpected encounters it brings your way. For me, some of my favorite travel memories are of moments I didn't know to expect.