Want to know how to travel in style, just like the pros? We check in with frequent fliers to find out how often they fly, their favorite destinations and what they never leave home without.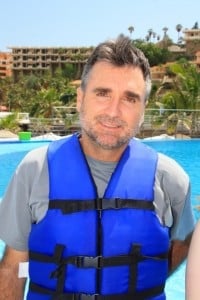 Name: Bruce Northam
Occupation: Author/Independent Travel Journalist
Hometown: Garden City, New York
Residence: Manhattan's Lower East Side
Website: AmericanDetour.com
Facebook: Bruce Northam
YouTube: American Detour
Short bio: Bruce Northam is the award-winning writer and author of Globetrotter Dogma, In Search of Adventure, and The Frugal Globetrotter. He hosts "American Detour," a show following a travel writer's journey. His visually rich keynote speech Street Anthropology is an ode to freestyle living. His latest book, The Directions to Happiness: A 135-Country Quest for Life Lessons, is now available for Kindle, with a print version soon to follow.
How often do you fly? At least twice a month, sometimes six times a month—but I'm seriously cutting back on that invitation to exhaustion.
How many countries have you been to? 130…Ps, Country Counting?
How many continents have you been to? All of them.
Favorite American city: New York (big), Bemidji, MN (small).
Favorite international city: Saigon.
Least favorite country: Tie: Aruba (near Hooters) and China (heinously air-polluted cities, wasn't always that way).
Favorite World Heritage Site: The last one I've visited: Finland's Kvarken Archipelago. Ps, Antarctica is only 'sort of' a World Heritage Site, which is unfortunate.
Favorite airline: British Airways.
Favorite aircraft type: The one that puts me in a flat-bed.
Aisle or window: Aisle (in party mode), window (in sleep mode).
Favorite airport lounge: All of them at JFK, means I'm outbound in style.
Favorite U.S. airport: Denver.
Favorite international airport: Hong Kong.
Favorite hotel: I prefer mid-range, cozy, non-franchise hotels (dislike: hotels with marble floors).
Favorite cruise line: Princess (commercial, in Alaska), or the rustic expedition ships I've sailed to Antarctica.
Favorite island: Grenada.
Favorite fancy restaurant: Pinalito City (Houston St., New York).
Favorite hole in the wall: 169 Bar (East Broadway, New York).
Favorite fruit: Blueberries.
Favorite food: Expertly crafted mashed potatoes next to chunky scallops.
Least favorite food: Hands down: liver.
Drink of choice (in the air and on the ground): Fresh-squeezed orange juice and (later) a crisp lager.
Favorite travel movie(s): Papillon.
Favorite travel show(s): Pole to Pole with Michael Palin, Ian's segments on Lonely Planet series.
Favorite travel book(s): Anything by Tim Cahill or Bill Bryson. By the way, Mark Twain and Thoreau were also travel writers.
Right now I am reading: My next book…"The Directions to Happiness: A 135-Country Quest for Life Lessons."
Top 3 favorite travel newsletters/magazines: National Geographic, Outside, Men's Journal.
Favorite travel website(s)—besides JohnnyJet.com, of course! Google's world news, favorite musician's tour schedule, perceptivetravel.com.
5 things you bring on a plane: Earplugs, extra water, fleece pullover, instant depression (if in coach), and a to-do list to build.
What do you always seem to forget? At least one of my dozen passwords.
What do you want your loved one to buy you from an airport Duty Free store? Chocolate that I can re-gift or simply hand back over to the gifter.
Favorite travel iPhone app(s): When away from my bulky laptop I avoid small screen time as much as possible. A few pals enjoy happyhours.com.
Most embarrassing/worst travel moment: Being Nice to Strangers
What's your dream destination? Bhutan, auto-free New York City.
Favorite travel charity: Global Grassroots.
Best travel tip: On any journey, the first thing we pack is ourselves. And, oh yeah, if you're online the whole time you're not really traveling…