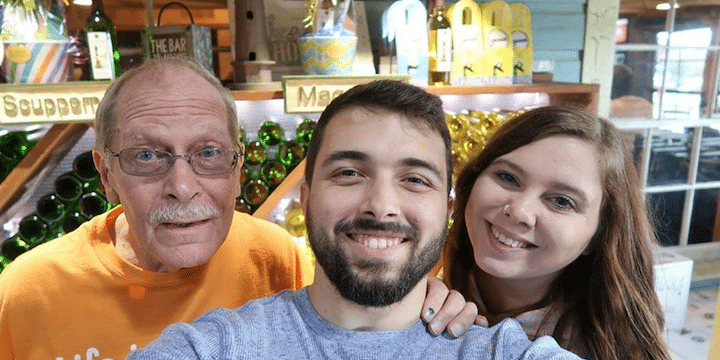 Want to know how to travel in style, just like the pros? We check in with frequent fliers to find out how often they fly, their favorite destinations and what they never leave home without.
Name: Bill Widmer
Occupation: SEO Consultant & Affiliate Marketer 
Hometown: Scranton, PA
Residence: Traveling in an RV
College: Penn State
College major: Business Marketing & Management
Website: thewanderingrv.com
Twitter: @TheBillWidmer 
Facebook: Bill Widmer 
Pinterest: The Wandering RV
Short bio: Bill Widmer is a digital marketing & SEO expert. He loves traveling, e-sports and spending time with his wife, Kayla.
How often do you fly? Not that often; we do most of our travel by RV.
How many countries have you been to? Just two.
How many continents have you been to? Just one.
Earliest travel memory: Flying solo cross-country as a kid from PA to Montana to visit family. It was scary, but exciting!
Favorite American city: Has to be Portland, Maine. We absolutely love Maine; it has everything from beauty mountain hiking to beaches, great food, awesome local entertainment, and more!
Favorite international city: Can't say I have one yet.
Least favorite country: Again, can't say I have one yet.
I have no desire to go to: Guam.
Friendliest people in the world: Anyone in Acadia National Park in Maine! They were all super helpful and friendly.
Aisle or window: Window! I love looking out.
Favorite hotel: Radisson.
Favorite travel credit card: American Express.
Favorite island: Hawaii! Specifically, Maui.
Favorite beach: Also Maui.
Favorite National Park: Acadia National Park (got engaged there!)
Favorite fancy restaurant: The Inn On Peaks Island, Maine.
Favorite hole-in-the-wall: Voodoo Tiki Bar & Lounge in Charleston, SC.
Favorite bar: n/a (not much of a bar-goer).
Favorite fruit: Orange.
Favorite food: Curry.
Least favorite food: Octopus.
Drink of choice (in the air and on the ground): Corona.
Favorite travel movie(s): Wild.
Favorite travel show(s): Anthony Bourdain: Parts Unknown.
Right now I am reading: "Loonshots: How to Nurture the Crazy Ideas That Win Wars, Cure Diseases, and Transform Industries."
Top 3 favorite travel newsletters/magazines/blogs: n/a (don't subscribe to any)
Favorite travel website(s)—besides JohnnyJet.com, of course!
5 things you bring on a plane:
Pillow (looks weird, but this thing is awesome)
My laptop
Noise-canceling headphones
A collapsible water bottle with a filter
A snack (nuts & seeds, snack bar, etc.)
What do you always seem to forget? Shampoo. 
What do you like least about travel? Being stuck in a car/RV/plane seat for long hours. I hate sitting without being able to move around or do much.
What do you want your loved one to buy you from an airport Duty Free store? Ehh, I don't really need anything. I'd rather them spend the money for us to go out together!
Favorite travel app(s): GasBuddy, Roadtrippers, Walmart Overnight Parking.
Most embarrassing travel moment: We had a crappy little 75CC scooter on the back of our RV for short trips around town. We decided to drive it over 50 miles into the city from our campground. On the way back, it broke down and we had to call another couple we just met at the campground to come pick us up. Luckily, they had a truck that could tow our scooter back!
I'm embarrassed I haven't been to: Anywhere outside the U.S., really! We need to up our international travel game! We've seen a lot of the U.S., but not much of the rest of the world.
Worst travel moment: The scooter incident was one of the worst. Aside from that, we accidentally cut a guy off in our RV and he almost pulled a gun on us. We had to keep driving a few hours in the middle of the night to find somewhere to stay and make sure he wasn't following us. It was horrifying!
What's your dream destination? Right now, either Bali or Greece. Both are on my must-see list. 
Best travel tip: Know your route ahead of time. Knowing where you're going and how you're getting there makes room for spontaneity and takes away some stress, especially if you're traveling as a couple.