Want to know how to travel in style, just like the pros? We check in with frequent fliers to find out how often they fly, their favorite destinations and what they never leave home without.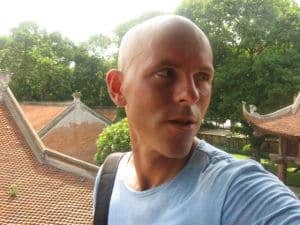 Name: Andrew Bliss
Occupation: Kids adventure book author, owner of The Adventurous Mailbox
Hometown: Cincinnati, OH 
Residence: Tainan, Taiwan
College: Undergrad: Ohio University; Grad school: St. John's College, Santa Fe
College major: It changed so much I forget what I finished with
Website: TheAdventurousMailbox.com
Twitter: @mailadventure
Facebook: The Adventurous Mailbox
Google+: Still figuring out its worth, but here it is: +Theadventurousmailbox
Short bio: After being unable to settle into a career after finishing graduate school, Andrew decided to chuck it all in and just move to the other side of the world. What started as a planned one- or two-year adventure is now in its 12th. He has lived and worked in China, South Korea, Japan, and his current home, Taiwan. Teaching in universities and writing along the way, he is also an avid learner of languages. He firmly believes that adventure can happen at any age, as can completely redefining one's life. He has recently launched a new company, The Adventurous Mailbox, which sends adventure books and cultural gifts to kids back home. They also have an online community for the little adventure seekers, as well as a complete curriculum for classroom or homeschool use. It is his hope to inspire young minds to learn other languages, embrace world cultures and lead well-examined lives.
How many countries have you been to? Pretty much everywhere in Eastern Asia, and some quick junkets in other areas. I currently have my sights set on Africa. 
Earliest travel memory: Ugh. When I was 12-years-old, my family took a month-long trip exploring western United States. In a Volkswagen Rabbit. Without air conditioning. I want to say I loved Yellowstone or the dude ranch in Colorado the most, but there was something in 12-year-old me that was thrilled by Vegas.
Favorite American city: New York, New Orleans, Santa Fe, and Cincinnati. Yes, Cincinnati!
Favorite international city: Shanghai.
Least favorite country: To travel to only, but Vietnam made for a frustrating experience. Despite its beauty, food and amazing people, it is hard to strike out on your own there. All travelers are kind of corralled through the attractions, with busses making routine shops at souvenir shops. Sapa pretty much made up for it, though.
Country with the meanest immigration officers: USA. One time, after almost two years without returning home, my greeting upon returning to my country was being admonished for choosing to live (at that time) in China. On another return home, I was pushed away when I approached the immigration official to help translate for my friend who spoke zero English. The poor guy was terrified. On my last trip home, though, a sweet lady welcomed me home and asked a million questions about my travels while flipping through my passport.
Favorite World Heritage Site: The Acropolis.
Favorite airline(s): Cathay.
Favorite aircraft type: As long as it isn't so old that it still has ashtrays, I am ok.
Aisle or window: Window.
Best flight attendant you've ever had: Surprisingly on Delta, she slipped me a couple mini bottles of red wine when I found I didn't have cash on me. I looked ragged (I was on my last domestic connection after 20 hours of travel) and she took pity on me.
Favorite U.S. airport: Newark. I say that only to break my streak of bad luck there. Lost baggage, cancelled flights, food poisoning…
Favorite international airport: Hong Kong.
Favorite hotel: I spend very little time in my hotel when I travel, so anywhere close to what I want to see and that can help with local travel arrangements is great.
Favorite cruise line: I am not very cruisey.
Favorite island: Manhattan. No, wait! Taiwan! I live there.
Favorite beach: The one five minutes from my house in Tainan, or Long Beach on Phu Quoc. The Philippines also has some amazing beaches.
Favorite fancy restaurant: Jean Robert's Table in Cincinnati.
Favorite hole-in-the-wall: 小胖 (Xiao Pang) "The fat son" in Jiaxing, China. It served home style Chinese food and had some of the best food I have ever eaten. 
Favorite bar: Any number of the crazy Hofs in Korea. Especially when they are watching soccer.
Favorite food: It is very difficult and changes often, but my favorite cuisines ranked are: 1) Thai 2) French 3) Authentic Mexican 4) Vietnamese 5) Korean.
Least favorite food: Anything with a texture described as slimy or gooey.
Drink of choice (in the air and on the ground): Red wine.
Favorite travel movie(s): Airplane!
Favorite travel show(s): An Idiot Abroad.
Favorite travel book(s): "On the Road."
Right now I am reading: "The World According to Garp."
Favorite travel website(s)—besides JohnnyJet.com, of course! For deals I like airfarewatchdog.com. I am a weather nut, too, so like to use wunderground.com to track anything major happening. There are too many amazing adventurers out there to choose a blog!
5 things you bring on a plane: Peppermints, book of NYT crossword puzzles, a stupid but page-turning book, iPad, Xanax.
What do you always seem to forget? Earphones and a pillow.
What do you like least about travel? Packing. I still haven't mastered it.
Most embarrassing travel moment: I was on a flight back to China, and was chatting to the Chinese gentleman seated next to me. His English was quite good, but I still wanted to try out the Chinese I had started studying. When he asked me what my plans were for visiting places in China, I told him I wanted to go everywhere, and that immediately my hosts were going to take me to a zoo on the following day. I told him I didn't really like zoos, and then tried in Chinese to say, "but I am very excited to see your pandas." Unfortunately, I got the tones wrong. Instead of saying xiong (rising) mao (flat) for "panda" I said xiong (flat) mao (rising), which changed the meaning of my phrase to, "I am very excited to see your chest hair." He didn't have any. 
Worst travel moment: My first encounter with a squatter style toilet, which unfortunately arrived after eating some unclean street food that caused my body to reject it as quickly and as forcibly as possible. Trial by fire…
What's your dream destination? Ecuador and all over Peru. 
Favorite travel charity: Empowering Youth Through Travel.
Best travel tip: Get lost. Seriously. If you really want to explore a new city and have it reveal its character to you, get lost and rely on help to get home. You will find that people are pretty awesome, and will definitely see parts of the city you wouldn't otherwise have seen, whether being taken to a local hangout, brought home for a meal, or offered rides around the city on the back of a motorcycle. If you are not up for getting lost, then travel alone. When you travel with a friend, the locals leave you alone. When you are alone you are much more approachable, which is when adventures can happen.