Want to know how to travel in style, just like the pros? We check in with frequent fliers to find out how often they fly, their favorite destinations and what they never leave home without.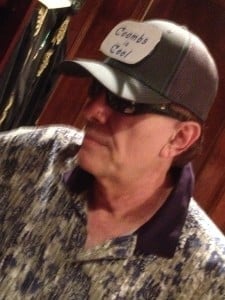 Name: Ralph W Schofield, aka Ambit Welder
Occupation: Life time in energy business 
Hometown: Houston, Texas
Residence: Houston, Texas 
Website: theadventuresofdeaconcoombs.com
Twitter: @Ambit_Welder
Facebook: Ambit Welder
Short bio: Traveled to over 50 countries and loved interfacing with new cultures, experiencing the cuisine and exploring history; I have been fortunate to make many new friends in my travels and used my travel experiences to write…The Adventures of Deacon Coombs!!!
How often do you fly? Frequently in the past.
How many countries have you been to? 50+
How many continents have you been to? FIVE (5).
Earliest travel memory: To Toronto, the big city, at age ten.
Favorite American city: Chicago and NYC.
Favorite international city: Amsterdam and Nairobi.
Least favorite country: Nizhnevartovsk (in Khanty-Mansi Autonomous Okrug, Russia).
Country with the meanest immigration officers: Oh yes, there are a few.
Favorite World Heritage Site: Rabat, Morocco.
Favorite airline: KLM.
Favorite aircraft type: Wide-bodied.
Aisle or window: Window to see the world.
Favorite airport lounge: Stranded in Zurich in a snow storm.
Favorite U.S. airport: Denver, great people mover; great facilities.
Favorite international airport: Amsterdam, a melting pot of cultures.
Favorite hotel: Please don't make me choose between the Negresco, Nice, France and Fairmont Banff Springs Hotel and The Broadmoor, Colorado.
Favorite cruise line: Sorry, I travel by land and air.
Favorite travel credit card: Mastercard.
Favorite island: Malta… love it.
Favorite beach: Somewhere in Greece.
Favorite fancy restaurant: Chantecler, Nice and Kaatje Bijde Sluis in Netherlands.
Favorite hole-in-the-wall: The Buckhorn in Laramie, Wyoming.
Favorite bar: The Breakers, West Palm Beach.
Favorite fruit: Fruit salad of ripe mangoes and papayas in Guatemala City.
Favorite food: Italian, served in Tuscany.
Least favorite food: Python in Gabon.
Drink of choice (in the air and on the ground): Chateauneuf-de-Pape wine.
Favorite travel movie(s): Out of Africa.
Favorite travel show(s): Rick Steves' Europe.
Favorite travel book(s): "Foundation Trilogy" by Asimov and "Deacon Coombs."
Right now I am reading: "The Adventures of Deacon Coombs"…5 STARS!!!!!!!!!!
Top 3 favorite travel newsletters/magazines/blogs: Travel and Leisure, Conde Nast Traveler and National Geographic Traveler.
Favorite travel website(s)—besides JohnnyJet.com, of course! REI Adventures, RhoneWineTours.com.
5 things you bring on a plane: Book, deck of cards, Sudoku, oatmeal bars, pen.
What do you always seem to forget? My antacid.
What do you like least about travel? Bad turbulence.
What do you want your loved one to buy you from an airport Duty Free store? Calvados (Boulard XO) and Armagnac (Castarede).
Favorite travel app(s): Too bad there's not an app for conversation.
Most embarrassing travel moment: Falling off a camel on a desert ride in Tunisia.
Worst travel moment: Stranded in Moscow airport in snowstorm.
What's your dream destination? Froora, Aralia.
Favorite travel charity: Ditchley Foundation, UK.
Best travel tip: There's no such thing as international; there's just everyone else's domestic, so adapt quickly!