Want to know how to travel in style, just like the pros? We check in with frequent fliers to find out how often they fly, their favorite destinations and what they never leave home without.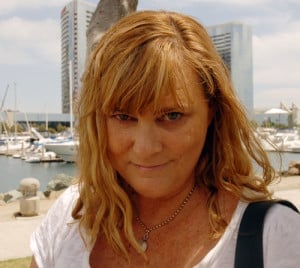 Name: Alexa Meisler
Occupation: Travel Blogger and Podcaster
Hometown: Irvine, CA
Residence: San Diego, CA
College: San Diego State University
College major: Political Science
Website: breakintotravelwriting.com
Twitter: @writetotravel & @52perfectdays
Facebook: Break Into Travel Writing Podcast & 52perfectdays
Pinterest: Alexa from 52 Perfect Days…
Google+: Alexa Williams Meisler
Instagram: writetotravel & 52perfectdays
Short bio: I'm a wife, mother, social media strategist, traveler, writer, and photographer. I'm a gluten free foodie, lover of wine (especially cabernet and bold reds), tennis fan, and devotee of Kundalini yoga.
I inherited my love of travel from my mom, my grandparents on my mom's side and my great aunt on my mom's side. Travel has been a part of my life since day one. Seriously, it was…I was born in Paris, France and travel is literally in my blood! I've worked in a youth hostel in Amsterdam, bartended in Greece and painted (not art, but walls) in Germany. I rode the Orient Express, snorkeled with dolphins, swam with whale sharks, had tea with the prince, and a whole slew of other truly memorable experiences.
I'm a travel writer and photographer and have written for Portland Family Magazine, Northwest Magazine, Healing Lifestyles and Spas, Oregon.com, 52PerfectDays, Examiner.com, and many other outlets. For me, travel is about experiencing other cultures, tasting new foods, meeting new friends—both locals and travelers—it's about expanding who I am as a human being. It's also about sharing my experiences with words and photos.
I have a goal to share and teach anyone with a passion for travel and a desire to share their story how to become a travel writer.
How often do you fly? 1-2 times per month.
How many countries have you been to? 30
How many continents have you been to? 4
Earliest travel memory: When I was 10-years-old my mom, my sister and I took a summer trip to Spain and North Africa. We flew into Madrid and traveled around Spain with the final goal of reaching Málaga to take the ferry across the Strait of Gibraltar to Morocco where we met my great aunt and uncle who were circling the globe on their 32-foot sailboat. We joined them and sailed from North Africa and along the coast of Spain.
Favorite American city: San Francisco.
Favorite international city: Paris.
Least favorite country: Hungary.
I have no desire to go to: I can't think of anywhere I wouldn't want to visit at least once.
Friendliest people in the world: Philippines.
Country with the meanest immigration officers: Russia.
Favorite World Heritage Site: Tie between Yosemite and Chichen Itza.
Favorite airline: Delta and Korean Air.
Favorite aircraft type: I have never paid that much attention. I know what I don't like, which are propeller planes.
Aisle or window: Window.
Favorite airport lounge: I don't tend to hang out in lounges.
Favorite U.S. airport: Lindbergh Field, San Diego.
Favorite international airport: At the moment, General Abelardo L. Rodriguez International Airport, aka Tijuana Airport (TIJ). Great airfare to Latin America.
Favorite hotel: Del Coronado Hotel.
Favorite cruise line: Royal Caribbean.
Favorite hole-in-the-wall: Zankou Chicken in Los Angeles.
Favorite fruit: Guava.
Favorite food: Mexican.
Least favorite food: Russian.
Drink of choice (in the air and on the ground): Cabernet.
Favorite travel movie(s): Eat, Pray, Love, The Secret Life of Walter Mitty, The Darjeeling Limited, Lost in Translation.
Favorite travel show(s): Parts Unknown, Bizarre Foods.
Favorite travel book(s): "Vagabonding" by Rolf Potts and "On the Road" by Jack Kerouac.
Right now I am reading: "The 4-Hour Workweek" by Tim Ferriss (again).
Top 3 favorite travel newsletters/magazines/blogs: Sunset, Travel & Leisure, Budget Travel Magazine.
5 things you bring on a plane: Neosporin (put a little around your nose and ears and it kills germs), People magazine (guilty pleasure), Kindle, iPhone, laptop.
What do you always seem to forget? Tripod.
What do you like least about travel? Long flights.
What do you want your loved one to buy you from an airport Duty Free store? Vodka.
Most embarrassing travel moment: I have so many, but this came to mind first. I was in Germany for the first time and on a city train. I missed the stop and ended up in a parking lot for trains (not sure what that is called). The conductor came out and was stunned to see me still sitting on the train!
I'm embarrassed but I haven't been to: Alaska.
Worst travel moment: I must have blocked them out. Can't think of anything.
What's your dream destination? Antarctica.
Favorite travel charity: Passports with Purpose.
Best travel tip: Always use Neosporin (around nose & ears) on flights, trains and you will never get sick! It works.