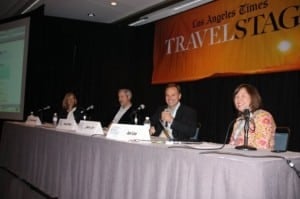 By Carly Blatt:
Make your daydreams a reality by exploring a plethora of travel options at the New York Times Travel Show or the Los Angeles Times Travel & Adventure Show this month. Whether you've been imagining yourself watching the World Cup in South Africa, exploring the cultural delights of Europe, getting pampered in the Caribbean, joining a trek through a rainforest or partaking in one of hundreds of other adventures, the shows will provide you with ample opportunities to discover travel options.
This year, the 2010 New York Times Travel Show will be held at the Jacob K. Javitz Center on February 27 and 28, and the 2010 Los Angeles Times Travel & Adventure Show will be held at the Los Angeles Convention Center on February 13 and 14. Each show features hundreds of travel exhibitors as well as seminars featuring travel experts, cultural performances, show-only discounts and more.
SEMINARS
Before you arrive, check your show's website for the most up-to-date schedule of travel seminars so you can plan your visit accordingly. The seminars provide a fun, first-hand opportunity to learn insider travel information and tips from many of the industry's leading professionals, including our own Johnny Jet.
A TASTE OF SOME HIGHLIGHTS
Los Angeles: The Best Tips for Getting Travel Deals Online, featuring Jen Leo, George Hobica, Johnny Jet & Sam Shank
Pauline & Arthur Frommer: Traveling Authentically & Affordably in 2010
South Africa and the 2010 World Cup Presented by: Dean Jacobberger, South African Tourism and Terry von Guilleaume, Destination Southern Africa
Zac Sunderland with Chris Reynolds: Sailing Around the World at Age 17
Budget European Travel Skills with Rick Steves
New York:
Tips On Getting The Most Out Of Your Travel Dollars: The New York Times Travel Editorial Team – The New York Times Travel section editor Stuart Emmrich moderates a panel comprised of New York Times columnists Matt Gross, "The Frugal Traveler", Michelle Higgins, "Practical Traveler" and contributor Jennifer Conlin.
Travel Writing 201: Max Hartshorne, Kent St. John and Julia Dimon
Anatomy of a Travel Deal: Valarie D'Elia from Travel With Val
1,000 Places to See Before You Die: Patricia Schultz
What's Right and What's Wrong in Travel: Arthur and Pauline Frommer
Travel Through the Eyes of Travel Writers: Susan Orlean, David Farley, Tony Perrottet and Don George
Presenters and panelists occasionally stay after their seminar to chat with attendees, making this an ideal opportunity to meet your favorite travel experts in person.
EXHIBITORS
Each show features hundreds of exhibitors from nearly every corner of the globe, which can initially seem both exciting and intimidating. Keep in mind that there's no way to stop by each booth at the show – nor would you want to. To make the best use of your time, download a list of exhibitors from the show's website ahead of time or pick up a floor plan at the show. This can be particularly helpful in targeting which booths you want to make it a priority to visit.
When possible, have a conversation with an exhibitor instead of just taking a brochure. Let them know your budget, what time of year you're planning to travel and what you're looking for in a trip. It's a great way to quickly find out whether or not their product is a good fit for you, and it's much less time intensive than looking through their brochure or website. If their product isn't right for you, don't be shy about asking for a recommendation. Many times, their company might have another branch that features trips that are more up your alley or they may have a friend who offers what you're looking for. Also, ask exhibitors if they're running any specials for show attendees and get their business card if you're serious about booking.
SPECIAL PERFORMANCES
For a dash of culture, check out some of the show's top-notch performances. The New York show will feature cultural performances by the Japan National Tourism Organization, the Uruguay Tourism Board, the Turkish Culture and Tourist Office and many others. You can also see exotic animals at "Wild Things: Live!", attend a reading of Alice in Wonderland, and watch culinary demonstrations.
At the Los Angeles show, you can check out Armenian Modern and Folk Dances by the Armenian American Chamber of Commerce. There will also be a performance by Tanzanian dancers presented by Zara Tours on the Global Beat Stage, and many others performances. Feeling adventurous? Try SCUBA diving or an adventure ropes course at the show – all for free. Visit your show's website for a complete list of performances and activities.
WHAT TO BRING TO THE SHOW… AND WHAT NOT TO BRING HOME
Since many exhibitors offer the chance to win free getaways, tickets, hotel stays, and more, consider bringing pre-printed labels with your name, address and email to stick on entry forms so you won't have to manually fill out each one. Keep in mind that entering a contest often equals getting added to a company's mailing list, so you may want to create a separate email address specifically for the show.
If you're planning to attend a seminar, bring a small notebook to jot down tips and suggestions from the speakers. Also, bring a bag if you plan to pick up brochures and other materials.
Try not to go too crazy accumulating brochures, though, since lugging a heavy bag around the show will likely hamper your experience.
It's easy to accept a pamphlet from everyone who hands you one, and it's even easier to toss dozens of booklets in your bag "just in case you want to go there one day". Resist the temptation and instead make it a point to only pick up brochures from companies that you would actually consider using in the next year. For all others, write down the name of the company along with their website, pick up a business card or select the thinnest pamphlet they have.
SHOW DETAILS
Los Angeles Times Travel & Adventure Show
Los Angeles Convention Center – West Hall
Saturday, February 13
10 a.m. to 5 p.m.
(Travel Trade Hours – 8 a.m. to 10 a.m.)
Sunday, February 14
10 a.m. to 5 p.m.
Price per day: $10
The box office on site will open at 9:30 a.m. each day – get $2 off by purchasing in advance online.
Travel Agents and Children 16 and under free (children must be accompanied by an adult)
Parking: $12
Tickets are available at the door, although lines are typically long – plan to arrive early if possible
New York Times Travel Show
Jacob K. Javitz Convention Center
Friday, February 26
(Travel Trade Only)
Saturday, February 27
10 a.m. to 6 p.m.
Sunday , February 28
10 a.m. to 4 p.m.
Price per day: $15 – get $5 off when you use your American Express card
Buy tickets online.
Tickets are available at the door, although lines are typically long – plan to arrive early if possible.
SPECIAL DISCOUNTS AND DEALS
Visit NYTTravelShow.com for a complete list of packages and promotions that will be available at the New York Times Travel Show, and visit http://www.nyttravelshow.com/Prizes-and-Giveaways.html to learn about prizes and giveaways.
Visit Events.LATimes.com/travelshow to learn about show specials, promotions, and giveaways at the Los Angeles Times Travel & Adventure Show.
ABOUT THE AUTHOR
New York-based freelance writer Carly Blatt has extensively traveled, studied and worked abroad, covering 26 countries on six continents. Her travel adventures include swimming in Antarctica, bungee jumping in New Zealand, diving with sharks in South Africa, paragliding in the Alps, caving in Belize, mountain boarding in Colorado, camping with locals in the Australian Outback, and helping confused-looking tourists find their way in Manhattan.
WEB RESOURCES: