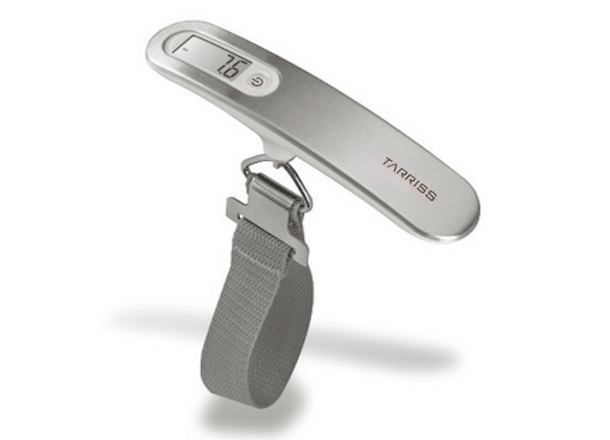 Airlines around the world have been cracking down on the weight of checked luggage for a while now, and if you think that's bad, I will tell you that many destinations I travel to are cracking down on the weight of carry-on bags as well. For example: Just this week I was flying from Milan to Paris and the agent told the customers next to me that their bags were over the 26-pound (12-kilogram) limit, so the ladies spent several minutes holding up the line as they tried to shuffle magazines from one bag to another.
It's only a matter of time before major American airlines start doing the same (a few, like United as I wrote here, already have). Instead of being surprised at how much your bag weighs, think about getting a Tarriss Jetsetter Digital Luggage Scale. I only learned about this scale this week as they took an ad out in my Daily Travel Tip newsletter (sign up here)—but their product looks so good I thought I'd make it the Travel Product of the Week as well!
What I like about this scale is that it's compact and lightweight (so it doesn't take up a lot of room), it has an easy-to-read LCD display, an auto shutoff (in case you forget to turn it off), a long-life lithium battery, the ability to weigh up to 110 lbs (50 kgs) with precision accuracy ±0.2 lbs (0.1 kgs), and it has a 100% satisfaction guarantee and lifetime warranty. Basically, it comes down to this: If you use this scale before going to the airport, you'll never have to pay unexpected overweight baggage fees again!
Right now, they're selling them on Amazon for $19.97 which is $20 less than the listed price. Click here to grab one!