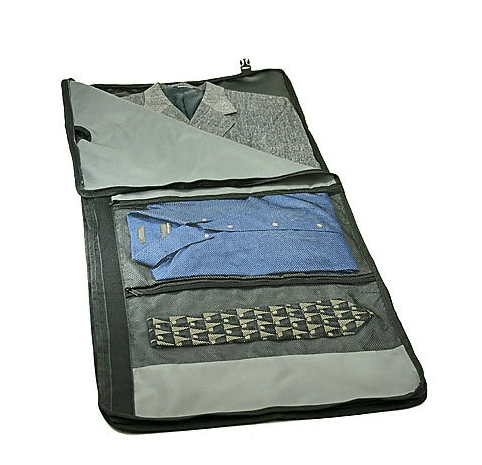 No business traveler ever wants to check a bag and it's not because of baggage fees. Most of them are frequent fliers so they can check bags for free or have their boss pay for it. The reason is simple: They don't want to be bogged down by waiting at the baggage carousel or risk losing it. Plus, most business trips are last-minute so shipping isn't cost effective.
But if they are going to an important business function which requires either wearing a suit or tuxedo, they sometimes have to succumb to the expense in order to avoid getting their garments wrinkled. But now, thanks to the SkyRoll Garment Bag—the world's first roll-up garment bag—that's no longer the case.
The SkyRoll is perfect for those going on a quick trip as it doesn't hold much (suit/tuxedo, pair of shoes, socks, shirt, underwear and tie), and the shape of the bag is way more compact and easier to carry than a traditional garment bag. Here's a link to see how it works. FYI: It costs $149.99 but if you post a photo of yourself with the new SkyRoll on their Facebook page they will send you a $5 refund.
Save
Save