Greetings from Southern California!
Greetings! For the first time since early March, I finally spent the night somewhere other than my house! Our last family hotel stay was at Disney's Grand Californian Hotel and Spa. Never in my wildest dreams did I think I would go seven months before another but COVID-19 had other plans. Here's where we went this week and what it was like.
Airlines, Airports and Destinations Offer Pre-Travel COVID-19 Tests
This week marked the start of a new trend: Airlines, airports and destinations are all starting to offer pre-travel rapid COVID-19 testing. There are so many partnerships and offerings, I can barely keep up. First, United Airlines announced last week that they were offering this service on flights to Hawaii out of SFO. The following day, Lufthansa said it will test the practice of offering on-the-spot coronavirus tests before boarding intercontinental flights, in an attempt to find a way to get long-haul passengers flying again. A few hours later, Hawaiian Airlines announced that they're making it easy for travelers to finally take a long-awaited Hawaii vacation with convenient drive-through COVID-19 tests in select U.S. mainland gateways. Now American Airlines, Alaska Airlines, JetBlue and airports like LAX, Tampa and Miami are offering it, as well as destinations like the Bahamas and Jamaica. The point, which I've been preaching about for a long time, is that the demand for travel will only return if there's widespread, rapid and accurate COVID-19 testing. It looks like we could be slowly on our way but the tests aren't 100% accurate.
How to Live and Work in Paradise
If you're ready for a change of scenery, you do have some options to move somewhere new temporarily. And let's face it: There aren't many times in your life when you can actually pack up and go somewhere for a month or a year and not pull the kids out of school or take a sabbatical from work. Some might say that one of the silver linings of this COVID-19 pandemic is that it's allowing some people to work and go to school from wherever they are and destinations are capitalizing on it. Find out which beautiful destinations around the world are offering programs and visas to Americans.
How to Get A Global Entry Appointment Faster
I've been a member of Global Entry since it came out and it used to be the best-kept travel secret. But the word is out now! Combine that with COVID-19 and it's not easy to get an appointment after you've been pre-approved for your interview. In fact, in some locations, it can take many months to find a time slot. But thanks to a new service, you can cut months off your Global Entry interview wait-time and it only costs $15. Here's everything you need to know about it.
How to Have a Fun Virtual Thanksgiving
Of course, a few days after I spent some quality time updating my article on 10 Ways to Find Cheap Thanksgiving Flights, the CDC comes out with its recommendation that Americans celebrate the holidays with a virtual Thanksgiving this year. Ugh. Thanksgiving has always been one of my favorite holidays. Growing up, I loved getting some time off school, playing football with relatives and of course, all those good eats my mom would make. But 2020 is a year unlike any other and a virtual Thanksgiving sounds like it's probably the prudent thing to do … and just think of all the money we'll save and the political fights we'll avoid! But why is the CDC recommending a virtual Thanksgiving and how can we turn these lemons into lemonade? Check out the CDC's recommendations along with 15 tips for making this year's virtual Thanksgiving fun for everyone.
JetBlue Is Extending Blocking Middle Seats
If you do fly for Thanksgiving then you will be happy to know that JetBlue announced they're extending keeping the middle seat open through December 1. They're not alone. There are four other airlines blocking middle seats.

A Tool I'd Never Heard of But Have Added to My Travel Health Kit
My wife's friend recently told her that a friend of hers, who works at the CDC, recommends that people have a finger pulse oximeter at home and on the road to help them monitor their oxygen levels and potentially provide an early warning sign for COVID. Then suddenly, I started hearing more about them, in articles (including an opinion piece in the New York Times by an emergency room doctor) and even from Steven Martin in the opening sequence of Father of the Bride Part 3-ish, streaming on YouTube (it was my wife's turn to pick the movie last week, FYI!) Here's more information about pulse oximeters and how they work as well as some you can buy to add to your own travel health kit.
American Airlines Flight Attendant Shares Emotional Message on Last Flight Before Furloughs
This is a difficult week for the travel industry. In fact, yesterday is being billed as "Terrible Thursday." American Airlines furloughed more than 19,000 jobs including 8,000 flight attendants. One of them is Breaunna Ross, who shared a three-minute Facebook video of what is expected to be her last PA announcement unless the government bails out the industry. You can watch the emotional video or read the transcript here.
Limited Time Offer!
Earn a 140,000 point bonus, annual reward night, up to 25x points on purchases, Global Entry, & more with this hotel credit card.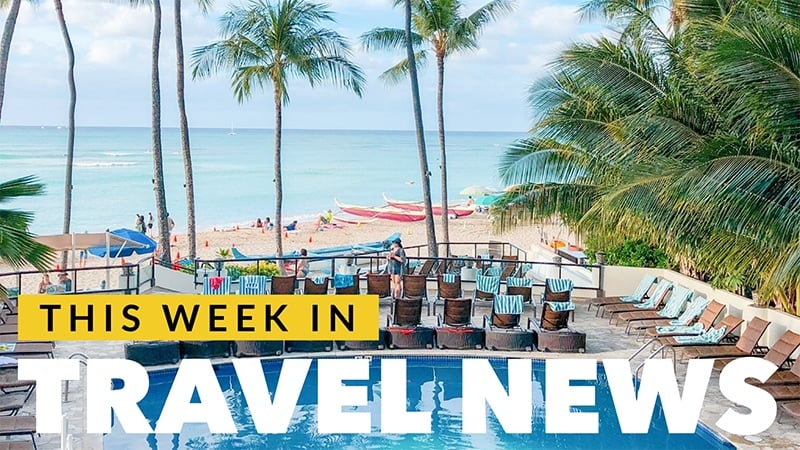 Airline and Airport News:
Cruise News:
Domestic News:
International Travel News:
Hotel and Lodging Travel News:
Miscellaneous Travel News: