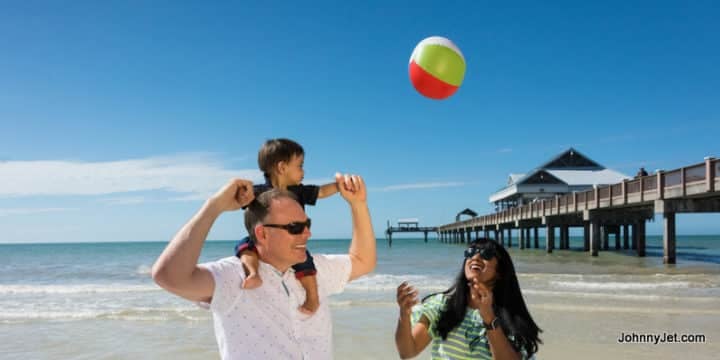 This is a sponsored post.
Arguably the most beautiful beaches in the United States can be found on Florida's west coast. The locals describe the white sand as sugar-like, and although that sounds sweet, in my opinion the description really should be flour-like since it's that much softer.
My favorite beach town on Florida's west coast is Clearwater Beach. Clearwater has hotels for every budget including some new luxurious ones that are all relatively inexpensive, family-friendly and easy to get to.
Clearwater Beach will always hold a special place in my heart since it's where I popped the BIG question to my then-girlfriend six years ago. We went back for the first time in November to speak at a conference (the TMS Family Travel Conference) with our one-year-old and it happened to be the place where he mastered walking. So it's now special for our whole family.
While there I couldn't find a lot of good information on where to go, stay and eat, so I did some firsthand research and interviewed a few locals (including an on-duty police officer). Below is the sum of that research: an insider's guide to Clearwater Beach, Florida. If you want to add anything, please leave a comment at the bottom. (Note: All directions are from the Wyndham Grand, so just change the starting point to the hotel or address you are coming from.)
Getting around
To and from Tampa International Airport
The closest airport to Clearwater Beach is Tampa International Airport (TPA) at 21 miles (30 minutes without traffic). An uberX is the cheapest way to get to and from, as a one-way ride is only $27. If you plan on doing a lot of exploring then you'll want to rent a car. FYI: The next-closest major airport is Orlando International Airport (MCO) at 109 miles. If you're thinking about visiting the theme parks while in town, you might want to save for the end and fly out of MCO to cut down your driving time.
Tip: Sometimes a multi-city plane ticket or two one-ways can be cheaper than a traditional roundtrip ticket.

Florida Free Rides
That's right: You can get all around Clearwater Beach, Island Estates and Sand Key without ever having to drive again, and it's all free! FloridaFreeRides.com—a local transportation service that runs from 9am to 3am, seven days a week—offers the service. Just call 727-424-5458 for a free ride.
Clearwater Ferry Taxi Service
Clearwater Ferry Taxi Service is the best way to enjoy Clearwater Beach while avoiding traffic and parking issues. Tickets are available for purchase onboard. Adults: $4 each way. Children (4 to 12): $2 each way.
Where to stay
Luxury hotels
Sandpearl Resort offers stylish rooms, a spa, two restaurants, and an ideal beachfront location. This is usually the hotel where the movie stars stay when they're in town. In fact, when we got engaged we stayed in the same suite as Morgan Freeman did when he filmed Dolphin Tale. Room rates begin at $244/night.
Opal Sands Clearwater Resort is a chic, brand-new hotel right on the beach. Every guest room, suite and restaurant (and even the fitness center) offers unobstructed views of the Gulf of Mexico. Room rates begin at $250/night.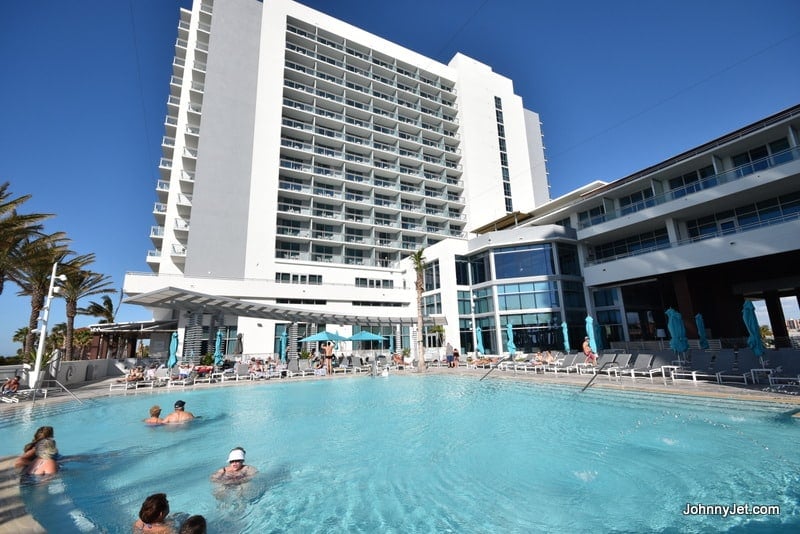 Wyndham Grand is surprisingly, really grand. It has to be the nicest Wyndham hotel in the world; at the least it's certainly the nicest one I've ever seen. The hotel was built a year ago. Room rates begin at $239/night.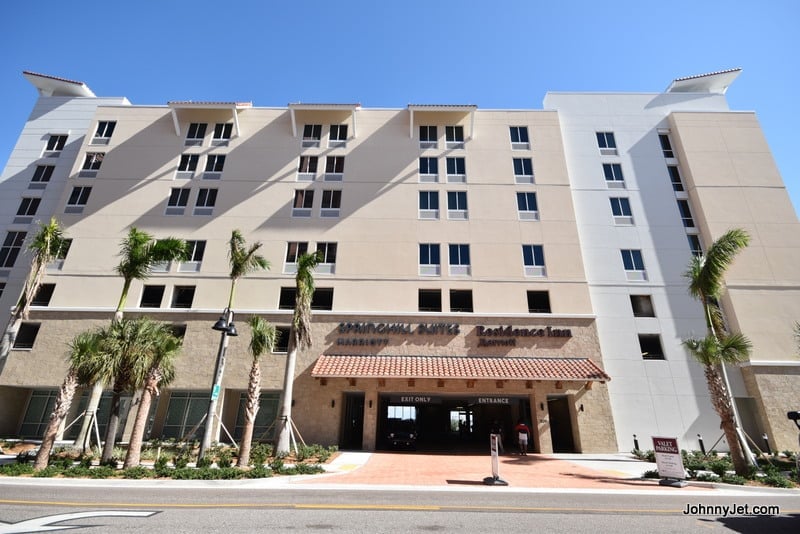 Mid-tier hotels

Residence Inn Clearwater Beach & SpringHill Suites Clearwater Beach Marriott have created a hotel in which the two brands share the same building. The Residence Inn offers home-inspired suites complete with full kitchens and expansive dining bars, just a block away from the beach. Room rates begin at $185/night. SpringHill Suites Clearwater Beach offers spacious coastal suites with an innovative 3-in-1 trundle sofas in separate lounge areas. Room rates begin at $156/night.
Edge Hotel Clearwater Beach is a ten-story, 155-room hotel that has spectacular views of the Gulf of Mexico. Room rates begin at $161/night.
Hampton Inn & Suites Clearwater Beach is a 14-story hotel with modern rooms equipped with 42-inch HDTV, ample workspace and free Wi-Fi. They also serve a free breakfast. Room rates begin at $102/night.
Pier House 60 Clearwater is a 107-room, mid-range hotel that's close to the beach. Room rates begin at $160/night.
Budget hotels
Pelican Pointe Hotel and Resort is located directly across from the Gulf and within walking distance of hundreds of Clearwater Beach restaurants and attractions. According to its website, the hotel offers "a quiet, family environment. [The] resort is perfect for couples, who prefer a private, intimate setting, or the business executive looking for a relaxing, weekend retreat." Room rates begin at $89/night.
Once you find a place to stay, the next step is where to eat…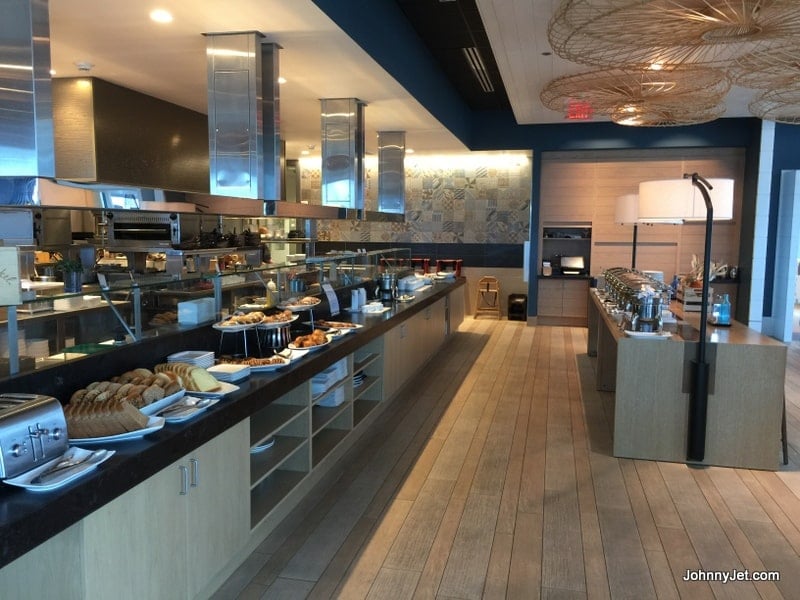 Where to eat breakfast
Another Broken Egg (470 Poinsettia Ave; 727-240-4682) is located in North Beach on the first floor of the parking garage on Poinsettia by the roundabout. Supposedly, the lobster brie omelet is off the charts but I want to try their chicken and waffles. Directions.
Clear Sky on Beach's (490 Mandalay Avenue; 727-442-3684) menu is huge, which means there's something for everyone here, from breakfast burritos to skillets. They're known for their "Nova Scotia Bennie" aka the salmon benedict ($12.95). Directions.
Wyndham Grand Ocean Hai has a great breakfast buffet. The major luxury hotels in Clearwater Beach all have great breakfast buffets, but they aren't cheap. I ate at the Wyndham's ($23) and loved the fruit, waffles and eggs. Next time I'll try the Asian chicken and waffles.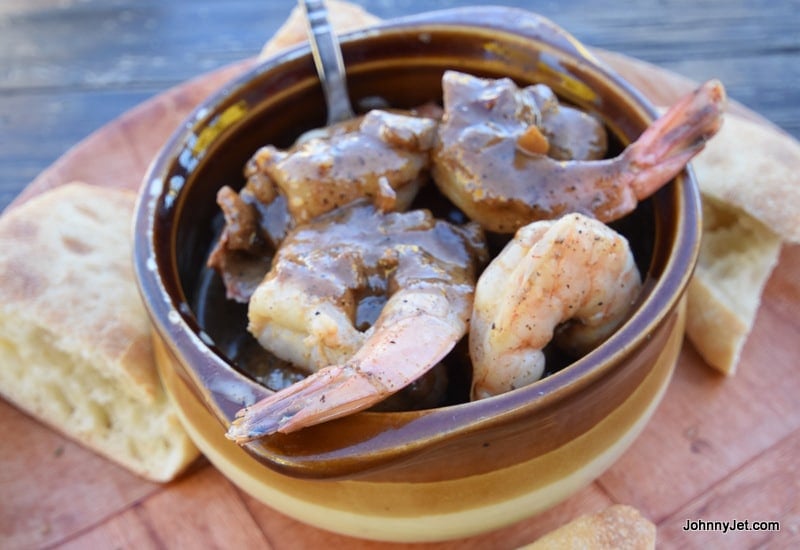 Where to eat lunch and dinner
Dessert
Barefoot Beach House (332 S. Gulfview Boulevard; 727-449-8070) only serves ice cream and frozen yogurt, but it's supposedly darn good (especially the "Salted Caramel Praline"). The place doesn't have a website, but here's its Yelp page. Directions.
Kilwin's Ice Cream (391 Mandalay Avenue; 727-400-6802) is a chain that began in Michigan and is now found in over a dozen states. The smell alone of the chocolate and waffle cones will draw you in. Directions.
The Donut Experiment Clearwater Beach (674 S. Gulfview Boulevard; 727-455-0772) sells fresh-made cake donuts for which you pick from a huge selection of icings and toppings. Yours can be as simple as plain or glazed or as crazy as Key lime, maple bacon or sriracha. Directions.
Bob Heilman's Beachcomber (447 Mandalay Avenue; 727-442-4144) has been around for seventy years and it's popular with the locals. It's worth going to dinner here just for the dessert. Directions.
Crabby's Beachwalk Bar & Grill (333 S. Gulfview Boulevard; 727-608-2065) because you can't go to Florida without having Key lime pie ($4.99), and Crabby's supposedly has the best. Directions.
Food delivery
If you're feeling lazy like I am sometimes and you don't want to bother getting in the car (or walk), you can have your food delivered in Clearwater (as in many places). Fortunately, there are multiple food delivery services available. While I was there I used Uber Eats (get $5 off your first two orders with my code: eats-uberjohnnyjet). Our food came within 25 minutes and was fantastic. It's a great way to experience local food without the effort. It's also much cheaper than room service (and better food).
Grocery/convenience stores
Renting an apartment or just need to stock up on some goods? Clearwater has several grocery stores to choose from. If you're on the beach then Surf Style Island Market will probably be the closest as they have a couple of locations on the beach. There's also a Mega Walgreens with a mini grocery store not cheap though our two bananas were $0.99. For a real grocery store go to Publix across the bridge. Directions.
Laundry

If you need to wash your clothes and your hotel doesn't offer washing machines for guests to use (the Hyatt, Residence Inn and Wyndham Time Shares all do), you can go to Clean Jeans Laundry (575 Mandalay Avenue; 727-290-7940). That's what I did. Clean Jeans will pick up your clothes from your hotel before 9am and drop them back off after 5pm for $5 extra. You can also drop your stuff off anytime for $1.25 a pound. There's usually a three-hour turnaround.
What to do

Thriller Powerboat Tour (25 Causeway Boulevard; 727-223-4990) is the fastest tour boat in Clearwater Beach. Boats seat up to 30 people and travel at a speed of 50 miles an hour or more.
Clearwater Marine Aquarium (249 Windward Passage; 727-441-1790) is the home of dolphins Winter & Hope from the popular Dolphin Tale movies. Get an immersive look into the world of marine life rescue at this working animal hospital. Plan your visit with their tips and reminders to enhance your experience. Adults: $22.95. Children: $17.95. Age 2 & under: free. Seniors: $20.95.
If you're a baseball fan…
Phillies (and Yankees) Spring Training
If you're a Philadelphia Phillies fan, you'll want to go to Clearwater in February and March since it's the team's Spring Training home. If you aren't a fan, you'll probably want to avoid the beach then since traffic can get crazy (so I heard). The beach might also be crowded with Yankees fans since their Spring Training facility is just up the road (30 minutes) in nearby Tampa.
Have something to add?
Obviously, I can't list every attraction, restaurant or hotel in Clearwater Beach, so if you want to add anything please leave a comment below so others can see your recommendations.