By Melissa Jo Peltier:
The Year of Living Cinematically:
When White Irish Drinkers, the self-financed indie film I produced and my husband John Gray wrote and directed, first started getting accepted into film festivals around the world, I was giddy with excitement. Three of the things I love most in life are 1) My husband 2) Movies and 3) Travel. I was about to have an excuse to enjoy all three at once! What's not to love?
Well, cost for one thing. As I mentioned above, we self-financed this movie. We didn't make it to get rich; it was a very personal story of my husband's that he was creatively driven to make. But we still would like to get it in theaters so others can be moved by it, and hopefully make back our investment in the process. This involves traipsing around the festival circuit in order to attract distributors. It also involves cost. A lot of cost. Very few festivals pay for the costs to bring the film to them, for the filmmaker's (and stars' ) travel, and their lodging when they get to the festival. Some of the bigger, more important festivals like Toronto, pay a portion of the costs. If any Johnny Jet readers are thinking of making an independent film, I'd advise them to place a category in their budgets for "festival travel and lodging," just in case.
We didn't.
After I returned from our first, most important festival in Toronto Canada, I dropped Johnny Jet an email with a few money saving tips and recommendations I'd picked up during our first sojourn there. He suggested I write them up in a more reader-friendly form and send them in. I've been keeping notes during our other trips so far, and am using some of Johnny's own tips for when we travel to Torino, Italy for the festival there at the end of November. But in the meantime, here's how we managed to take our feature to Toronto without breaking our bank.
TORONTO FILM FESTIVAL (TIFF) TIPS
Air Travel
The Festival paid for our flights – we took the excellent, clean, organized Porter Air, which flies into the island that's just adjacent to the city. Just a ferry ride over the water and you're in smack in the center of town….no long commute from Pearson, Toronto's other main airport. The planes are small, however. My husband – no big fan of air travel in general – has a thing about propeller planes. But even he admitted the flight from Newark was short, sweet, smooth, and easy. Bishop is a tiny airport so customs went quick, as did check in on the other end. The Porter Air lounge is a class act with wi-fi, free cappuccino, biscotti, soft drinks, and other goodies in a relaxed, quiet atmosphere that was as nice as many airline's first class lounges.
Lodging
The Festival's (Toronto International Film Festival, or TIFF) deal was to put us up in Toronto for three nights. The Hyatt Regency downtown is the main headquarters for the festival, which was the suggested place we stay, although we were allowed to put the dollar figure of those rooms toward lodging elsewhere if we wanted. The Hyatt rooms were about $350 a night, and we planned to stay the full twelve days of the festival, so that was out of the question. We looked at other commensurate hotels and weren't too pleased with either the accommodations or the costs (or both.) Plus, staying that long in a city, we wanted a refrigerator, and perhaps a kitchenette so we could at least make our own breakfasts, etc.


My husband had made several television movies and miniseries in Toronto back in the heyday of the TV Movie, and dug up the number of a woman who was his location house coordinator back then. When a director or actor goes to a faraway location to make a movie, the studio or production company provides him or her with a lodging allowance, and a coordinator to find the talent an appropriate temporary house or apartment for the duration, which can be as long as several months. John's old contact found us a residential condo at the Soho Metro Hotel & Residences…for $200 a night. It was a small but beautiful one bedroom apartment with laundry, full kitchen, big screen TV, stereo, etc…but best of all, full use of the hotel's facilities like the concierges, room service, and most importantly, the fitness center, which was excellent. Contrast that with $250 and up for just an ordinary hotel room at the Soho, or $350 and up for rooms at the Hyatt! Because we had our own apartment, we saved a ton of money on meals, on laundry, and were able to relax a lot more than if we were cramped up in a hotel room…but we had all the conveniences of a hotel as well.
John's old location manager contact works for a real estate company that owns a bunch of units in the Soho. But what we learned from some local Toronto friends is that there is a glut of small condos in Toronto and many are open for short-term sublets. So if you are going to Toronto and plan to stay for more than a week, going to a realtor can save you a LOT for accommodations in that city!
Food and Drink
We aren't gourmet dining type people. Well, actually I am, with an emphasis on healthy foods – but my husband has what I'd call a "Brooklyn pallet" – he likes pizza, burgers, meat and potatoes, and standard Italian fare. Thanks to our condo's kitchen, we were able to eat in frequently and save money. Pizza Rustica on Blue Jay's Way in the entertainment district was right across from our condo – nothing special but very good thin crust pizza and very reasonable prices. Thanks to our sales rep, we found a hole-in-the-wall diner right around the corner: Avenue Open Kitchen on Camden near Richmond & Spadina near Entertainment district) that served an amazing homemade breakfast, very very inexpensive. Fresh hot homemade muffins and everything. Our big night out together was at Ruth's Chris Steakhouse in the Hilton, which was what you'd expect from a Ruth's Chris – excellent.
The night our cast arrived – Peter Riegert, Stephen Lang, Karen Allen, Nick Thurston, Geoff Wigdor and Leslie Murphy – we went out to a restaurant in Yorkville that was much more high-end and one I'd recommend to anyone in Toronto. Sotto Sotto on Avenue Road was recommended by Peter, who is a Film Festival Veteran (and even appeared in one of the celebrity pictures on the wall!) The atmosphere is warm and casual but the food – Italian-Continental – is across the board superb.
One last recommendation for entertaining in Toronto. We were not one of the big high profile films, so the festival did not throw us a gala red carpet premiere. However, we wanted to make the most of having our whole cast in town, and the press that being in such an important festival could generate. So we opened our wallets one more time and threw a small pre-premiere cocktail party at the rooftop bar at the Yorkville Hyatt. Our publicists felt it was one of the classiest parties of the festival. It was an incredible upscale atmosphere – candles, elegant couches and chairs, and the lights of the city twinkling below – and the service was top notch. However, the prices for drinks were out of this world. That was another line item I wished I'd put in our original budget! If you're in the city, I recommend you visit that bar – but drink in moderation, if you want to keep your wallet intact.
Walkabout
My husband is a serious walker, so while in the city, we walked everywhere. It's a very walkable city, but there is a nice cable car service for those who don't have his stamina (I wasn't too pleased when wearing heels). The trek from the Entertainment District downtown, through the University of Toronto, to tonyYorkville was a long one but a good way to get the lay of the city. Cabs are instantly easy to come by, everywhere, but cab prices are surprisingly high compared to New York. During our many perambulations, shopping highlights included the St. Lawrence Market, the Nicholas Hoare Bookstore on Front Street, and of course, Roots, both on Bloor Street in Yorkville (upscale shopping district) and in the Eaton Center.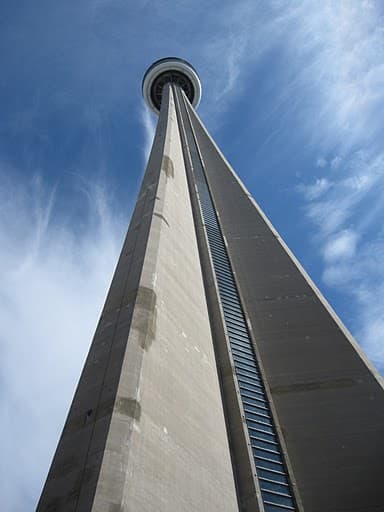 John had worked and lived in Toronto numerous times while making movies, but I was shocked to learn that he had never been up the Canadian National Tower! That was something I had to rectify, so we took a trip to the top on Saturday, the day before our final screening. It was a wonderful, touristy experience that took our minds off the pressures of the festival, which were many.
Canadians are everything you hear they are – polite, friendly, open and laid back. Especially compared to New York and L.A. Toronto has a vibrant nightlife – the downtown area near the festival was crowded nightly with young people out on the prowl, but it was a less volatile atmosphere than one might find in a similar neighborhood in a U.S. city. We aren't really night life people anymore; if we weren't out at festival-related screenings, parties or receptions, we'd be snug in our little condo, watching DEXTER DVD's on our big screen TV.
Movies, movies, movies!
Finally, a review of what we experienced most of in Toronto – it's movie theaters! This town loves movies, and audiences were amazing. They also take their movie going experiences seriously, with some world class viewing venues. Our premiere was at the Cineplex-Odeon Varsity in Yorkville, a fine 500 or so seat theater. We saw festival premieres at the Elgin and Wintergarden (magnificent, historic theaters, mediocre sound, cramped and uncomfortable seats), and the very comfortable.