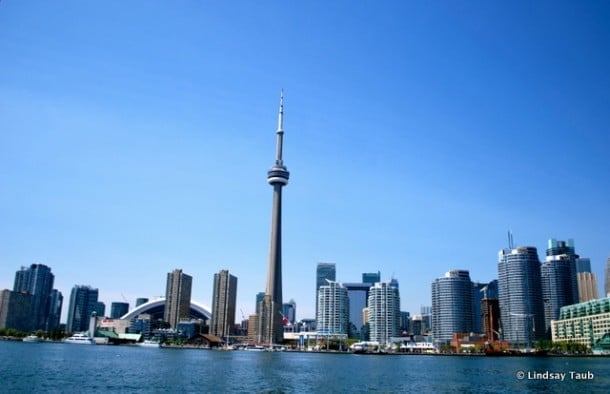 My first trip ever on an airplane was when I was six months old to meet my mom's family in Toronto. Since then I've visited the city about once a year. It was my home away from home and I have fond memories of white Christmases during my childhood, seeing the Nutcracker, making snowmen, and visiting Niagara Falls in every season. The city is a cultural melting pot with so much to offer in the arts and culinary scenes. But my last trip there showed me a side of Toronto that I'd never experienced — urban adventure! Here's my list of the top five can't-miss activities:
1. CN Tower's Edgewalk

I had seen the CN Tower from the ground hundreds of times while visiting Toronto. I'd ridden the elevator up its 116 stories to the top to experience the observation area in the pod and had eaten in the revolving 360 Restaurant. But getting up close and personal to the tower on its newest attraction, Edgewalk, is one of the most thrilling and mentally challenging adventures to be had.
There's no rail. Nothing to hold onto. You're strapped in by a harness to a rail above that keeps you secure, but the vertigo sets in when you look down 1,168 feet to the city below as you circumnavigate the outside of the pod on a platform no more than five feet across.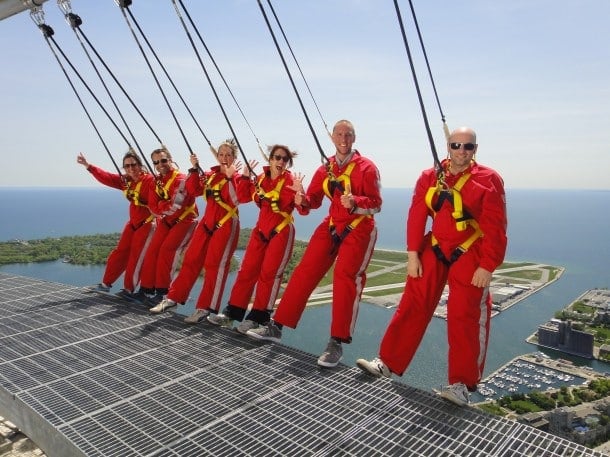 During the walk you can choose to try several "activities," as the guide calls them, which means hanging your toes over the edge, leaning backwards over the edge, and even leaning forward, supported by the harness. Your brain will be screaming at you NOT to do it, while your heart races with excitement over this very unnatural experience, fighting the bizarre but natural impulse to jump or hold on for dear life.
As someone who loves adrenaline junkie activities — jumping out of planes, ziplining, you name it, no problem – Edgewalk got me! My knees shook, my fingers trembled, dizziness got the best of me, and the fear set in big time. The only thing I can think is that simply having "city" all around makes it a different sort of experience. The views, however, are stunning and on clear days you can even catch the mists of Niagara Falls.
Note: Don't even consider having a drink to take the so-called edge off before attempting Edgewalk. Head to the Steam Whistle Brewing Company across the street from the CN Tower after to celebrate. Why? You have to take a breathalizer test before you get your gear on and do the walk. It's no joke!
2. Chef Scott Savoie's Culinary Adventures

Toronto is home to some of the best restaurants and chefs in the world. To up the ante, Chef Scott Savoie founded The Culinary Adventure Company, which offers various tours and experiences to satisfy your palette and your curious spirit at the same time.
His culinary scavenger hunt through Kensington Market has you solving complex riddles and using clues to collect the ingredients for dinner which you and your teammates will then help to prepare. Chef Scott, along with his team of Toronto's best culinary talents including Shahir Massoud of Teatro and Mack Chiu of Fuel House, are your teachers and guides while you prepare a scrumptious dinner.
Be prepared: Chef Scott has a sense of humor. On our scavenger hunt we had to carry the suckling pig we'd roast that night on none other than a hockey stick through the streets of Toronto while passersby both gasped in horror and laughed at the ridiculousness of the sight.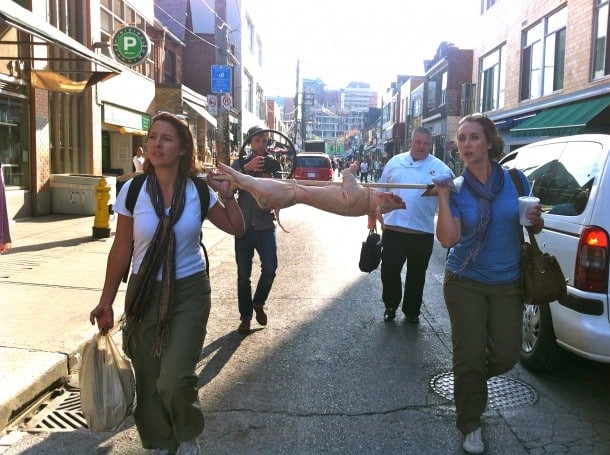 For a more civilized culinary adventure, take the paddle trip to the Toronto Islands aboard a 16-seat Voyager canoe where the picnic is prepared in advance and all you have to do is paddle and enjoy. The views you'll get of the downtown skyline at night is worth the trip alone.
Note: While Kensington Market is terrific, no trip to Toronto is complete without a visit to the St. Lawrence Market, considered one of the world's best. If I lived in the city, it's the only place I'd shop. You can find unique mustards, spices, shellfish, gourmet meats, and just about anything you'd need to make a phenomenal meal.
3. The Galleries and Graffiti Bike Tour

One of the best ways to see and experience the city is by bike. Toronto Bicycle Tours offers a number of tours, but the don't-miss adventure is their new "Galleries and Graffiti" excursion which takes you down the so-called Graffiti Alley where the urban art is stunning. It's such an active underground scene that no garage doors or walls go unadorned, although they often change overnight. Some are political statements, others are personal expressions, but all are wildly creative.
Depending on the time of day you go, you can head east on the subway to a neighborhood called The Beaches. There you can ride along the boardwalk at Lake Shore Drive, check out the beach volleyball or grab a bite at one of the gastropubs along the way. It's a peaceful retreat from the hustle and bustle of the busy downtown core.
4. Go fishing or sailing
Fishing may or may not be your cup of tea, but with Capt. Wayne Andrew at the helm, you'll have a terrific day out on Lake Ontario. His 52-foot yacht is the largest charter boat on the Lake Ontario and comes fully equipped with lures, rods, poles, an electronic fish finder, wine, a flushing toilet, and heated cabin.
If getting out on the water is desired but fishing is not, head instead to the Harbourfront Centre, where you can rent or charter a sailboat or go powerboating. There are lessons for all ages and skill levels so you can target the adventure to your liking.
5. Indulge your inner lush
The cocktail scene is Toronto is competitive with any major city around the world. At the forefront of creativity and elegance is The Black Hoof on Dundas. Owner Jen Agg has three hotspots within doors of one another – Cocktail Bar and Raw Bar are the others. All are tiny holes in the wall that impress beyond all expectations with exquisitely balanced drinks and equally delicious eats to go with.
To start or end the night, Bar Chef is the place to go, where mixologist Frankie Solarik is the maestro creating masterpieces of molecular cocktails and traditional classics alike. Drama is the name of the game — expect to wait a bit for your drink but it will come out with pizazz and flair, like the $45 hickory smoked Manhattan, pictured above.
The urban cool Distillery District is where hipsters go for a more chill experience. There you will find a juxtaposition of old and new, with Victorian Industrial architecture fused with stunning 21st century design. Between the microbreweries and cafes are artists' studios, galleries and one-of-a-kind shops.
If you go:
You can save 42 percent on entrance to five of Toronto's best museums and attractions (such as the CN Tower, Casa Loma, Ontario Science Centre, and Royal Ontario Museum) by  purchasing a Toronto CityPASS. The best part? With a CityPASS you can skip the often long ticket lines.

While not included in CityPASS, no visit to Toronto is complete without checking out the Hockey Hall of Fame or the fantastic Bata Shoe Museum, which walks you through the history of shoes…literally.
Where to stay:
The Gladstone Hotel located on Queen Street West is in a once-considered seedy neighborhood. It's not pristine and polished, but it's hip, trendy, artsy, funky, and super fun. Each guest room was designed by a different local contemporary artist. You can see them all on the hotel's website and choose whichever one suits your personal aesthetic pending availability. The hotel has its own art gallery that changes exhibits often, and the popular Melody Bar is a great place to kick off the evening or end it with live music most nights.
Here is a video of the top five urban adventure in Toronto:
For more information on all that Toronto has to offer, visit www.seetorontonow.com.
Lindsay Taub is a writer/editor, producer and photographer covering travel, lifestyle, culture, arts, food, health, and all facets that make life a journey. She calls Los Angeles home when she's there, but prefers to leave the city for the mountains and open spaces as often as possible. She loves cooking, gardening, live music, hiking with her three rescue dogs, and nothing beats cheese and wine during a spectacular sunset. If you can't find her, she's trekking through a jungle, seeking a seeker, admiring wildlife, or on a plane, quite possibly jumping out of it when the adrenaline junkie is at her best. Follow her on twitter @lindsaytaub58.