One of the most epic films of all time, Titanic, will be released in 3D April 4th, and JohnnyJet.com gets you in on the action. Johnny got an exclusive sneak peek at number one on our list for his Travel Channel special, Hot Spots 2012, while it was still under construction.  Now you can see it for yourself.
If you're like Rose and never want to let go of this awesome movie, then here are my picks for the top 5 places every Titanic fan should visit.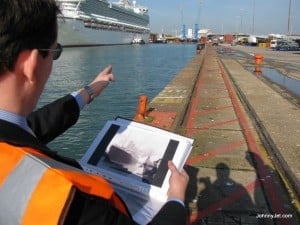 #5 Titanic Graveyard Tours – Halifax, Nova Scotia
In the immediate aftermath of the sinking of the Titanic, ships were launched from Halifax to aid in the rescue and recovery. Take a step back in time with a tour of Fairview Lawn Cemetery also known as the Titanic Cemetery. Over 121 Titanic victims are laid to rest here, find out why and how Halifax played a part in Titanic history.
#4 Titanic Museum – Branson, Missouri or Pigeon Forge, Tennessee
Look no further than Missouri or Tennessee for your fix of Titanic history. Practically identical museums located in Branson, Missouri and Pigeon Forge, Tennessee have everything from full scale replicas to artifacts. If you log on now, to either website, each day you'll be treated to a new story about one of ships passengers. Both of these attractions make excellent family vacations, especially if you're on a budget.
#3 Titanic: The Artifact Exhibition – Las Vegas, Nevada
When you think of the Titanic, normally Las Vegas, Nevada isn't the first image that pops into your mind. But the Luxor Hotel and Casino is changing minds with its wildly popular Titanic artifact exhibit. More than 20 million people have toured the exhibit, and it features actual Titanic wreckage brought up from the ocean floor.
#2 Titanic Belfast – Belfast, Northern Ireland
The Titanic Belfast is an impressive look at the design, construction, launch and ultimate demise of the Titanic. Featuring several exhibits this venue takes the Titanic legacy one step further giving visitors insight to the discovery and current exploration of the Titanic wreckage.
#1.  Sea City Museum – Southampton, UK
The city of Southampton was the launching point of the RMS Titanic. It's fitting that 100 years to the day on April 10th 2012 the citizens of Southampton open the doors to a new museum. The Sea City Museum boasts not only a large collection of Titanic artifacts, but also a full immersion experience allowing the visitors a glimpse into what it must have felt like to step aboard the Titanic.