Oslo is a cosmopolitan city set amongst the Oslofjord and forests. There is a lot to discover: museums, restaurants, nightlife, shopping, and an array of outdoor activities. Our top ten, in no particular order: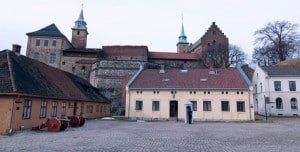 1. Tales of ghosts make Akershus Slott even more enchanting.
Akershus Fortress is full of amazing stories and is Norway's most important medieval monument, built around 1300. "When a Swedish soldier got a little too drunk, he thought he could attack Akershus Fortress on his horse," Christiann, our Oslo guide, told us. "That horse is buried in the entrance tower to the fortress and if you listen closely, you can hear him galloping!" This is just one of the ghost stories Chris would regale us with as we toured the Medieval castle.
"That there was Queen Margaret's chamber," Chris says pointing, "and the ghost chambermaid Mantelgeisten has said to been seen by many of the guards. She emerges in full length robes from the darkness without a face!" Seven Royals are also buried at the fortress and the chapel holds the crypts of King Haakon VII and King Olav V.
Opening Hours: May – September 10am – 4pm, October – April 12pm – 5pm; Admission: free with Oslo Pass or 70 NOK
2. Oslo is a symbol of peace.
Oslo has long been a symbol of peace both culturally and officially. On the Aker Brygge, a complex on the Oslo Harbor, the Eternal Peace Flame burns brightly and serves as a beacon of light and inspiration. You can also visit the Nobel Peace Center where exhibitions about the Peace Prize winners and current issues.
Opening Hours: 10am – 6pm; Admission: free with Oslo Pass or 80 NOK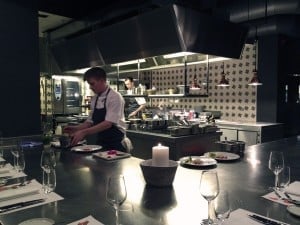 3. Grilleriet challenges you to trade a cookbook for your dinner.
The heart of Grilleriet is its large, open kitchen where you can watch chefs masterfully prepare the guests dishes.  There is also a floor-to-ceiling bookcase stocked with every cookbook imaginable. Grilleriet challenges you to bring in a cookbook not already on their shelves and they will gladly exchange it for the main course of the day.
I recommend trying the king crab starter and grilled cod as a main dish. Cod are plentiful in the waters surrounding Norway and it is served fresh on top of a bed of barley risotto.
Opening Hours: Monday – Saturday 4pm – 11pm; ~$100 per person for 3 courses and wine/beer
4. Saga Hotel Oslo makes you feel right at home.
In a charming building from the 1890s, Saga Hotel Oslo is set just behind the Royal Palace and a short walk from the bustling city center. We found the reception to be extremely welcoming and helpful. Our stylish room was a mix of vintage and modern and we enjoyed the quiet neighborhood. The breakfast is included and was plentiful. If you fancy, lounge in the hotel's lovely library for a bit of relaxation. Free wi-fi is also available for guests.
Double rooms from 1145 NOK per night

5. Take a walk right onto the roof of Operahuset.
Situated at the head to Oslofjord, the angled exterior of the Oslo Opera House is covered in Italian white carrara marble and granite, making it appear to rise out of the water like a glacier. It is the world's first and only opera houses where you not only can, but are meant to, walk on the roof! From the roof, there are stunning views over Oslofjord and the surrounding islands.
6. Snuggle up with your special someone and hot fiskesuppe while taking a mini cruise.
After visiting the Viking Ship and Fram Museums on the Bygdøy peninsula, take a mini cruise aboard a traditional sailing ship across Oslofjord back to City Hall. Blankets are available for passengers and hot drinks and snacks are sold on board. The fiskesuppe (fish chowder) is delicious and a budget friendly lunch at just 50 NOK.
The ticket is valid for 24 hours and you can hop-on/hop-off at Bygdøy, City Hall and the Opera House. If the fjord is frozen over as it was on our visit, the cruise travels between City Hall and Bygdøy.
Free with 72 hour Oslo Pass or 175 NOK per person
7. Sample 101 varieties of Aquavit at Cafe Sorgenfri.
Cafe Sorgenfri (meaning Cafe Without a Worry) has a quirky collection of antiques and rarities from all over Norway and a menu of 101 types of Norway's national liquor, known as Aquavit. The Norwegian spirit is produced from caraway or dill and containing 40% alcohol by volume. Tim tried a classic Aquavit and his expression was priceless!
8. Get enlightened by Henrik Ibsen's quotations!

We traveled in Henrik Ibsen's footsteps, just as he did when the famous playwright would take his morning walk from the Royal Palace down Karl Johan's Gate to the Grand Cafe, where he would have his lunch every day. Famous Ibsen quotations in stainless steel are in Oslo's sidewalks along the route.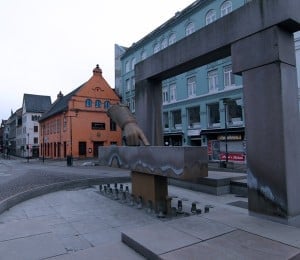 9. Find the remains of Renaissance Oslo
Taking a stroll through Christiania, we found Oslo's very first town hall and a giant pointing finger. This is where the Danish-Norwegian king Christian IV decided to rebuild the city after the big fire in 1624. He pointed to this spot and said: "The new town will lie here!"
Be sure to also visit Oslo Domkirke (Oslo Cathedral), built in 1697. The pulpit, altar piece and organ front with acanthus carvings are all originals.
10. Marvel at Oslo's famous wooden ships
The Vikings may have a reputation as savages and plunders, but one thing is for certain: they were master ship builders! Marvel at some of the best preserved Viking ships, over 1200 years old, and wonder what it must have been like to sail these waters at the Viking Ship Museum.
Opening Hours: May – September 9am – 6pm, October – April 10am – 4pm; free with Oslo Pass or 60 NOK
About The Author
Jennifer Dombrowski is a training specialist and social media strategist in the field of higher education. Based in Italy with her husband, Tim, they have a passion for travel and love discovering the world. Follow her on twitter @jdomb or on Facebook.
NOTE: This trip was sponsored in part by Visit Oslo and Visit Norway USA.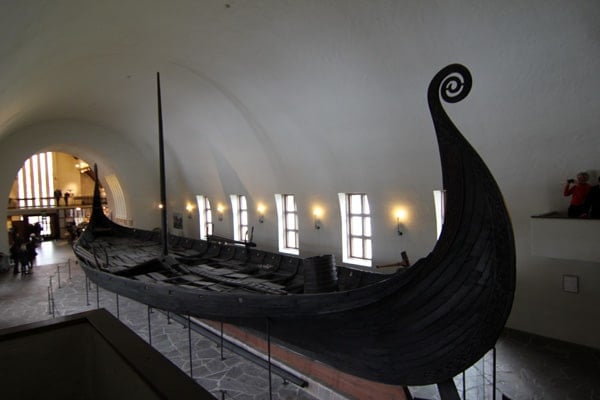 Save