Tips for Traveling in the Dominican Republic
1. Remember,  you're in a 3rd world country – the electricity may occasionally shut down and you shouldn't depend on consistent internet access even at the high-end resorts.
2. To get a better feel for the richness of this country, safely and smartly explore outside of the tourist bubble.
3. Wherever you stay in the world, always check for bedbugs. The Dominican Republic is no exception.
4. This is not a country where everyone speaks English – brush up on your Spanish, or hire a guide.
5. If the local food isn't your thing, there are ex-pat communities where you can get more of a variety — but give the local fare a solid chance first.
6. Carry $1 bills for tips.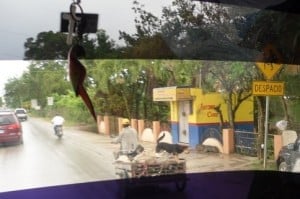 7. If you have US dollars, save on the exchange rate and use them. Keep in mind that credit cards aren't taken everywhere.
8. Do not drink the tap water and, to be safe, brush your teeth with bottled water. Bottled water is readily available, make sure to always carry a water with you.
9. Petty crime happens, be aware of your surroundings and travel with a money belt
10. Always have a copy of your passport hidden away in luggage, or scanned online.
11. If you're flying from the West Coast of the U.S., the layovers can be brutal. Do your homework and make sure your flight isn't one that wipes you out before you get to the D.R.
12. Driving in the D.R. is dangerous – if it's your first time experiencing chaos on the road, hire a driver or get on a bus tour.
13. Be a good traveler. Show respect to the host country and remember a smile goes a long way – with no translation needed.
 Read Cynthia's story on her travels in the Dominican Republic here.
About the Author
Cynthia Cunniff's writing background spans marketing, PR, magazine editorial and travel blogging. She's a graduate of the creative writing program at CSU Long Beach and went on to UCLA to further her writing skills. Growing up as a military dependent, she lived in several foreign countries and several parts of the US. Post college she returned to international living and resided in London for close to a decade, where she took advantage of proximity to the rest of Europe and traveled extensively. She currently lives in the beautiful South Bay of Los Angeles, and Tweets about traveling in the U.S. and throughout the world @localpathworld.