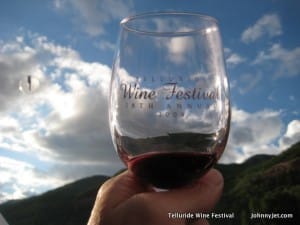 By Francis DiScala Jr.:
Telluride ain't easy to get to, but then not many of my favorite places on earth are easy. From New York it's a connection and then a second landing in Montrose, Colorado. "Daddy, where is Montrose?" a little girl said to her father sitting in front of me. It occurred to me that I had never heard of Montrose either. We descended into a patchwork of nearly treeless farms. And the fun had begun.
Montrose has an incredibly clean and quaint airport close to Telluride, Colorado. Just being there will fill even the most jaded traveler with anticipated adventure, even more so if you are heading to the Telluride Wine Festival-which, as I soon found out, transformed the picturesque antique mining town into a cauldron of unforgettable sights, sounds and tastes.
Telluride has steep mountains nestling a historic mountain town, punctuated by a distant, misty cascade of water tumbling down from the ridge on the edge of town. And for us, on our special visit, a rainbow and a rock concert. I was to stay in Mountain Village, where the skiing and major lodges are, and access the charming Old West town via a gondola. From below Mountain Village at the end of the main street, look up and you will see the fairy-tale waterfall in the distance. The ride from Montrose airport is an hour and a half or so along beautiful roads.
Newly Opened Lumière Resort in Mountain Village
Everything about this resort feels right. Indigenous stone and timbers align to form the clean European feel of the 30-room top-of-the-heap luxury mountain resort. Impressive efficiency and quality characterize this property. Check-in, arguably the least favorite and most troublesome component of hotel and resort management, is eliminated entirely as guests are immediately escorted to their rooms, where they can relax in opulence and call the front desk at their leisure. Hey, how come it took this long to figure it out? Even the best hotel experience can begin and end with the guests feeling like proletariats standing in line for a potato and a vodka ration. Not here. Egyptian cotton sheets, flat-screen TVs, surround sound, gas fireplaces, L'Occitane amenities, plush robes, and bath sheets enhance the view of the mountains; the cold mountain air rushes in through opened windows as I admire the two-bedroom suite.
Fly Fishing with Telluride Outside
Expert guides and the right equipment guarantee a memorable time on any water, but these guides are the real deal. We drove, trailering flat-bottom river rowboats up into the hills to a lake heavily stocked with trout. Once we arrived these young, patient guides began a casting instruction, which diverted my attention away from the pouring rain, and I was transported into the movie A River Runs Through It. Granted, I was surrounded by beauty.
It rained hard in the mountains, but undaunted we fished until the weather improved and were rewarded by amazing views at an elevation of 10,000 feet. Our quarry? The elusive rainbow trout. With my Spotter sunglasses I was able to see below the water and view fish. Catching them was well another story. And for another day.
Wine Tasting
We were to experience Telluride and the wine festival, so drink or sip we must. And our Italian Reserve Seminar at The View at Mountain Lodge provided some of the best boutique wine and food pairings I have experienced. The interior of this building is a temple to the Colorado Rockies, and the panorama behind my seat a cathedral of sharp stone surging into the clouds.
Bob Bath and Steven Geddes, master sommeliers, guided us through eight enchanted family-owned Italian vineyards, tasting big and earthy flavors in both wine and food. My favorite, Conti Sertoli Salis, Canua Sforzato DOCG 2003, was coupled with cocoa-dusted elk loin and local cherries. An amazing summertime flavor. Available at Pacific Street Liquors. Or speak with Steven Craig (970-728-6333).
The next wine-tasting event takes us to the town and to the tents.
We get a wristband and walk to the gondola, which takes us directly to the base of Telluride village. Descending down the mountain to the old mining town is comparable to the Gornegrat experience in Zermatt, Switzerland. It's simply amazing to see the town and its changed use from a real working mining village to a tourist mecca surging with the activity of an obviously privileged class tasting wines from all over the globe, giddy with the personal realization of just how lucky we are.
From tent to tent we went, armed with wineglass and the wristband (which no one checked), eating and drinking, laughing and joking, dodging rain and watching the rainbow form in the distance.
Dinner at Allreds
Without question, this was one of my favorite dining environments, perched on the Telluride Mountain at San Sophia Station. Visitors step off the gondola-its only access-and walk behind a "secret door" into the stone entry of what might be a renovated catacomb from Poe's Cask of Amontillado. Enter the restaurant and the views of the Rockies nearly paralyze. The view and a bowl of cereal would have made it a runner-up, but instead I dined on local elk paired with a nice cabernet and sweet mashed potatoes, just one example of the contemporary American cuisine prepared by chefs Bob Scherner and Brian Batten. In the background I could hear the earth tones of an experienced pianist, gently filling the night air with music from many generations. Above, huge timbers suspended by more huge timbers made it feel like we were in the mountains. A wheelbarrow would have been a nice touch to get me to the awaiting gondola that slipped us down the mountain in utter darkness, lit only by the crescent moon in a star-dappled sky and our smiles.
Saturday, June 27
I'm awakened by a blue bird day with sun everywhere. The mountains, previously hidden by the clouds and rain, launched from their ranges to frame a perfect day. After my 7 a.m. dip in the hot tub, I ate a light breakfast of Natalie's homemade biscuits and gravy, and was ready to taste the entire continent of New Zealand with my tour guide, sommelier Bob Bath. We began at 9:45 a.m. with white wines, a selection of four from the west of the North Island, and worked our way through small family-owned vineyards down the west coast to the northeast of the South Island, then back up and around via the pinot noirs. (Apparently, pinot thrives exceptionally well in an environment with cold nights and plenty of warm sunshine during the day.) Bob couldn't contain his contagious excitement as we all sipped the wines varying in cost from around 17 to 60 bucks a bottle. Twice he mentioned that he lives in Napa but wouldn't mind living in New Zealand, how he loves it there, and could easily be there right now . . . Since this was not a food and wine pairing, many of us hadn't eaten much and for all we knew, we could have been in New Zealand, too.
Views and distance is what you get here at the 18-hole Telluride Golf Course. We took our rental clubs and GPS-equipped cars for a tour of the Rockies. Andrew, Desire, Raquel, and I approached the first tee and Andrew showed us just how thin the air is in the Rockies by blasting his tee shot well over 300 yards into the blue yonder. Balls go 15 to 20 percent farther up here, and luckily for me that includes mine. Desire, a former competitive figure skater who's new to golf, hit the ball well, as did Raquel, and we all had a good time seeing elk and being surrounded by big skies and mountains. The GPS kept barking at me, telling me to stay on the cart path, and that we were falling behind, and that Marshall number 35 wants us to pick up the pace, etc. Worse, it would shut the cart down until you pressed the screen indicating that you had received the command from big brother. I liked that it told you the distance to the pin but could have done without the other commands.
The rest of our group toured the backcountry on a Jeep tour that kept them busy even after it was over; they didn't stop talking about it and raving about the guide and the peaks visited.
Final Wine Event and Citizen Cope Concert
We hurried back to Mountain Village and showered and got to the gondola for the unforgettable ride to town. We walked down the street to the tent at the edge of the valley where the show was set to begin. Raging inside was the final day of exhibition, where vintners shared their harvest and people smiled and joked and loved the good life, sampling food and wines and the mountain air. The stage was set for Citizen Cope to get people dancing.
At around 6 p.m., Cope and his posse descended upon a lubricated and appreciative crowd of well-behaved wine tasters. His deep rhythm-and-blues funk crept into the souls of a seated crowd, gradually and permanently lifting us from our seats onto our feet. Moving to his magical cool we were reminded why we are here to enjoy our lives.
Dinner was at the Shanghai Palace, where you can eat piping-hot Chinese delicacies with my new friend Jason the DJ-don't miss the salt-and-pepper squid. Jason keeps the beat with the latest hip-hop music and his boys in the back keep the furnaces stoked and the food moving.
Drive to Montrose Airport
Kiera Skinner, head of marketing and public relations for the Lumière, took us on our final ride to the Montrose Airport. A scenic ride, indeed.
And when we finally got to the little airport, we got one last nice surprise: a chance to meet the great one, Citizen Cope, and his bass player. No flashes, please.
WEB RESOURCES:
Note: This trip was sponsored in part by Telluride Wine Festival.
ABOUT THE AUTHOR:
International Recreation Expert. Francis J. DiScala (Frankie D) was born to do it differently. On his first camping trip at 10 years old he was sequestered from his group for talking and forced to sleep in an open field away from the safety of the tents. He immediately realized that the moon was much clearer out under the stars and has been "out there" ever since. Never one to say no, Frank has been to Mountains of Montana, Idaho, Arizona bow hunting and sleeping outdoors, fishing off-shore amongst the whales for giant tuna, skiing and snowboarding almost every major mountain in North America, racing motorcycles on international racetracks in New Hampshire, and scuba diving reefs from Australia to the Red Sea in Jordan. fun and games are often interrupted and trips cut short by his need to return to his legal career. He hasn't stopped talking and often can be seen and heard giving strange opinions on television shows including CNN'S Headline News/Nancy Grace and Court TV. Despite a hectic schedule, Frank has also found time to travel and write and in recent years has become an enthusiastic contributor to JohnnyJet.com, one of the most comprehensive travel resources online.