Famous for being a foodie paradise, hipster haven and just plain weird, Portland is hands-down one of my favorite cities in America. Offering incredible cuisine from street carts to fine dining (which is why most of my list is food-related), a beer scene boasting over 75 craft breweries, and a number of opportunities to get outside and explore the beautiful landscapes of the Pacific Northwest, the list of things to do is endless.
I was recently in town to check out the new Hyatt House Portland, located just south of the city center near the banks of Willamette River. A great choice for a work trip or leisure, Hyatt House Portland is just over a year old and offers amenities like free Wi-Fi, 24-hour dry cleaning service, and chic, modern décor. Its location is ideal for those who want to escape the noise a downtown metro can often bring, but still want to be within walking distance from all the action. Overall I had a great experience and I'd stay there again.
Now without further ado, here are 10 of my favorite things I did while visiting Portland:
1. Experience the coffee scene
Coffee has been synonymous with Pacific Northwest for decades now, and Portland shows why with dozens of coffee shops, roasters and cafes to get your caffeine fix. Stumptown Coffee Roasters is a local institution with six locations (including the airport) and sets the bar for a fresh cup of brew. Heart Coffee Roasters is another great spot with excellent lattes and housemade walnut and almond milk, and Spella Café offers amazing espresso, Italian-style. My favorite spot was Kiosko, a tiny coffee shop located on the southwest side of town. The owner, Angel Medina, adds a Latin flare to his small-batch coffees and espresso drinks, but the best thing on the menu is café de olla, a spiced Mexican "pot coffee" with cinnamon and piloncillo. Read more about Kiosko's unique story here.
If tea is more your thing, head to Smith Teamaker for a flight tasting of their handcrafted, looseleaf tea blends. The original tasting room can be found on NW Thurman.
2. Wander the Pearl District
Formerly a neglected part of town full of abandoned warehouses and industrial buildings, the Pearl District has experienced an urban renaissance over the last few years and is now one of Portland's most desirable neighborhoods. You can spend hours wandering its streets of world-class art galleries, eclectic shops and beautiful boutiques. My favorite place here was the Teardrop Lounge, an upscale cocktail bar using housemade mixers, fresh ingredients and top-shelf liquor in all of its magical concoctions. Thelonious Wines is another great spot with a warm, welcoming ambiance complete and comfortable couches, ambient lighting and delicious vino. For an incredible charcuterie plate, stop by Olympia Provisions.
3. Drink beer
No Portland trip is complete without visiting at least a couple of craft breweries. From household names like BridgePort Brewing Company to new kids on the block like Back Pedal Brewing and family-owned institutions like McMenamins, you can't really go wrong. For those looking for some help deciding which brewpubs to check out, Eater Portland has a great list.
4. Visit Powell's Books
Whether you're looking for a new novel or you just want to let your curiosity run wild, it's easy to lose yourself in Powell's Books. I spent over an hour browsing the seemingly endless aisles, perusing each section from fiction to travel and beyond. Even if you're not a big reader, it's worth stopping in just to see the impressive collection of the world's largest independent bookstore.
5. Eat donuts
Most people know about Voodoo Doughnuts—where it's worth checking out the wild creations and eclectic bakery—but there are new players in the donut game, as well. Blue Star Donuts was my favorite with flavors that give Voodoo a run for its money like Raspberry Rosemary Buttermilk and Cointreau Crème Brulee. For the ultimate decadent brunch experience put your name in at Tasty n Alder, then walk to Blue Star for an appetizer. This brings me to my next recommendation…
6. Get brunch at Tasty n Alder
The wait for brunch at Tasty n Alder can be ridiculous, and as someone who hates lines, I found it difficult to stomach the two-hour estimate given by the hostess (hence the Blue Star Donuts appetizer). That being said, this place is a must-visit if you have the time and patience. The food is incredible with unique pairings like the Tasty Hangtown Fry with an open-faced omelette, fried oysters and bacon or the Korean Fried Chicken with house kimchee & eggs. The bar is equally impressive with a fantastic lineup of Bloody Marys; adult milkshakes like the Toro Bravo with Kahlua, Combier and Bacardi 151; and a creative cocktail menu. I recommend coming with a group and trying as many dishes as possible.
If you don't want to wait for a table at Tasty n Alder, Cheryl's on 12th is another great choice a block away with much shorter wait times. If you go, get the Portuguese Fried Rice.
7. Get out to Washington Park
Full of trees, trails and views of Mt. Hood on a clear day, Washington Park is where locals and tourists go to take a break from the hustle of the city. It's here that you'll find the International Rose Test Garden, the oldest of its kind in the U.S. and home to over 550 varieties of rose plants in bloom from April through October. Admission is free, but make sure to wear athletic shoes because some of the trails can be slippery and steep. I didn't have time to check it out, but the park is also home to spectacular Japanese tea gardens, which many locals told me is worth visiting as well.
8. Eat dinner at Portland City Grill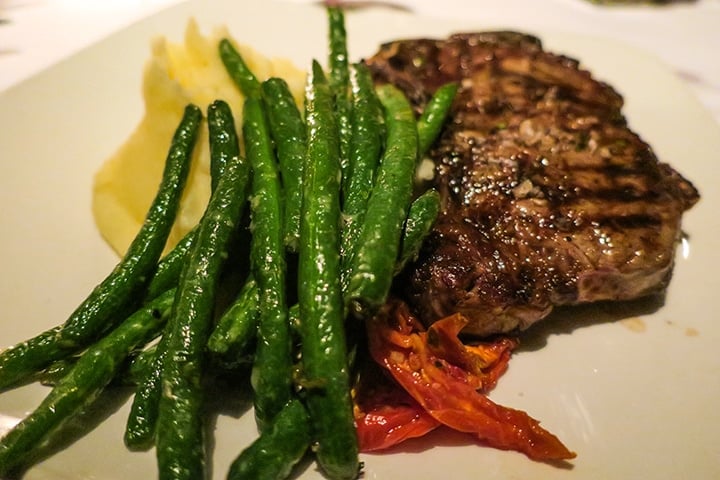 Perched high above the city on the 30th floor of the U.S. Bancorp Tower on SW 5th Street, Portland City Grill's cuisine is as fantastic as its views. A local fine dining institution for nearly 20 years, the restaurant serves fantastic steaks and seafood along with an impressive wine list and solid cocktails. Come for the views and stay for the food. You won't regret it.
9. Go hungry to the Alder Street Food Cart Pod
In the heart of downtown, you'll find over 60 food carts at the Alder Street Food Cart Pod serving up a variety of street food at all hours of the day. From traditional Chinese steamed buns at Bao Bao to legendary pulled pork sandwiches at Dinner Bell BBQ, there's a food cart for every craving.
10. Stroll Nob Hill
On the northwest side of town is another gem of a neighborhood ripe for exploring. Unlike the Pearl District—which spans multiple square blocks—the Nob Hill neighborhood follows two parallel streets filled with shops, bars, restaurants, and cafes. Stop into McMenamins Tavern & Pool for a pint, Sterling Coffee Roasters for an espresso tasting or Bamboo Sushi NW for some incredibly fresh & sustainably sourced sashimi.
Have something to add?
These are 10 of my favorite things to do in Portland. With so many awesome activities, restaurants and bars to see and experience in Stumptown, I barely scratched the surface during my time in the city of trees. What did I miss? Leave a comment below!
---
For more on the Hyatt House Portland, visit the hotel page here.