Are you considering a trip to Walt Disney World but worried about Disney overload? Is the thought of too much Mickey-and-the-gang making you question if you even want to go on vacation?
If so, a great Orlando alternative is the Wyndham Grand Orlando Resort Bonnet Creek. Located within the gates of Walt Disney World, this upscale resort offers guests the best of both worlds: the proximity to Disney (with a free private shuttle service to the parks) and the calm, serene environment of a luxury resort with a 10-acre lake.
With comfortable, spacious guest rooms and suites (some of which feature balconies and views of the Epcot fireworks and others with family-friendly bunk beds), plenty of activities for young and old alike, and top-notch restaurants, this two-year-old flagship Wyndham Grand property offers the perfect getaway.
I began my recent three-day stay at the property with a fabulous Swedish massage at the hotel's Blue Harmony Spa. The "Experience Shower" with multiple faucets, water temperatures, and light themes should not be missed. After drinks at the welcoming Bar 1521 in the hotel's lobby, I had dinner at the award-winning deep blu seafood grille. It was easy to see why this stylish, nautical-themed restaurant is a favorite with hotel guests and diners from off-site. From the focaccia bread with garlic butter and a sushi sampler to the tantalizing desserts, the food was top-notch, as was the service.
This fabulous property does not miss the mark when it comes to dining. The less formal, waterside eatery called the Back Bay Bar & Grill was also exceptional. From the fried pickles to the veggie burger served on a Krispy Kreme doughnut (decadence be damned!), the food and the views from this open-air restaurant, which straddles the large lake and a lagoon-style pool, were divine. Oh, and the fried peanut butter and jelly sandwich with chocolate syrup and whipped cream (yes, you read that correctly) was a perfect dessert once I realized that any chance of keeping the calorie count at a reasonable level was gone. In the cut-myself-some-slack category, I did have a Floridian salad (crisp romaine lettuce, sun-dried cranberries, pecans, tomatoes, strawberries and oranges with orange honey blossom dressing—yum!) for lunch one day. Just once though.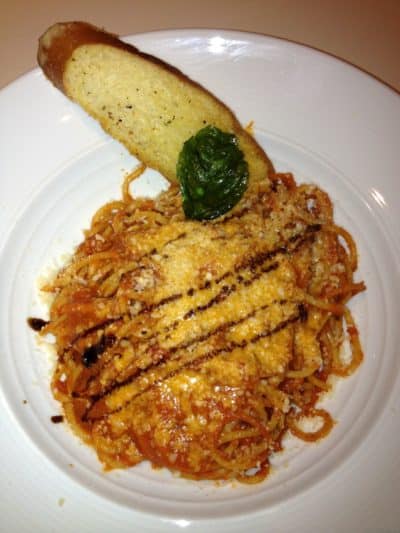 The family-friendly Tesoro Cove—also on-site—had a casual, relaxed atmosphere with some great menu items. The flatbread pizzas, spinach and artichoke dip with Cajun-dusted pita, and the fried mozzarella—a fresh ball of mozzarella deep fried—with a light and delicious Pomodoro sauce were tasty. The spaghetti with fresh basil ( and the aforementioned Pomodoro sauce) was rich and light at the same time—and tastier than the spaghetti at my favorite Italian place in Boston's North End. The warm chocolate brownie with vanilla bean ice cream, hot fudge, and whipped cream was a great end to a delicious meal.
Lest you think that eating is all that is done at this 400-room/suite resort, there are tons of activities for young and old alike. The list of daily happenings for kids, from treasure hunts to poolside performances, is impressive, and for adults, how about a mojito-making class? I had no idea I could make such a mean (and really tasty) mojito! Then there's the lazy river and access to the 18-hole Rees Jones-designed championship golf course at the adjacent Waldorf Astoria Golf Club.
In addition to the free shuttles to and from the Disney Parks, there are shuttles to other parks, such as Sea World Orlando, for a $13 per-person fee. Don't miss the new Antarctica: Empire of the Penguin exhibit at Sea World Orlando, which starts off with a ride (think Disney's Small World, but with a few more twists and turns) that follows the adventures of baby Puck, an adorable little penguin who plays peek-a-boo, and dispenses visitors into a freezing cold world of real-life penguins, who strut and splash in the South Pole-inspired environment.
While there are options aplenty for lodging in Orlando, the Wyndham Grand Orlando Resort Bonnet Creek is a great choice for anyone looking for comfort, relaxation, and fun. The lounges and public areas are inviting, beckoning guests to linger and shoot the breeze in beautiful, artfully-appointed nooks and crannies.
My husband and I topped off our stay by playing backgammon in oversize, comfy chairs in a quiet area of the hotel's ornate lobby, where we totally lost track of time. Isn't that what a vacation is supposed to be about? We're looking forward to visiting again—and this time, he might win a game or two!