By: Sue Facter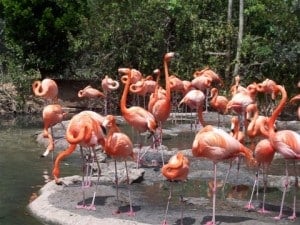 "You can go to heaven if you want; I'll stay here in Bermuda." – Mark Twain
My trip felt like a cross between The Amazing Race and "No Reservations" with Anthony Bourdain.
GETTING THERE
After a Jet Blue red-eye from Burbank and a six-hour layover at JFK, I practically kissed the ground at my civilized destination. The payoff was well worth It.
Upon arrival, I was met by very courteous Bermudian airport personnel, an immaculate arrival area and what seemed to be a breeze of a "walk through" customs… these days, you need a passport to get to Bermuda. Travelers were given health alerts,"Due to the concern of further international spread of a new strain of influenza, we ask that you monitor your health for at least 10 days."
FAIRMONT HAMILTON PRINCESS WELCOME
Peter, the Princess Butler, greeted me in the Fairmont Gold, a haven of elegance and charm. After accompanying me to my bayside room on the sixth and top floor (I called it the Penthouse!), Peter generously offered to unpack. Some things you just want to handle yourself! The hotel grounds, surrounded by hibiscus and oleander, are located between harbour-side and Front Street, the local business, restaurant and shopping centre.
Afternoon Tea at the Heritage Court was located in a very British "old world" hotel lounge. Staff treated us like royalty, without tiaras! Since opening in 1885, tea has been a tradition at the Princess (it's more elaborate than the Gold Lounge tea). The table was set with British silver tea sets, Belgian fine china and Italian woven linen. Even a "princess" tea for kids is offered with hats and a string of pearls. We tasted finger sandwiches, scones (topped with Devonshire clotted cream), cakes and teas (a variety of 14).
Wandered a little after tea, around the city of Hamilton and explored the resort facilities including a choice of fresh or salt-water pools. The day was a gorgeous 75 degrees and the humidity weighed in at 85. off.
HAPPY HOUR WITH A TWIST
The hotel's "Happy Hour," a weekly outdoor event, is open to the public and is the place to see and be seen! We tasted the popular "Dark and Stormy," a combo of ginger beer and rum. What a stunning view, as the sun set on the water. You can hear a rock band from the rooms in the main building from 5pm until past midnight, but just this one day a week. It was tough to leave such a gorgeous environment to eat again!
LITTLE VENICE
Attended a dinner party hosted at "Little Venice," a leisurely 15-minute walk. According to the New York Times it's the best restaurant in Bermuda… but I found my own favorite (later)! Various items: Bermuda Fish Chowder, Guitar Maccheroni Carbonara, Spice Infused Grilled Cornish Hen with sautéed spinach, and Lemon Veal. Great choices for vegetarians, as well. Although I was sitting at a table in the back, and could not see, I was surprised when Tony, one of the waiters, broke out into opera. Belissimo!
After a comfy sleep on a plush, king-sized bed, I had brekkie in the Fairmont Gold. We had choices of fresh juices, oatmeal, lox, hot Bermudian specialties, an array of cheeses and deli delights. Also: daily homemade scones with fresh crème, coffees, teas and bottled waters, which we were encouraged to take with. Fairmont Gold's fee: $100 over the room fees – the room is charged, not the number of people. A family of four would do very well with a buffet breakfast, a tea and a cocktail hour filled with enough hors devours to make a dinner. Its sister, The Southampton Fairmont, includes lunch. An added bonus: both have two complimentary guest computers and a variety of newspapers.
BERMUDA FACTS
It's a myth that only scooters are allowed. But for environmental reasons, only one car, per family, is allowed. We used taxis, vans, trolleys and our feet. Our driver, Bailey, informed us that there is a zero unemployment rate, "If you don't work, you don't eat. There's no welfare and no income tax." At a later time, I perused a large supermarket and was shocked to find a box of cereal for eight bucks.
Another myth: All the homes are pink. Although pink has a major presence on the island, we found an array of pastels from eggshell blue, lavender, yellow, mint, and more. There is no fresh water on the island; all of the roofs have to be painted white to catch the rainwater. These roofs are painted every other year because of the birds.
Bermuda goes one to one with the U.S. dollar, but if you fancy spending your dollar at a McDonald's, stay home! Fast-food chains are not allowed! Bermuda is also home to more golf courses per square mile than anywhere in the world.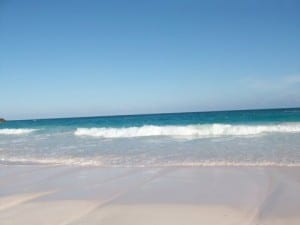 ST. GEORGES
On the Eastern side of the 22 square mile island is the town of St. Georges, founded in 1609 by English travelers headed to Jamestown, Virginia and derailed by a very bad storm. Former mayor and chairman of Island Tourism, E. Michael Jones (quite a character) walked backwards while guiding us through town. On the way through historic alleys/parks, he picked (and insisted we taste or smell) thyme, oregano, mulberries, rosemary, peppercorns, anise, and the tiny Bermuda banana.
Highlights of St. Georges: Town Hall, founded in 1612, and St Peter's Church, the oldest Protestant Church still in use. Also, the Bermuda Perfume Company (try "Lili Bermuda").
E Michael hosted an outdoor lunch at White Horse Tavern, the oldest tavern in town. It sits on St. George Harbour and is known for its fish and chips and grilled Wahoo, caught locally.
After lunch, Historian, Tim Rogers, led an exploration of the Bermuda Railway Trail from Warwick Pond to Paget Marsh, a two hour portion of the trail, which encompasses the entire island.
HARLEY'S TERRACE
Didn't have to go very far for dinner at Harley's Terrace, a seafood restaurant at the Princess. Some new pals and I sat outside and shared everything, including my shawls, when the temperature changed at sunset. We ordered from the new menu and then shared a variety of desserts.
Before we realized, it was time to pack (again) and experience the Princess' sister, the Fairmont Southampton, on the South shore.. Our bags were transported (after breakfast), while we walked to the local ferry, which is free to Fairmont guests. The 15 minute ride was too short to be at sea!
ROYAL DOCKYARD
During a very royal visit, we checked out the Royal Naval Dockyard enroute (known to locals as her Majesty's Dockyard), once dubbed the "Gibraltar of the West". It's an old-fashioned tourist family area. First stop: the Bermuda Maritime Museum (with immaculate restrooms) and the Bermuda Craft Market, where we met a charming retired resident, jeweler Don Mason, still working in his eighties. He and his wife, Frances, have been selling wire art and stones (at their eight-foot table) since 1987 and make about $150,000 annually, without a website. (Beautiful local stones are the Mason's specialty) Next stop: the Bermuda Arts Centre, and (also at the complex, and the Bermuda Rum Cake Factory, where we tasted (free) samples (remember it was morning!); there are 11 flavors in four sizes for sale. I also found a gemstone bracelet on sale for five bucks.
TO SOUTHAMPTON FAIRMONT
Sea air, shopping and rum revved our appetites for an outdoor hillside lunch (A short drive from the Dockyard landed us) at Salt Rock Grill, known for its Sunday codfish breakfast (till 4pm). (We lunched outside on the hillside, across the street from the sea. Menu choices included (Our table was filled with) grilled fish, salads, and fish soup. (and more.) We had some of the best French Fries on the island.
Viva la magnetic views …On the way to check into the Fairmont Southampton, we had a make-shift history class at the Scaur Hill Fort Park and The Heydon Trust Chapel, a quaint cliff-side church.
WILLOW STREAM SPA
At the hotel, we made time to chill at the prestigious Willow Stream Spa, a 31,000 sq. ft. space. Jet Lag massage, here I come; needed it! My knowledgeable massage therapist, Shelley, not only "rocked" with her touch, but also addressed some health concerns. Her treatment is "up there" on my list of best massages anywhere.
This was amazing! Spa guests are entitled to not only use the inhalation and sauna steam, indoor and separate Signature waterfall pools, but also the outdoor Jacuzzi and relaxation private sundeck, overlooking the Atlantic. Hotel guests can also purchase a day pass (Spa access for Fairmont guests) including the fitness facility, as well all spa areas for $29 daily or $99 unlimited hotel stay. Fitness facility alone is $15 daily; unlimited $40.
WATERLOT INN
After being shuttled by a trolley, Maitre D, Barry Cohen greeted us (and directed us) at the lush restaurant that's been around for 320 years. (Like E. Michael,) In his formal Bermuda shorts, coat and tie, he walked backwards to guide us passed a lounge with a wood wood-burning fireplace, a massive staircase, and (a) Baby grand with candelabra. As the sun set, we settled at a cozy corner table with a view of the dock on Jew's Bay, (this is) where Bermuda's original Jewish residents settled. Among the 60,000 Bermudian residents, only 150 are Jews.
Eleanor Roosevelt, Eugene O'Neill and Mark Twain have dined here. The Waterlot Inn is rated AAA Four Diamond with Wine Spectator Awards and offers the best steak in Bermuda. Because I limit my red meat intake to only once or twice a month, this was special. I was torn between the prime rib and filet mignon. Prime rib ($40), it was, with all the juices, which melted in my mouth. A pal ordered a Goat Cheese Crusted Filet Mignon, with wild rosemary-scented goat cheese crust, sweet pepper, onion and caper ragout and aged balsamic jus ($49). Two very memorable sides: Yukon Gold Potato Gratin and Truffled Boursin Mac and Cheese. Also available: a Signature baked potato ($30).
Who had room for dessert in this gastronomic paradise? The waitress suggested that we choose the 24-Layer Ultimate Chocolate Cake and the Sticky Toffee Pudding. Some in my party did, but I'd suggest the Black Forrest Cherries Jubilee.
FAIRMONT SOUTHAMPTON TOUR
Timws no bounds when on the road. It felt like I had been away weeks! (After breakfast,) We got the in-house Hollywood tour with Peter Frith, Fairmont's director of sales. to show us how the real VIPs live. I thought I was living it up with my deluxe room with a view of the sea (on the sixth floor) with turn down service, sometimes twice a night, matching sinks in my bathroom, a walk-in closet and a large verandah!
Above the Fairmont Gold floor, we grew privy to the marble and original art encasing the 2,900 Penthouse suites, with a master bedroom, an additional bedroom, two balconies, and three bathrooms. The duplexes are 1,600 square feet with 20 foot-high wall-to-ceiling French windows. These accommodations have everything you need, plus doorbells for entertaining.
MORE SIGHTSEEING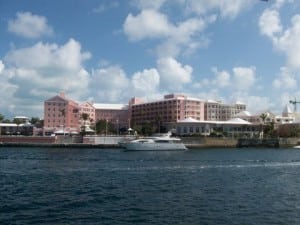 Celine Dion sang on tape at the "Titanic" exhibition at the Bermuda Underwater Exploration Institute? A must do: a simulated underwater Titanic experience in an enclosed 10 ft wide capsule. An anxious colleague asked to hold my hand because of claustrophobia. She made it through, but was lightheaded when she left the enclosure. So for the faint of heart, skip this seven-minute show. We were given nametags of actual Titanic passengers, which we checked at the end of the tour to see if we survived. I did! Adults: $12.50; kids 6-17: $6; under 6: free.
We headed to the Bermuda Aquarium, Museum and Zoo, founded in 1926 and located on the waterfront in Flatt Village. Afterwards, we lunched at the original Swizzle Inn in Bailey's Bay, Bermuda's oldest pub.
WORLD REKNOWN RUM SWIZZLE INN
Live jazz, a killer turkey sandwich (it was on kids' menu) and a cute gift shop, but not so hot service. However, the main attraction is not the scenery or the music; it's the rum swizzles. This is a secret recipe even a crackerjack journo could not break. Here's my scoop: Swizzles are comprised of Gosling's Black Seal and Gold Rum, three juices (probably pineapple, orange and lemon), falernum, and a few mysterious ingredients. A glass is $5.75; ½ jug, $14.95; jug, $22.75.
FINALLY, THE BEACH!
Had only two hours to hang with pals at the hotel's Beach Club, (on the south shore of Bermuda,) reachable by (the) trolley, on the bottom of a steep and windy road. Lifeguards are available in summer.h Running my toes through the glistening "pink" sand was see the various hues of the turquoise ocean was all I needed to smile. It wasn't overly hot and the sand was shell/rock free. This is probably the Bermuda that everyone has heard about: a joy to the senses. Water was on the cool side, but who's complaining? If scuba is your thing, visit Dive Bermuda, the only instructor development center in Bermuda is on the premises. Take its boat to wreck and dive sites to find parrotfish, jacks, snappers, spiny lobster, and Queen Angelfish.
It would have been a traveler's dream to stay put (on the beach), watch a dramatic sunset, while sipping a little vino. But we had bigger fish to fry. We accepted a dinner party invite at the Ocean Club, perched on a coral cliff overlooking the Atlantic, a few hundred feet away. We needed to get stylishly chic.
JASMINE LOUNGE and OCEAN CLUB
While having a drink at the hotel's Jasmine Lounge, what a surprise to find out the bottled "Bermuda Water", was tap water. You have three H2O choices here… Bermuda water, Flat or Sparkling. Must be careful which you choose!
A short trolley ride away, our final dinner awaited at The Ocean Club, a stunning Mediterranean-looking building, known for its seafood, with an Asian twist. During the summer months, alfresco dining is available on the terrace. Fortunately, we had great weather and were able to dine al fresco. The eatery is known for its miso-marinated butterfish, prepared with organic Shisco leaves, baby Bok Choy and Yuzo Citrus Sauce, seared scallops wrapped in applewood-smoked bacon, infused with aromatic spices. We can't forget the humongous ice cream Sundaes!br>
FINAL HOURS
The airport ride was only a half-hour. Fortunately, we were able to go through customs in Bermuda, instead of the States. It went smoothly for me, but others were randomly checked at security.
Four of us had almost four hour Jet Blue JFK layovers to Boston, Portland and LA. There were many free-wireless readily available hookups. I checked out the XpresSpa, that offers facials, massages, manis and pedis and waxing. Xpres services 18 other airports worldwide. As part of Jet Blue's expansion, it also offers a pharmacy with a pharmacist on duty (at night, no less). Only another six hours in the air to go.
BERMUDA ANNIVERSARY
For the last year, Bermuda has been celebrating its 400th anniversary, including a PGA golf tourney, a tall ship sailing (from Spain), and an annual Music Festival. On 12/31: the Youth Workshop Services by Transforming in the Arts Association sponsors a New Years Eve concert.
ABOUT THE AUTHOR
Sue Facter is a Los Angeles-based journalist, whose international travel meshed as a (Jr Year abroad) student in Cambridge, England. "We could pop over to the continent very inexpensively for a weekend." Through her entertainment reporting/producing, she finds herself most challenged with assignments on the road. " A NJ native and former NYC resident, her motto is, "I'd rather fly, than drive!"
*Please tell us what you think of this story!
WEB RESOURCES
Jet Blue

JFK

Fairmont Southampton