Of the activities I enjoy, sitting in an airport is near the bottom of the list. There are never plugs available when you need them, and at some airports, the ambience is akin to a hospital waiting room. But Virgin America has just made going to the airport a little more appealing with the announcement of their first Virgin America Loft at LAX's Terminal 3. Sleekly designed, and offering great views of the runway, the new Virgin America Loft looks like a great place to grab a drink and kick up your feet during a long layover.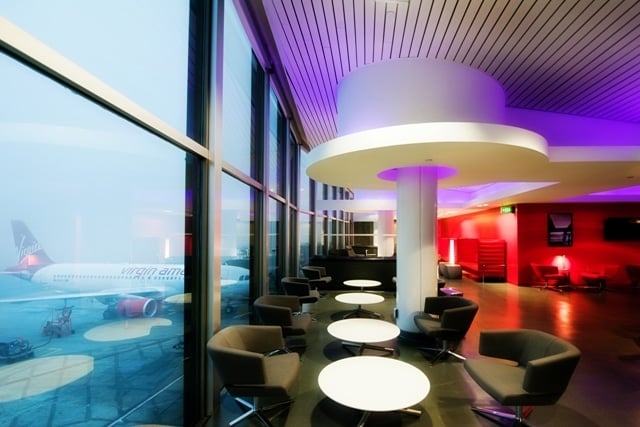 Not to be confused with sister-branded airline Virgin Atlantic's premium international Clubhouses designed for longer-haul travelers, the new Virgin America Loft will offer Virgin America's guests a sleek and modern retreat within LAX. In keeping with the airline's mission to reinvent the U.S. travel experience, the new Virgin America Loft was designed to offer the amenities today's travelers demand within a space that reflects the look and feel of the airline's next generation mood-lit aircraft and overall design aesthetic. The Virgin America Loft extends the airline's signature cabin experience into the airport space with amenities like a cocktail bar and dining experience with a Virgin twist including a Lofty Libations artisanal cocktail selection. As the only airline to offer both power outlets near every seat and in-flight WiFi on every aircraft, the Virgin America Loft is equipped with ample power sources and complimentary WiFi.
Access: Elevate Gold and Elevate Silver members of Virgin America's Elevate frequent flyer program receive a select number of complimentary day passes each year to the Virgin America Loft and day passes can also be purchased for $40 each through online check-in, at the airport upon check-in, and through the Virgin America call center at 1.877.FLY.VIRGIN. Travelers on Virgin America's airline partners may also purchase passes to the Loft. For more details, including rules and restrictions on Virgin America Loft access visit their website. (www.virginamerica.com/vx/lax-loft.)
Location: The Virgin America Loft is located past security at Terminal 3 of LAX on the second level conveniently near the Virgin America gates. You can access the Virgin America Loft by taking the stairs or elevator, both located near the food court.
The Virgin America Loft was designed to create a space where travelers can relax, refresh, and recharge.