The Greater Cleveland Aquarium, which sits along the Cuyahoga River, opened its doors in January 2012. The 70,000 square foot, state-of-the-art facility has 36 exhibition tanks, filled with millions of gallons of water, and is home t0 more than 5,000 fish.
The aquarium is designated into 10 exhibition areas including The Tropical Reef, Exotic Freshwater, and the Florida Keys, just to name a few. The Ohio Lakes and River exhibit showcases the freshwater species native to Ohio, along with channel catfish, walleye, and bass.
The shark tank consists of a variety of 18 sharks, eels, and saltwater creatures that allows visitors an up-close and personal view of scuba divers doing their daily shark feedings. The Underwater SeaTube exhibit – a crowd favorite – allows visitors to experience life under the sea in a 150 foot acrylic, underwater tunnel, where sharks, stings rays, yellowtail snappers, and rooster hogfish swim together peacefully.
What's so unique is that the aquarium's four-level structure was originally The FirstEnergy PowerHouse, constructed in the late 19th century to provide energy to power Cleveland's first electric railway and streetcar system. Known for its beautiful red-brick exterior and commanding smokestacks, the building is now a National Historic Landmark.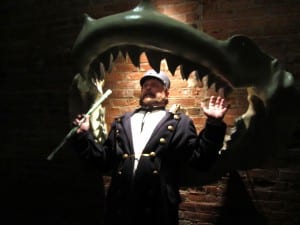 In Cleveland's effort to utilize older buildings for new business, it was completely renovated the mid-1980s. Some of its distinctive features, such as the smokestacks, stylish arched windows, and distressed walls were restored and now play an integral part of the aquarium's character. The building also doubles as a banquet hall, an outdoor concert venue, and is surrounded by restaurants, offices and apartments.
One of the most enjoyable parts of my visit was undoubtedly the interaction with our infectious tour guide. Captain Neo, impressively came all the way from the 1700s to spend some time with us. He was engaging, informative and hilarious. But more so than anything, his attitude spoke to the aquarium's commitment to connect with its guests in an intimate way that both children and adults would remember for a long time.
Admission: Adults $21.95, Children $15.95, Annual passes start at $50