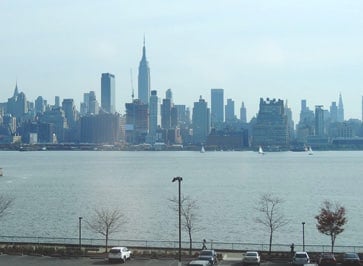 Nothing gets me in a New York state of mind like looking at the Manhattan skyline. And the best vantage point is from New Jersey. Staying right in Manhattan is trés convenient—except for the expensive, cramped rooms and traffic. Fortunately, I discovered a very appealing place to stay across the river in Weehawken, NJ. Here are 10 things to like about staying at the Sheraton Lincoln Harbor Hotel:
1. The Sheraton Lincoln Harbor Hotel is right at the water's edge across from 23rd Street with a view of the Empire State Building, which sits on the corner of 34th Street and Fifth Avenue about ten blocks north.
2. The NY Waterway ferry to Manhattan is right outside the main entrance, and the hotel is a delightful ten-minute ride across the Hudson River. Look north when you're on the water to see the George Washington Bridge; look south to see the Verrazano Bridge and the Statue of Liberty. Breathtaking!
More: $9 each way (adults); $6 for kids 6-11; FREE for kids 5 and under; leaves the dock frequently, throughout the day and evening; docks are midtown at 39th Street.
3. No hassling with a car in the city. Take the ferry and park at the hotel for $25 day. This is a popular spot for touring musicians and their entourage. Usher's "honey wagon" and cotillion of buses were there, tucked discretely around the edges of the back lot.
4. Updated, stylish rooms at reasonable prices. I paid under $249 for a Saturday night stay for a King Suite, less than I would have paid for a much smaller room in the city.
5. My king suite had a comfortable sitting area that had its own TV, as did the sleeping area. But no mini bar :(
6. Big, comfy bed with a view of the city and very crisp linens.
7. Clean and simple bathroom. I like a tub. This one was low and easy to step into. The grab bars are also a smart addition.
8. Super easy check-in. Park your car and walk right into the rear lobby where several friendly attendants stand ready to help you. It was a breeze. I was in my room in ten minutes.
9. A continuous esplanade travels south from the hotel all the way to Hoboken. Get up in the morning and take a walk or run right along the waterfront. Hit the Starbucks south of the hotel with a ten-minute walk.
10. It's pet-friendly, meaning there's no additional fee to check in with Fido. But there will be a $250 cleaning bill if your puppy makes a mess.
FYI: Wi-Fi is not free. Access is through AT&T for $9.95.