The Outer Banks (OBX) of North Carolina is…
Totally relaxing, with gorgeous endless beaches
Inspirational, with the Wright Brother's Kitty Hawk
Adventure-filled, with kiteboarding and deep-sea fishing
Enchanting—you can ride a horse on the beach!
On my recent visit to the Outer Banks for JohnnyJet.com, I visited Duck, Kitty Hawk and Kill Devil Hills, and then worked my way down the narrow peninsula to Hatteras. The action-packed week included paddleboarding, sailing, kayaking and walking up many stairs in historical lighthouses. And tucking into the best seafood that this area has to offer—Sanderling's Kimball's Kitchen, Red Sky Café, Good Winds Restaurant—was also on the agenda! From that experience, here's my list of my 14 best things to experience in the Outer Banks:
1. Waves Village Kite Boarding Resort
I stayed at Waves Village Kite Boarding Resort. Kiteboarding has taken off, and here you can take a three- or five-day intensive. Cape Hatteras is known for some of the best kiteboarding in the world thanks to its consistent winds, warm temperatures and shallow waters. I stayed on the top floor unit—the "Love Shack"—where I felt like I was part of the action as the kiteboarders whizzed by. I enjoyed the ocean breeze and the modern luxury of this moderately priced, pet-friendly accommodation.
Waves Village Resort made for the perfect summer get-away. Their gift shop is the largest Life is Good store on the east coast and the Good Winds Restaurant has a great selection of craft beer and local seafood set in a casual and fun atmosphere overlooking Pamlico Sound, with killer sunsets. The outer deck is pet-friendly. Stand-up paddleboarding was my activity of choice with instructor Claudia of Kite Girl and Kitty Hawk Kites, which is right on site. She will get you kiteboarding, supping or kayaking.
2. Trio
Trio in Kitty Hawk, OBX, is a cool concept bodega/café, half-retail store, half-imaginative bistro. It's named Trio because of the three main items: cheese, beer and wine. What more is there? There are 24 draught craft beers, and a similiar number of excellent wines by the glass. They have European and American cheeses and innovative twists on mouth-watering old favorites. Trio's grilled cheese is made with three different gourmet cheeses drizzled with truffle oil on grilled bread and served with their house-made pickles. Chef Neil is also famous for his creative southern desserts.
3. Wright Brother's National Memorial
Nearby Waves Village is Wright Brother's National Memorial in Kill Devil Hills. Flight enthusiasts can see where the two brothers from Ohio practiced and eventually took their first flight. In the visitor's center you can see a reproduction of the 1903 flyer and 1902 glider. The monument is on top of a breezy hill—a fun place to cool off and see the same vista that the Wright Brothers had (with their challenging uphill walk). There's also a full scale model of the original plane that kids of all ages can play on.
4. Historic lighthouses
Visit the area's historic lighthouses and do a self-guided climb to heaven to catch a view of the Atlantic Ocean. Cape Hatteras Lighthouse was built in 1870 to keep ships away from Diamond Shoals. This area is known as the "Graveyard of the Atlantic" because of all the shipwrecks. Bodi Island Lighthouse is also climbable and has only 200 steps! Each lighthouse has a different blinking pattern so sailors can distinguish it from the others at night. Black and white patterns painted on the outside called daymarks are used to identify them during the day.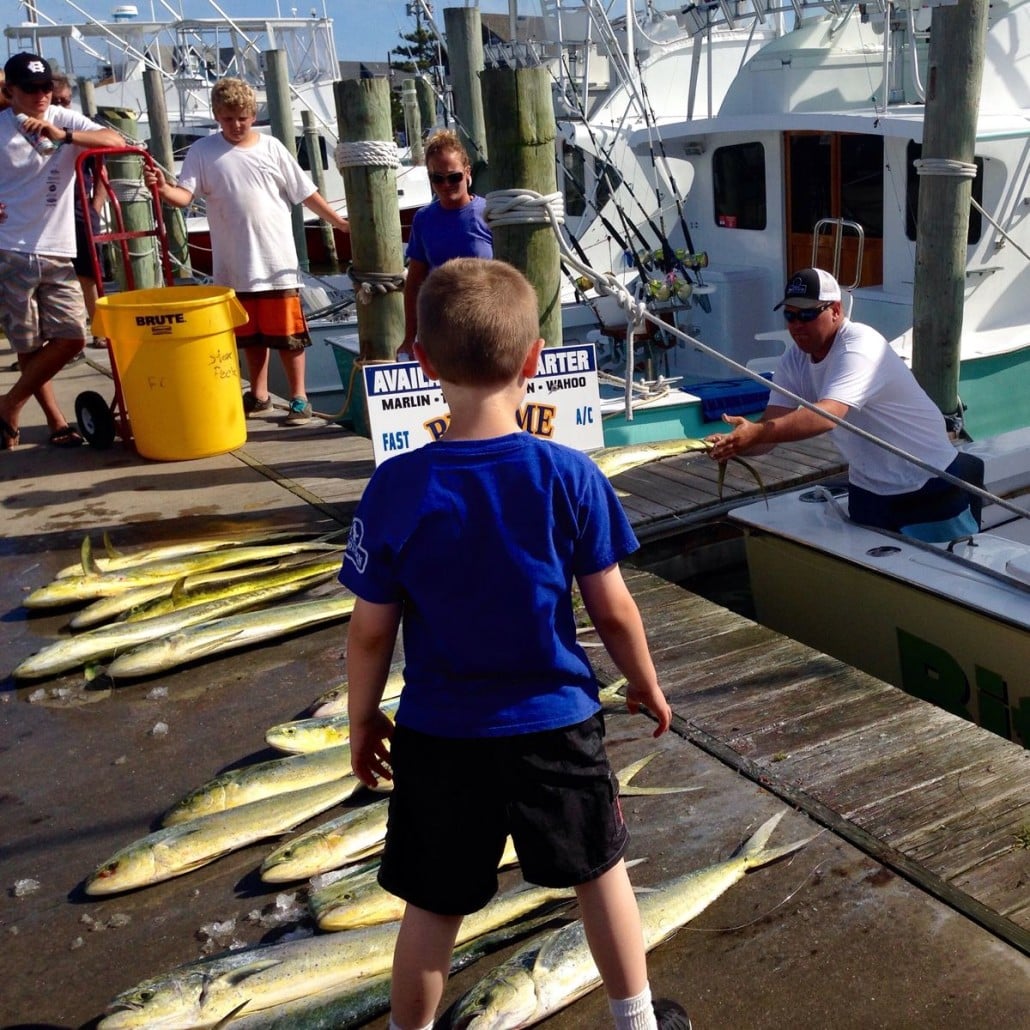 5. Big game fishing
Go big game fishing with Ernie Foster of The Albatross Fleet, who has been taking people fishing since 1937 (well, his father started the business and young Ernie towed along). Ernie is a keen environmentalist who emphasizes catch-and-release sport fishing. He told me that the Gulf Stream is only 20 miles offshore and at Diamond Shoals, it collides with the Labrador current to create a unique environment where big game fish live. When I was there we saw a 675-pound blue marlin hanging at the dock. He told us that unfortunately, sometimes the fish go under the boat and die but that in this case, the meat was cut up and given away to the locals. He also said that this does not happen very often and that the big fish are usually released (except during occasional fishing tournaments).
6. Studio 12
Do art at Studio 12 in Hatteras. Create ceramics, and visit their glass and art gallery with the works of 35 different artists. You can paint your own pottery or create your own beautiful glass sun catcher with Studio 12 owner Carolyn Schena. Carolyn enjoys sharing her passions for art and Hatteras Island with her students. Making a glass-fusion sun catcher for $37 was a really fun way to unwind and a nice break from the sun after all of our activities. They have classes every Wednesday throughout the summer months and their gallery has unique and affordable art pieces and jewelry.
7. The Inn at Pamlico Sound
Stay or eat at The Inn at Pamlico Sound. This inn is a set on a quiet inlet in Buxton, right on the sound. It was so quiet here. It reminded me of a Caribbean boutique hotel. We had special cocktails on their deck while watching another memorable sunset and enjoying a five-star dinner in their intimate dining room featuring local seafood, steaks and organically grown vegetables, many grown on the premises. Hands-on owner Steve Nelson has put his knowledge of business and his love of all the things the Outer Banks have to offer to use in this gem of a B & B, a fact that the repeat guests can attest to.
8. Burrus Market
Visit the red and white grocery store—Burrus Market—in Hatteras, a small country general store that has been in Allan Burrus' family for generations. All the local gossip goes on here and this is where we found out about the 675-pound marlin that was caught and seen down the road at the marina. Chances are, Allan himself will be on the porch or in the store, so don't forget to say "Hello"! Oh, and did I say that they have unique and hard-to-find items and a great deli?
9. Sanderling Resort
Stay or dine at the Sanderling Resort in Duck, open year-round and acting as the perfect oceanside retreat. Kimball's Kitchen has some of the best cuisine I've had anywhere, and it's open May through October. I loved their raw oyster selection and special cocktails and champagne by the glass! Sanderling's friendly staff include many from Jamaica that return every year. The Lifesaving Station is their casual restaurant with delicious breakfasts—or to-go options to take and enjoy on the beach. I tried their sublime morning yoga on the beach but nothing beat walking next to the ocean and listening to the ocean waves.
10. Duck, Outer Banks
Duck, Outer Banks is great for dog-lovers!! The pet-friendly town boasts the only Outer Banks beach to allow dogs off leash year-round. The mile-long boardwalk is part of a six-mile oceanside foot path. Many love the free outdoor performances and free outdoor yoga. In October they have an annual Jazz Festival. I visited the following places in Duck and recommend them highly:
Red Sky Café — Owner Chef Wes Stepp serves up creative cuisine in a funky and fun atmosphere. He prepared a delicious (monstrous) platter of soft-shell crabs, calamari, shrimp, and chicken burritos with guacamole. His Chefs on Call service is for people who would like dinner prepared and served in their home or vacation cottage.
Backside Bar — Part of the Roadside Bar & Grill and a down-home place to enjoy creative cocktails while sitting in colorful Adirondack chairs and ordering from a retro roadside camper.
Duck Donuts — Not to be missed! Order your donuts and watch enthusiastic young staff create your customized masterpiece. Choose your own toppings and enjoy, seriously, the best donuts! I had the lemon cake donut with maple glaze—yum!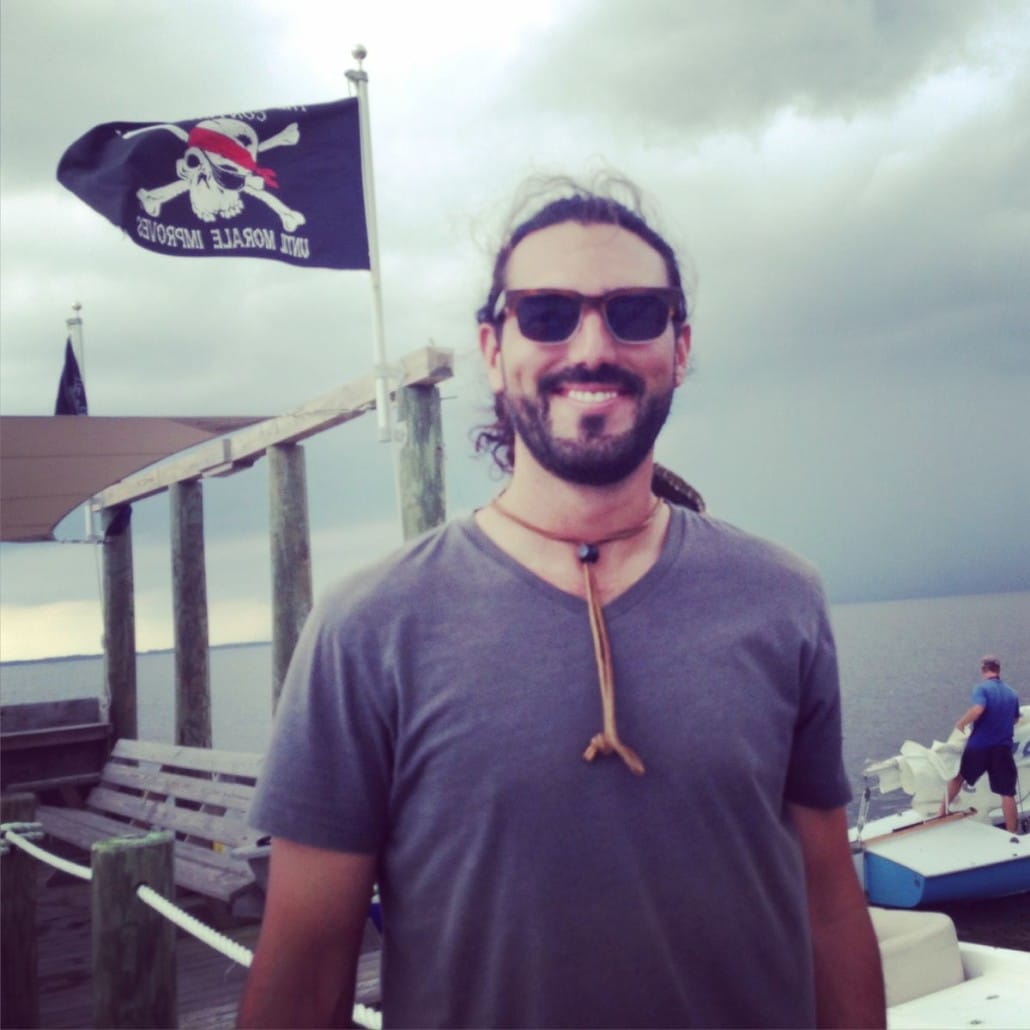 11. Nor'banks Sailing
Nor'banks Sailing for parasailing, kayak rentals and learning to sail with pirate look-alike Dan McIsaac! They have a great variety of sailboats and watersports of all kinds. Great for kids and adults, too! Nor'banks sailing offers a sailing lesson program called Go Sailing, a private sailing lesson for individuals, families, or couples and costs $145/hour and $99 per additional hour.
12. Horseback riding
Equine Adventures offers horseback riding on a two-hour trail ride which includes riding on a barren beach. An ultimate adventure recommended for riders with some previous riding experience.
13. Koru Spa
Make time for a spa retreat at Koru Spa at Koru Village in Avon. A place to totally unwind!
14. Nights in Rodanthe scene
See the house where the movie Nights in Rodanthe was filmed (if you're a Nicholas Sparks or Richard Gere fan, that is!). Ask Allan Burrus where it is!
Editor's note: For more on the OBX and the golf scene there, check out 4 Days of Golf in the Tar Heel State. For more on the Outer Banks, visit outerbanks.org.