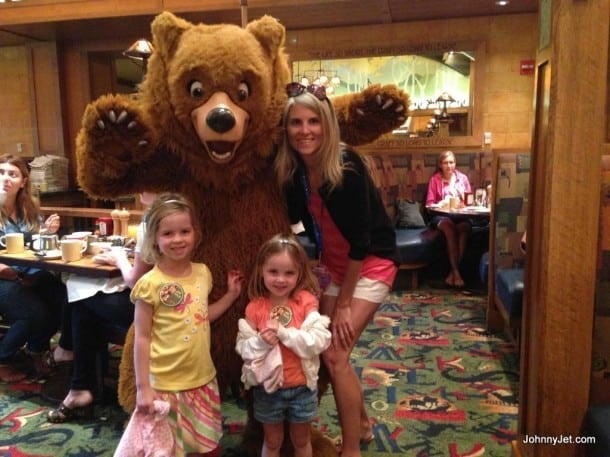 My latest trip to check out the newest attractions at Disneyland and California Adventure lead me to Disney's Grand Californian Hotel and Spa. I was fortunate enough to get to spend one night at this beautiful hotel with my two young girls. Following in true Johnny Jet style, here are my top ten (+) reasons to stay at Disney's Grand Californian Hotel and Spa.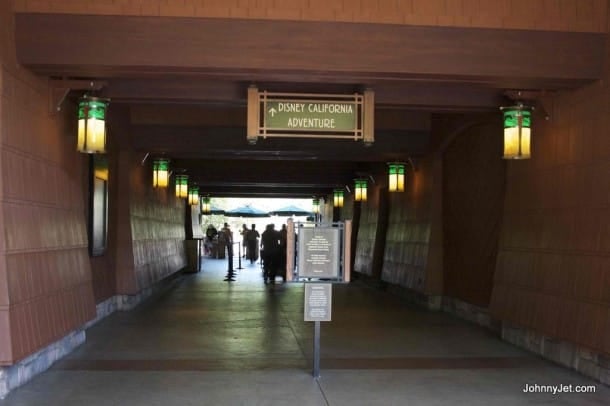 1. VIP Access
Who doesn't like a little VIP treatment? That's one of the perks you will get when you stay at Disney's Grand Californian Hotel. Guests of the hotel have a private entrance into California Adventure! Being a mother of two small children, I understand the need for convenience. The only thing between you and California Adventure is a bag-check and room key-check! No wait, no long walk, no shuttle…how awesome is that?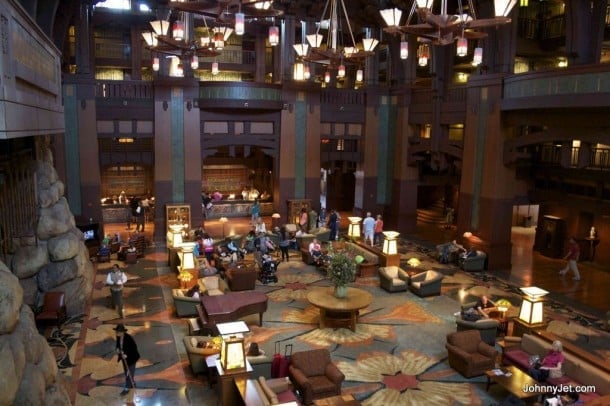 2. Lobby
20th-Century architecture greets you as you walk into the beautiful, grand lobby. Massive vaulted ceilings, a large stone hearth and unique lighting are among the many things that set this hotel apart from others. Little chairs await your children in the corner of the lobby, where Disney cartoons are playing throughout the day. This is great to keep your "own characters" busy while you check-in, get information from the concierge—or for when you just want to relax and have a drink while listening to the piano. Even with all the comings and goings, this busy lobby is quite relaxing.
3. Recreation
If you are looking for relaxation or a place to wear your kids out, then go make a splash at one of the three pools. The Fountain Pool provides guests with a more relaxing experience, while the Redwood Pool and its waterslides offer the perfect playground for the young and young-at-heart. There is also a baby pool. There are two waterslides: a small one that is perfect for little swimmers and a traditional twisty slide for everyone. My 3- and 5-year-old girls loved the little slide. My 5-year-old especially liked that she could touch the pool floor at the end of the slide (3-feet deep). I loved that there were no height/swimming restrictions (however only one rider can go at a time). Life jackets are provided…nice not to have to pack bulky inflatables in your suitcases. The pool service is excellent. The lunch we ordered came quickly and the food was great.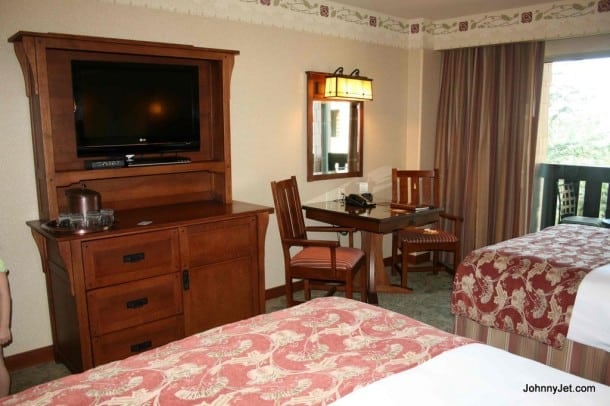 4. Family-Friendly Accommodations
Plenty of options await you when you go to book your hotel room: 50 two-bedroom vacation villas, over 900 rooms and 44 suites. If you are traveling with more than one child, you may wish to request a room with bunk beds. Kids will flip over that! Do your kids love campouts? Sleeping bags with floor pads can be requested at check-in! We stayed in one of the standard guest rooms with two queen beds and found it perfect for our overnight stay. There was enough space for our double stroller and I liked the coat rack, which has room for all your family jackets. The blackout shades worked wonders! My two daughters slept in and as I opened the curtains they added with surprise, "It's morning?"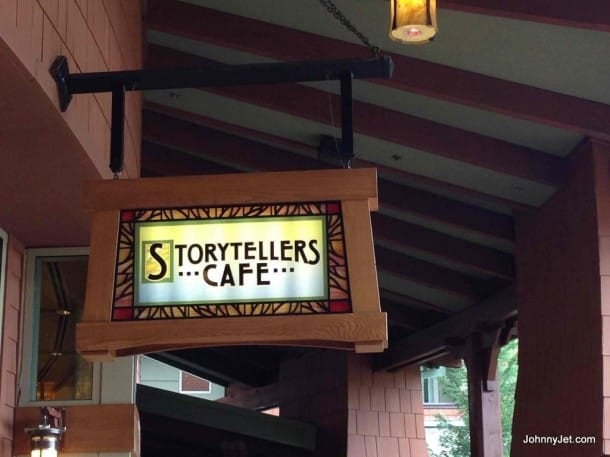 5. Dining
The hotel offers three different dining options: Napa Rose, Storytellers Cafe and Whitewater snacks. For fine dining, make a reservation at Napa Rose. Since I went with my two young children, I opted for the more kid-friendly restaurant, Storytellers Cafe, where critter characters such as Chip and Dale visit your tables. My kids got a lot of practice with "big bear hugs!" During your meal, your kids can interact with the characters…doing the Hokey-Pokey, singing "If You're Happy and You Know It" and playing follow-the-leader. Ok, is the food good? Yes! My kids enjoyed the Mickey Mouse waffles and the omelet bar was just right for me!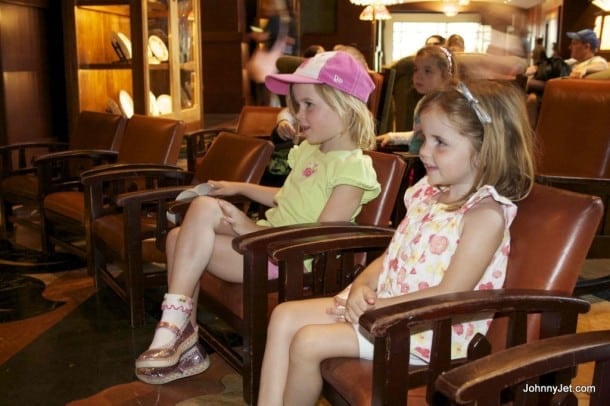 6. Special Family Touches
Need a date night? Take your kids to Pinocchio's Workshop, a licensed child-care facility for kids ages 5-12. I can't say that I experienced this personally because my youngest child is 3, but when we walked by it looked like the kids were having a good time. Also, story time is held nightly at 5:30 and 7:30 in the lobby.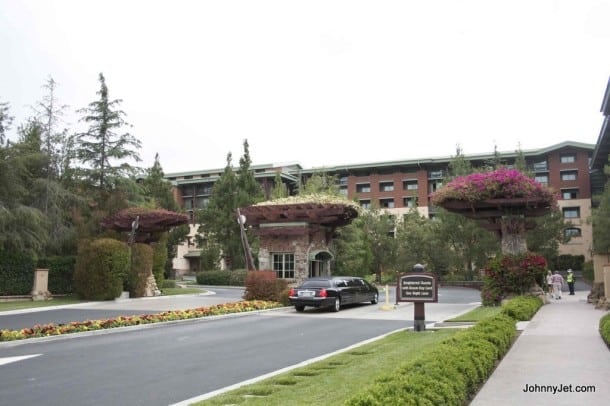 7. Location, Location, Location
The hotel is located in the heart of Downtown Disney, an area bridging the theme parks and hotels. If you are looking for live entertainment, shopping or a meal, just walk out of the hotel into the bustling center of Downtown Disney and you'll find it. If you are on your way to Disneyland, then cross over to the monorail and ride straight into Tomorrowland. My two kids thought this was a special ride in itself!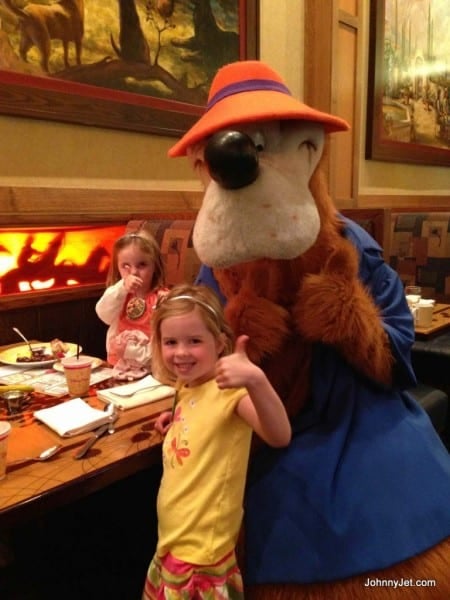 8. Service
Great service is guaranteed! I loved the wicker baskets that were placed outside each room and filled in the morning with crisp, clean, white sheets. As I walked into my room after a busy day at the park, I couldn't wait to get in between those sheets and rest up for another fun day.
9. Bedtime Princess Stories
When your tired little princes and princesses are ready for a goodnight story, no problem…just turn on your flat-screen TV! One of the Disney princesses will be waiting to tell your kids a short goodnight story. We happened to get Snow White. The stories loop, so don't worry if you start one in the middle.
10. Nap Time
We all know that visiting Disney parks is great fun, but everyone needs their beauty rest. When you want to catch a few z's or let your screaming toddler have a quality nap (not in the stroller), the hotel is just minutes away from Disneyland and California Adventure. Once everyone has a second wind, you can head off again for the "Grand" finale of your day!
I should stop at 10, but here's just one more reason!
11. Spa
What better way to relax than to visit the luxurious Mandara Spa. Now to be quite honest, I only wish I had been enjoying a mani/pedi at the nail bar or getting a "Balinese Massage," but I'm afraid I wasn't able to indulge this time. I will have to save that for my next trip when I'm not alone with my two children.
Maybe this will be the spot for you next vacation—and as Mickey would say, "See ya real soon!"