I recently took an Intrepid tour to the Galápagos Islands. For those of you who don't know, they're located about a thousand miles off the Ecuadorian coast in the Pacific Ocean—and famous as the place that Charles Darwin got the idea that we are all descended from chimps. Chuck was in fact so impressed with his travels to the Galápagos Islands that he burned his passport as soon as he returned to England and didn't travel more than two blocks from home the rest of his life. He also developed a taste for bananas.
Some of my friends have been dreaming of going to the Galápagos Islands since, at age 12, they saw an item about "Boobies Abound in the Galapagos!" in National Geographic. I was inspired by a similar article when I was 12, but it was in Playboy.
You've probably gathered by now that I'm not really a bird-watching sort of guy. But I was blown away by the animal-rich and geographically diverse Galápagos—it's hard not to be. The islands vary from tropical rain forest to lava fields that can only be compared to walking on the moon.
Getting to the Galápagos is a bit of schlep—unless you happen to live in South America. From Vancouver (where I call home) it's a good 14 hours just to get to Quito. From there it's a couple more hours on one of Galápagos Air's new Airbus 320s to the new airport on San Cristobal Island. If the Galápagos Islands are your sole destination, I'd suggest an overnight stop at one of your transfer points (i.e. Miami, Houston or Bogotá), as doing so would certainly would make the long trip more endurable.
We snorkeled with sharks, and swam with sea lions, turtles and penguins—and that was just on the first day! Each day was a new set of adventures. One day was spent on Sullivan Bay on Santiago Island, which can only be described as what it must feel like to land on another planet: no sea lions, no iguanas, no boobies—no anything. Sullivan Bay looks like a combination of the surface of the moon and Mars, with huge black lava fields in the foreground and barren reddish hills in the background.
Where to start your Galápagos planning
If you're planning a trip to the Galápagos, the first decision you have to make is the length of stay that best suits you. There are five-day tours, which would be the minimum I'd recommend. If being at sea for five days seems a bit too much, you can opt for a three-day tour, but I don't think three days is long enough to get a real feel for the islands.
The time you spend in the Galápagos Islands may also depend on your overall itinerary. If you're spending more time in South America or planning to combine your Galápagos adventure with a trip to Machu Picchu, for example, then five days in the Galápagos would be just about right.
Another key decision is choosing an appropriate level of physical activity for your trip. On my particular tour the activity level was classified as "moderate," which came with one or two one-hour walks (with many stops) and one or two snorkeling opportunities a day. Then there are tours geared to those travelers who may have "mobility" issues and need a gentler level of activities. And, of course, there are tours that are geared to the very active traveler looking to hike up a side of a volcano before breakfast each day.
I was booked on the Monserrat, a mid-range (30-meter) yacht. I shared a cabin (not a stateroom) with two single beds, our own bathroom with shower and air conditioning. It was clean and comfortable; and anyway, the only time I was ever in the cabin was to change clothes or sleep.
The crew worked hard to keep the 17 of us onboard happy and well fed. I saw yachts that were more luxurious, and a lot more that weren't. For those who want more creature comforts there are "cruise ships" that carry about a hundred passengers. I noticed most of the passengers on these ships were older, and their shore excursions were generally limited to one or two hours a day.
If you're considering booking a ten-day Galapagos adventure from North America you're looking at spending $3500 to $5000 depending on your chosen "comfort" level. This doesn't include roundtrip airfare to Quito (about $750 from Vancouver or Toronto) or the $100 National Park fee. You can sometimes save up to 50% of the tour cost if you're willing to gamble on last-minute availability. Personally I don't like uncertainty, and prefer the security of knowing exactly what I'm paying and when I'm departing—but lots of people love a bargain. If you're on a really tight budget, you can stay in a backpacker hotel or hostel in Punta Ayora (on Santa Cruz Island) and book inexpensive day trips from there.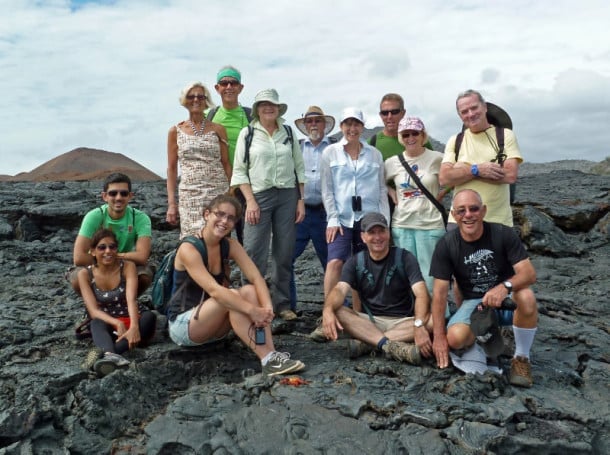 The Intrepid tour I chose was in the middle of the spectrum, in terms of the levels of physical activity, comfort and cost. It was advertised as a ten-day tour, but when you deduct the time spent in Quito at the beginning and end of the tour you're only out on the islands for seven days.
Make sure your itinerary includes a snorkeling visit to Cerro Brujo, also known as the "Sleeping Lion," on San Cristobal Island''s north coast. Up close, you see the spot is actually two little islets with the lion's head being the smaller and the body the larger—and then you snorkel between them.
The first thing I noticed as I put my face in the water here was a six-foot white-tip shark looking back up at me. This was okay—for starters I actually like sharks, having dived with them on numerous occasions and dealt with them in banks. Looking around I saw perhaps fifty more swimming thirty- or forty-feet below me. I also saw diamond rays, and turtles. This is perhaps the best snorkeling I've ever experienced—and I've been to a lot of places.
Another place you want to visit is Champion Island, a small islet off Santa Cruz. No sharks here, but it's an incredible opportunity to swim with sea lions. The fat brown lumps lying around on the beach are suddenly transformed into graceful aquatic ballerinas the moment they hit the water. They're incredibly curious and swim right up to your face, then zip away only to return again a few seconds later. In addition, Galápagos penguins—small birds that fly underwater like jet fighters—buzzed by so quickly you could hardly see them.
If the Galápagos Islands are on your bucket list, you might want to consider moving them up to the top—there's a persistent rumour the Ecuadorian government is planning to further curtail the number of visitors allowed for environmental and ecological reasons.
For more information on trips to the Galápagos Islands like the one I took, check out intrepidtravel.com.