Are you a travel geek? I would have to say that I am! I spend countless hours researching and reading everything I can about travel. Planespotting is one of my favorite activities. And I always have a bag packed and ready to go! On July 13, in honor of 'Embrace Your Inner Geek Day', Hotwire launched a campaign asking travelers what's in their #AnytimeBag … the bag that's got all your travel essentials and is ready for a spontaneous trip anywhere, anytime!
I travel pretty much every week, sometimes three times a week. There are also times when I have to hit the road at a moment's notice so I always have my 'anytime bag' packed and ready to go. I rarely ever check bags for a number of reasons and now that airlines are getting stricter with their carry-on luggage policies, I have to pack even lighter.
There are two bags I mainly use. The first is a Roots duffel bag, in which I keep my clothes. I usually don't pack that bag until the day before a trip but it's easy to pack and takes me under five minutes to pop in a weeks' worth of underwear, two to three pairs of pants, shorts, shirts, a bathing suit and dress shoes. After being diagnosed with a squamous cell carcinoma on my lower lip in 2014, I now always travel with a Tilley Endurables hat, SPF 50+ sunscreen (travel size) and lip balm with sun protection. I also keep my toiletries in my duffel bag so I don't forget them.
Admittedly, it's much more difficult to travel with carry-on only if you're headed to a winter destination but it's possible. I just wear all of the heavy, bulky clothes on the plane. I also wear a Scottevest jacket since it's got 20+ pockets for keeping valuables safe and accessible and carries so much stuff that it essentially acts as a piece of carry-on luggage.
The other bag I always take with me is a Briggs and Riley rolling computer case. It's always packed except I just need to pop in my laptop, an Aspire3. Aspire S7 Series Ultrabook. So, what other products do I always have in my bag? If you peek inside, here's what you'll find:

Bag Bungee
This contraption isn't in my bag but rather attached to the handle of my computer case. The simple invention (essentially a bungee cord) makes toting a duffle bag on top of your roller bag a cinch. If you get one, it will be the best $15 you ever spent.

Maui Jim sunglasses
I used to be a big fan of Ray Ban, but after a few bad experiences with their customer service, I switched to Maui Jim. And I'm a huge fan! I love their patented polarized lens technology, which makes everything look amazing and minimizes the glare, while protecting my eyes from harmful UV rays. But what I love most and what really turned me into a fan is their customer service. If you have any problems with the glasses, just send them back and they'll take care of you in a timely and inexpensive fashion for a reasonable price.
Passport and NEXUS Card
I need my passport for obvious reasons but most importantly to scan at the Global Entry machines, which makes returning back to the U.S. a breeze. I can literally land from a flight and be through customs and out of the airport before the last person gets off the plane (that's if I'm sitting near the front). Since I travel to Canada often (my wife is Canadian), the NEXUS card is a must and acts just like Global Entry but in Canada. BTW: The NEXUS card is the best deal around since it costs $50 for five years and includes Global Entry and TSA PreCheck. Here's more information.
Credit cards to get into the lounges
I carry a number of credit cards when I travel but the two that get me into the airport clubs and lounges are the Citi / AAdvantage Executive World EliteTM MasterCard (it gets me into all the American Airlines lounges) and the American Express Platinum Card. The AmeEx Platinum card gets me into the Delta Air Lines lounges and more importantly, the swanky American Express Centurion Lounges. Here's more on the Platinum card.
Nikon D7100 with a zoom lens

Although my iPhone takes solid photos, you can't get a shot like the one above with it. These days, I don't lug my big Nikon everywhere but I do take it out when there's something really special to capture or when I need a serious zoom lens.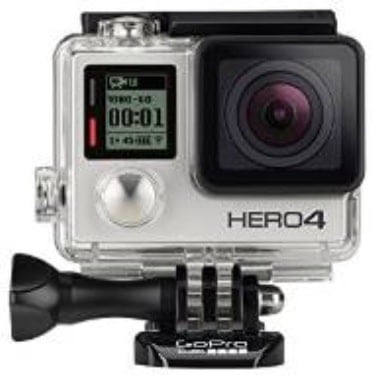 GoPro
A GoPro is an expensive camera but it's totally worth it if you're an adventure traveler, are into any heavy-duty action sports or do a lot of water activities. The GoPro can easily be mounted to a helmet, a bike and a surfboard (to name a few options!) and will give you amazing video footage of your adventure. I particularly love that it takes up next to no room in your suitcase.
Noise-cancelling earphones/headphones/earbuds
If you travel a lot, then you might want to splurge, like many business travelers do,on the Bose QuietComfort 20i Acoustic Noise Cancelling Headphones or Bose QuietComfort 15 Acoustic Noise Cancelling Headphones. They can save you from the hum of the plane's engine or if you add some music, from the crying baby or the loudmouth traveler next to you. Over time, they will save you money because the airlines usually charge $2 to $5 for a cheap plastic pair.
Ear Plugs / Eye Mask

I never, ever leave home without ear plugs and an eye mask. I can't sleep on planes without either and oftentimes, they come in handy if my hotel room is loud or if it doesn't have blackout curtains. I don't like the cheap scratchy eye masks that the airlines tend to pass out; I'd recommend spending $10 or less to buy a fluffy Lewis N. Clark one that will make you look silly but feel fresh.
Antibacterial Wipes

I have a bag full of individual packets of antibacterial wipes ($3) that I get from Target, CVS or Amazon. They are a great way to prevent getting sick besides washing your hands often and keeping your fingers away from your face. It takes less than a minute to use antibacterial wipes to disinfect your airline seat, hotel room, rental car, etc. Just wipe down everything you're going to touch: seatbelt, tray table, remote controls, steering wheel, handles, light switches, etc.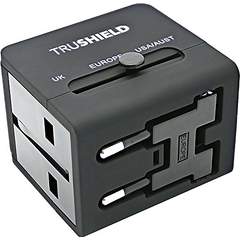 International Electrical Adapter
With an international electrical adapter, you won't need to travel with a bag full of adaptors for every country. The International Electrical Adapter has four different electrical adapters built into the surge protector and it works almost everywhere. It's also small and lightweight. I bought mine at Radio Shack (now out of business) for around $24 but these days, you can find them on Amazon.com for under $4.
Mini Surge Protector

I bring Belkin's Mini Surge Protector whenever I travel overseas or go on a cruise since most of those rooms don't have multiple outlets. This way, I don't have to bring a pocket of electrical adapters, just one universal one. With Belkin's three-outlet surge protector and a built-in two-port USB charger it allows me to power up and/or charge my laptop, camera, cell phone … all at one time. It weighs under seven ounces and is about five inches long. Not only is this much smaller than the power strips you normally find in stores, but it doesn't come with a clumsy cord.
3M Privacy Shield

It really surprises me how many business travelers don't use 3Ms Privacy Shields; they allow you to work on your laptop on planes, trains, and buses, and in airports and cafés, without having to worry about seatmates or passersby peeking over your shoulder reading confidential emails or bank statements.
External Hard Drive
I have a ton of external hard drives all around the country since most of my life and work are documented digitally. I always carry a lightweight one in my bag so I can download the photos and videos from my trip while I'm still away and keep it in a separate location, so if—God forbid—my computer gets stolen, I still have my pictures, emails, and banking backed up.
Travel Journal

The moment I take my seat, I open up my brown leather travel journal and write down my destination, the date, the airline, the type of plane, seat number, the listed departure time, the actual departure time, flight time and miles. I know it's kind of Rainman-esque of me, but I used to do it back when I was afraid to fly, to focus my mind on something else. And now it helps me with my story details. I also jot down what I did, where I ate, how much I spent, transportation modes, weather and so on. And on the last page, I list the states and countries I visit that year. You can get a travel journal like the one I use online at Graphic Image or Barney's New York ($65).
iPhone 6 Plus
It should go without saying that I always bring my smartphone. I made the switch to an iPhone 6 Plus when it came out and haven't looked back.
Protective phone case

The only thing I don't like about iPhones are that they are fragile and I learned that the hard way while biking in Austria. I now keep mine in a LifeProof protective phone case. It's waterproof, dirt-proof, snow-proof and shock-proof.
First Aid Kit
I always carry a mini first aid kit (a little plastic bag) in my carry-on. Here's what it's in it: a thermometer, Band-Aids, Tylenol, nose drops, anti-diarrhea pills, decongestants, antacid tablets, allergy pills, antibiotics, and an inhaler (I used to have asthma). You can get most of this on the road, but why wait? And trust me: If you get sick on the go, you'll wish you had packed this stuff before you left.
Hopefully, you find this helpful and gives you some ideas to make your travels smoother and more productive. I've been traveling around 150,000 miles a year for over 20 years and so far, this is what works for me. So what's the best thing to pack in an anytime bag? Share your suggestion on Facebook, Twitter or Instagram using the hashtag #AnytimeBag between 12:01am on July 13 and 11:59pm on July 15 for your chance to win a great prize. See here for more details.