My adventure to Spokane, Washington came at the perfect time.
The month of July in my beloved hometown of Los Angeles can be overwhelming. The malls and theme parks are flooded with kids on summer break. School's out, but the freeways are jammed with tourists flocking to the Pacific Ocean.
Needless to say, I longed for an escape to a charming and, dare I say, slower-paced getaway. Somewhere I could still dabble in the summer-esque activities, such as tasting good brew and indulging in delicious food.
To my pleasant surprise, I found all of that—and more—in Spokane. I quickly learned that Washington state's second largest city is an eclectic town with a wide range of unique and interesting things to do year-round.
So as you look ahead to possible vacation destinations this summer, I strongly encourage that you consider Spokane.
Here are my top picks for where to eat, drink, and play along with a few honorable mentions. For more information or planning your itinerary, contact Visit Spokane and tell em' Trish sent you!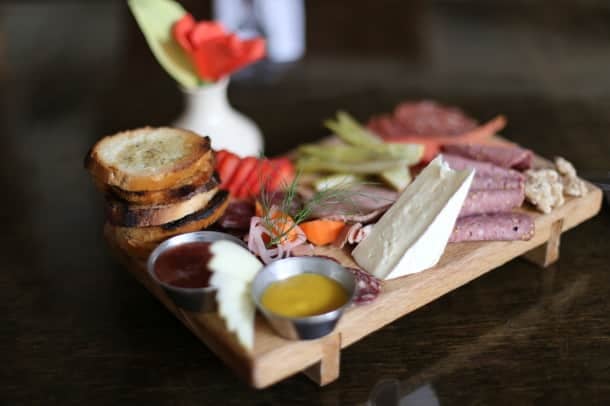 Calling All Foodies
1. Santé — 404 W. Main Ave., Spokane, WA 99201 (509-315-4613)
Santé was easily one of my favorite meals of my trip. Located in downtown Spokane, the elegantly styled and eco-friendly restaurant is primarily known for its European-style, house-cured meats and an endless variety of cheeses. (Disclaimer: I am slightly obsessed with cheese.)
Each signature dish is carefully paired. I started with a charcuterie plate and appropriately selected house-made condiments served with squash soup. For my meal, I ordered a house favorite: the Butcher's Sandwich, a pork brisket topped with coppa swiss, greens, house jam, and mustard aioli on a baguette. The smaller sized portions are perfect as each course builds upon the last, both in flavor and interest.
Really, if you appreciate a well-paired spread, you can't go wrong with any choice. But if you can't decide (the menu can changes nightly), feel free to consult with the friendly staff.
Owners Jeremy and Kate Hansen only use local, organic and ethically raised animals cooked with ingredients made in house from scratch. Their growing buzz coupled with sustainable living practices have also brought them some well-deserved national recognition, including an invitation to cook dinner at last years' prestigious James Beard Foundation House in New York.
2. Central Food — 1335 Summit Pkwy, Spokane, WA 99201 (509-315-8036)
Whether you want to grab a bite solo or dine out with a few friends, Central Food boasts a welcoming, open environment and versatile menu that lends itself to just about any occasion.
Its community-style, outdoor patio table seating provides the perfect ambiance for a bigger group (but no larger than ten) on a summer night.  When I was there for dinner, my friends and I easily finished off a couple bottles of red and their sample of popular platters—from cheese pate to bruschetta plates.
Central Food was one of the first establishments to open in Kendall Yards, a gentrified, urban area that connects to downtown by way of historic bridges that span the Spokane River. It's a first in terms of restaurants of its caliber in the area and is an example Spokane's still untapped potential for growth and business.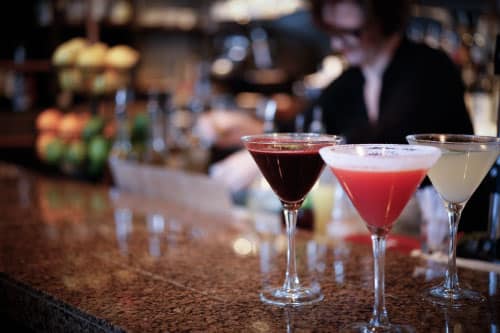 3. Wild Sage — 916 W. 2nd Ave., Spokane, WA 99201 (509.456.7575)
Wild Sage is a restaurant that could easily blend in among the "culinary elite" of a bigger metropolitan area. Owner Tom Sciortin spent some time with us, as I feasted on Sage's tapas sampler and famous Yukon taquitos, and told us of his experiences in bigger markets and his desire to bring that top tier quality to a smaller town.
And that's exactly what Wild Sage did. From the moment you walk through its unassuming exterior into its earthy yet sexy atmosphere and browse the cocktail list, it's easy to see why it's an award-winning local favorite.
The menu specializes in classic comfort foods from goat cheese-stuffed chicken breast to Korean-style pork shanks. The menu does change almost daily, as the chefs creatively maneuver within the limits of what's in season.
The food is fresh and delicious and the service is noteworthy. If you're looking for some of the best Spokane has to offer, make reservations here.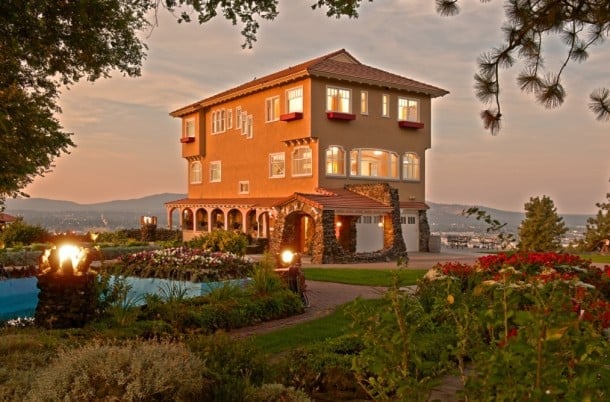 Drink It All In
1. Selkirk Abbey Brewing — 6180 E. Seltice Way, Post Falls, ID 83854 (208-292-4901)
On the half-hour drive from Lake Coeur D'Alene back into Spokane, we made a pit stop into the warm and charming Selkirk Abbey Brewing Company. Located in Northern Idaho, the small, hidden gem is nestled in a small industrial patch on the side of the road. (If I hadn't planned on going, I would have missed it completely).
Its surprisingly beautiful and rustic ambiance is that much better once you realize this place knows beer… and good beer, at that. Selkirk's production floor is supported by three 7-barrel fermenters and nine 15-barrel fermenters.
The taproom pours their homemade, local brews, which they also started bottling last year, as well as some of the best from around the world.
I sampled a couple quality beers—a bold, hoppy IPA and a crisp, fruity pale ale respectively—but you can't go wrong with personal suggestions from Selkirk's knowledgeable staff and friendly patrons.
So, if you're making the popular commute between Coeur D'Alene and, make sure to pop into Selkirk's. You'll probably stay much longer than you thought.
2. Arbor Crest Wine Cellars — 4705 N. Fruit Hill Rd., Spokane Valley, WA 99217 (509.927.9463)
Arbor Crest Wine Cellars is a romantic, picturesque estate overlooking Spokane Valley. Nestled atop a 450-foot cliff, it may just be one of the region's most breathtaking views.
The winery is one of Washington's oldest and produces some of the state's finest wine. Their Cliff House Tasting Room has an extensive wine selection, attentive service and a cozy feel that complements its majestic outdoor scenery quite nicely.
In the summer, Arbor Crest features an outdoor concert series. Every Thursday, from 5:30-7:30 pm, musicians and artists perform on the Tasting Room's patio. And starting at 5:30 pm each Sunday, various bands hit the stage and jam until dusk.
If you're winery-hopping, I'd recommend finishing the day's festivities at Arbor Crest. This way, your last tasting can take place as the sun sets and (if it's a Thursday or Sunday) the live music ensures that the good times continue well into the evening.
3. Post Street Ale House — 1 North Post Street, Spokane, WA 99201 (509-789-6900)
Located in a bustling section of downtown Spokane, Post Street Ale House is a fun gastropub with a young, boisterous vibe. Packed with locals and tourists alike, this seems to be the "it spot" for the city's happy hour enthusiasts.
The pub has a decent standard beer selection—26 types on tap—but ask your waiter about the local craft beers available. They'll have a few options but you'll have to inquire. Their finger foods are also worth mentioning (order their fried pickles and battered chips) and as they pair really well with the beverages.
Post Ale House is one of the more ideal spots as far as energy and location (across the street from the Davenport Hotel). It's definitely a great place to start a night out in downtown Spokane. But as far as an ideal beer selection, see honorable mention Manito Tap House below.
Honorable mentions:

Stay & Play
1. Davenport Hotel — 10 S. Post Street, Spokane, WA 99201 (509-445-8888)
If you're making the trip to Spokane—and I say this without  hesitation—there is no better place to stay than the Davenport Hotel.
Built in 1914 and located in the heart of downtown Spokane, the hotel has a long and impressive history that hits you the moment you walk in.
The lobby's European-inspired marble and ornate woodwork and the rooms' traditional furniture and fixtures were restored in 2000, but still give you the impression that you've been transported to the early 20th century.
I could've spent hours roaming the hallways and touring the majestic grand rooms (ask about the Historical Walking Tour). The architecture is so well preserved that it's also earned them a prized spot in the National Register of Historic Places. Couple that with five-star service and amenities and it's no surprise that The Davenport is a treasured landmark in both Spokane and throughout the Northwest.
If you aren't able to book a room at the Davenport, you must try and make reservations for their brunch. Champagne Sunday Brunch, served in the hotel's legendary ballroom, includes a seafood buffet, an omelette bar and "carved to order" meats like USDA "Prime Grade" prime rib. Refills on bottomless mimosas and multiple trips to the Bloody Mary bar are also highly encouraged.
This was one of the last things I did in Spokane and it was the perfect way to round off my weekend.
2. Red Lion Hotel at the Park — 303 W. North River Dr., Spokane, WA 99201 (509-326-8000)
If you're looking for something a bit more budget-friendly, check out the Red Lion Hotel at River Park. It's also in downtown Spokane and a quick five-minute drive (courtesy of their complimentary shuttle service) from a full slate of restaurants and bars.
The Red Lion is especially ideal during the summer months. Its heated indoor and whirlpool provide a relaxing break in between any jam-packed itinerary. Their outdoor pool, the largest in Spokane, is perfect if you're traveling with a family. Kids can play endlessly on the water slide as parents enjoy a decent food and beverage service poolside.