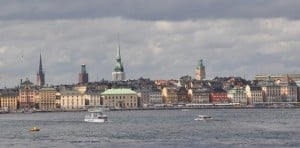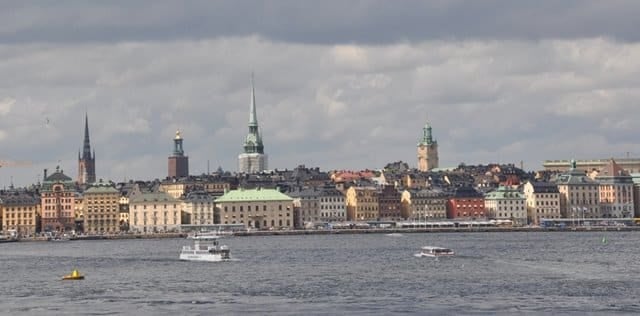 Hej! If you are following me on Twitter, then you know that I was just in Las Vegas to speak at Blog World. This week I will tell you all about that trip and pick up where we left off last week from my August Baltic Sea Seabourn cruise. First port is Stockholm, Sweden! We also have stories from my sister Georgie Jet as she warms us up with a trip to St. Vincent and the Grenadines, and from our intern Ben, who tells us about college students spending Halloween in Santa Barbara.
COPENHAGEN TO STOCKHOLM
Last week I wrote (6,000-plus words) all about Seabourn's newest ship, Sojourn. This week we hit our first port, Stockholm, Sweden. It's 440 nautical miles away from Copenhagen; cruising time was 36 hours. Since Stockholm is such a popular destination, the ship didn't spend just its usual one day in port, but two days.
ARRIVING IN STOCKHOLM
The Stockholm archipelago is made up of 24,000 islands, islets, and skerries (the city itself has 14 islands). I didn't want to miss seeing the scenery, so I forced myself to get up at 5 a.m. What's amazing about the room is that you don't have to get out of bed to see where you are: just turn on the TV and flip to the live video cameras positioned at the bow and aft. When I saw that the sky was light and that we were practically hugging the Swedish coastline, I popped up and opened the curtains (I really was wishing our curtains were remote control). The water was so smooth and peaceful that I grabbed my laptop and sat on the balcony to soak in the views and get caught up on work at the same time.
STOCKHOLM VIEWS
Unfortunately, it wasn't a very clear day, so the scenery wasn't as nice as it was when I cruised here with my mom 11 years ago for the wedding of one of my childhood friends (my friends Megan and Toby got married in Voxholm and had the rehearsal dinner on a chartered yacht). Note: The sun did come out the following day, so when we departed we were blessed with the incredible views. One thing you will for sure notice is that the Swedes are all very patriotic, as all the waterfront homes have blue-and-yellow flags flying proudly. Also, all the people on land waved to us as we passed.
SPENDING THE NIGHT
Since the ship was going to be spending a night in port, I thought I would take advantage of an offer from a PR company to review Stockholm's most famous hotel, The Grand Hôtel. I figured that way we wouldn't have to keep going back and forth from the ship, though the center of town turned out to be only a 20-minute walk or a 5-minute ride on the free Seabourn shuttle.
GRAND HÔTEL
Just as planned, when we walked off the ship a driver from the Grand Hôtel was waiting for us with a sign. It was a short ride to the hotel, which is located in the center of Stockholm. The 368-room hotel has been around since 1874, and the moment you walk in, it reeks opulence and history. Almost everyone was very kind; the only exception was the manager of the Cadier Bar, who yelled at me for taking a picture of their furniture even though not a single guest was in the restaurant.
OUR ROOM

The hotel has 37 suites, and we got upgraded to one of them–the Princess Lilian Suite. It was huge, measuring 3,550 square feet, and had a mini balcony offering gorgeous panoramic views of Stockholm. All the suites are individually designed, ranging from traditional to contemporary, and needless to say it was over-the-top beautiful. It was so decadent with its high ceilings, rich fabrics, and elegant silk drapes. The bed with its velvet damask pattern on the bedspread and headboard was so comfortable that I didn't want to get up for breakfast.
BATHROOM
The bathroom was all marble with a deep soaking tub, separate shower, and Molton Brown amenities. Natalie spent a lot of time in there while I logged on to the free high-speed Internet and caught up on emails.
THE VERANDA
We ate two meals in the hotel. The first night, Natalie and I met up with my buddy Doug Lansky from TitanicAwards.com at the hotel's Veranda Restaurant. The Veranda serves traditional Swedish food in a contemporary setting; it overlooks the harbor so it's really lovely. The night we were in town they were offering their famous smorgasbord (SEK 455 = $67), which basically means buffet. There were about 60 food stations and a wide variety of herring. I wasn't into the fish, but I did like the Swedish meatballs with lingonberries and of course their desserts (strawberries and cream, chocolate cake, vanilla ice cream…). To see when the smorgasbord is available, log on to Grandhotel.se.
HOW TO EAT SMORGASBORD
The hotel provides some information and tips on how to enjoy the smorgasbord.
1. Smorgasbord is a four- to six-course meal.
2. Don't overload your plate. Instead make several trips to the buffet and take a new plate each time.
3. Swedes begin with the herring dishes; they are traditionally served with boiled potatoes, crispbread, and cheese.
4. They also suggest you try another Swedish speciality, gravad lax (dill-cured salmon), which is served with a mustard and dill sauce.
5. Then try a variety of the salads, egg dishes, and cold cuts.
6. Once you've done the above, it's time to hit the hot dishes. Looking back, I realize I made a huge faux pas.
7. Finally you can hit the desserts, including the fruit salad. Be sure to get a cup of coffee and an iced Swedish punsch (a traditional liqueur in Sweden).
CADIER BAR
The following morning we had breakfast with our friend Mia Ljungberg Nevado from Exuberant at the Cadier Bar. We could've gone back to the Veranda for their buffet, but we just wanted something light, casual, and quiet. The food was good and they serve real maple syrup. FYI: The hotel's two-star Michelin restaurant, Mathias Dahlgren, was closed for vacation.
GRAND SPA
The Grand Hôtel's spa is really freaking grand. It's one of the nicest spas I've been to, and the moment you step off the elevator on the below-ground level you feel like you're in a new hotel–you go from old world to new with the press of a button. The spa has a separate elevator, so I wore my robe from the room, thinking I wouldn't see anyone, but oh no, you know that didn't happen. Basically, the elevator went into local mode and stopped at every floor, and I was looking like Hugh Hefner.
RAISON D'ETRE
Finding the spa was tricky because its door is like a secret wall; it opens when you walk by. The spa and fitness centers opened in November 2009 in collaboration with Raison d'Etre. Raison d'Etre has been around since 1998, and they have created first-rate spas in hotels like the Four Seasons, Aman Resorts, and Kempinski Hotels. What's nice is that they uniquely design the spa to complement each location, and each has authentic massage and natural products. FYI: Hotel guests can use the fitness center and the pool for free.
WAITING ROOM
The hotel describes the spa as uniting Nordic heritage with the 21st century. The first thing I noticed was the indoor swimming pool that had flames flickering peacefully from the ends. I later read that they don't put any chemicals in the pool. After changing into my robe and slippers in the all-natural blond-wood locker room, I sat in the waiting area shooting fresh raspberry smoothies one after another until they were gone and then filled up my cup with cold still and sparkling water. I was thirsty.
DID YOU KNOW: While I was waiting, I read on the waiting room wall that Per Henrik Ling (1776–1839) was the creator of the form of treatment known as Swedish Classical Massage.
MY TREATMENT
My masseuse collected me right on time. She was Swedish, like the rest of the crew except for two Brazilians. My masseuse had the magic touch–and I learned that the moment she started waving her hand over my back and I could seriously feel my body go up and down with each movement of her hand. I was thinking what the #?@! but I fell into her trance and begged God that it wouldn't end.
THE BAD
The only thing I didn't like was that once in a while I could hear the weights bang in the gym and some loud dudes splashing in the pool, but this was probably because I was in the closest treatment room to both. Natalie had a massage too and she didn't hear any of it.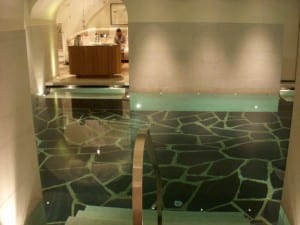 BE BALANCED
I had the "Be Balanced" massage (120 mins); its description was "Soft, heated mung-seed pillows warm every joint: dissolving tension, relaxing the muscles and allowing the bones to gently re-align. The result: a natural balance, and a release of energy you can feel in every tingling cell."
ORGANIC OILS
I later found out that all their sheets, towels, oils, and candles are organic. The massage butter they use is from Raison d´Etre and contains sunflower oil, olive oil, shea butter, beeswax, jojoba, blueberry oil, and sea buckthorn oil. The aroma/essential oils in the butter are marjoram, dill, and peppermint.
SO RELAXED
At the end she asked me if I would like to pick a keepsake fortune card. I did, and it read "The most important thing is to find your song and sing it." Once back in the elevator, I was like, Forget my song, what's my room number. I was so relaxed that I seriously forgot what it was.
HOTEL LOCATION
What's really nice about the Grand Hôtel is its location. It's centrally located at the waterfront opposite the Old Town and Royal Palace. For those wanting to shop (ahem, Natalie), Stockholm's shopping (and business) district are just around the corner. Grand Hôtel Stockholm, Tel.: + 46-8-679 35 60; info@grandhotel.se.
SWEDISH TOUR GUIDE
The Swedish tourism board arranged a guide for us named Eva Palmqvist. She's an authorized Stockholm guide and an authorized Millennium guide as well. That's right, we went on a Millennium tour, since Natalie is so enthralled with Stieg Larsson's books. She helped me with the below description.
MILLENNIUM TOUR
If you, like millions of others around the world, have become enthralled with Stieg Larsson's Millennium trilogy, then chances are you'd be interested in Stockholm's Millennium Tour, which takes tourists and locals alike on a walking excursion of the city, stopping at landmarks and points of interest that feature prominently in the books.
STIEG LARSSON
Larsson, who never lived to witness or enjoy the fame and fortune his thriller trilogy has garnered, based his books on real-life Stockholm and surrounding areas, using real cafés and real addresses within the pages of his books to make his stories contemporary and the locations tangible–fantastic for the throngs of fans who want to see how and where it all began.
MIKAEL BLOMKVIST'S APARTMENT
I happened to be reading the third and final book while we were visiting Stockholm, so the book or the tour made sense, and Natalie was excited to take the tour that would bring the books to life. Our tour guide was kind enough to pick us up at our hotel, but normally the tour begins at Bellmansgatan 1, the address of Mikael Blomkvist's apartment. Eva took us through the streets of Stockholm, pointing out restaurants and cafés that the characters of the book had frequented, even stopping to point out the hotel where Blomkvist and Berger had spent a night together on one of their many encounters.
STROLLING THE STREETS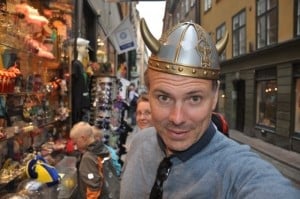 While walking down the street near Blomkvist's home, our guide stopped at another apartment building and suggested we press our faces up to the glass to see inside. There, we saw the names and buzzer numbers for the residents of that building. Two people with the name Blomkvist were listed. Our tour guide suggested that Larsson himself had strolled this very street, picking out the address of his protagonist and perhaps even drawing inspiration for his hero's name by peeking into neighboring buildings like this one. Cool!
MILLION-DOLLAR APARTMENT
The tour ends at Lisbeth Salander's million-dollar apartment, and Natalie thought it was pretty awesome to see the amazing home the hardened heroine ended up in. A satisfying end to the tour! If you haven't read the books, the tour really makes no sense, but at least the scenery was picturesque, and there were plenty of opportunities for great photos.
TOUR COST
The tour lasts approximately two hours and currently it's available in English on Saturdays at 11:30 a.m. Tickets are on sale at the Stockholm City Museum and the Stockholm Tourist Centre or you can pre-order at Ticnet.se. Price: 120 SEK.
NOBEL MUSEUM
Since we were on a private tour we were able to make some side trips into or around some interesting buildings. One of the ones worth noting was the Nobel Museum (admission 70 SEK), which is in the middle of Old Town.
STORKYRKAN CATHEDRAL
The Storkyrkan Stockholm Cathedral (40 SEK) was first written about in 1279. In 1306 a small church was built, and this past June it took center stage when a royal wedding took place here. Our guide told us that Americans call it the coronation church, and it used to be Catholic but now it's Protestant. The highlight is the King George statue. The last internment in the church was in 1805; inside you will find a copy of a 1535 Dutch painting that has the world's oldest view of Stockholm.
VASA MUSEUM
After getting so many Facebook and Twitter messages from friends/followers who highly recommended I visit the Vasa Museum, I went. I'm glad I did, because the preserved Swedish warship built by King Gustavus Adolphus II in 1628 is very impressive. It's no wonder that it's a major attraction in Stockholm. Unfortunately, the king made his ship much too shallow, and it had major design flaws; on her virgin voyage, the Vasa tipped over and sank about 900 feet from shore where the public was watching. The Vasa Museum admission for adults is 110 SEK; it's free for children up to 18 years of age.
SOME RANDON FACTS FROM OUR GUIDE
–Stockholm has 18 hours of sunlight in summer and just 6 hours in winter.
-When it's raining, the Swedes say, "There's no bad weather, only wrong clothes."
–Stockholm 10-Day Weather Forecast
–Stockholm is six hours ahead of New York
-If you need a taxi, the Swedish tourism board recommends the following companies:
Taxi Stockholm, Tel.: +46 8 15 00 00
Taxi 020, Tel.: +46 8 33 66 99
Taxi Kurir, Tel.: +46 8 30 00
HOTEL SKEPPSHOLMEN
For lunch we met a friend at Hotel Skeppsholmen restaurant (website). We took a ferry (Djurgårdsfärjan) to get there but walked home. The hotel is one of the newest in Stockholm and was designed by Claeson, Kovisto, Rune, well-known designers in Sweden, and the restaurant is a popular oasis for Stockholmers. We were pleasantly surprised at how great the place was, and our meal of Swedish meatballs with lingonberries and mashed potatoes was our favorite meal outside the ship.
Well, that does it for my Swedish story; next week we will hit Finland. As they say in Sweden, Med vänliga hälsningar (Best Regards), Johnny.
Note: This trip was sponsored in part by Seabourn