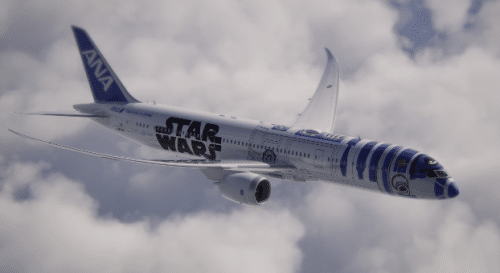 Get ready to geek out Star Wars fans because ANA is bringing you a snazzy R2-D2 Jet via its newest 787-9 Dreamliner which will be making international flights in fall 2015. Yes that's right for the first time ever, a Star Wars character will appear on the livery of a commercial aircraft.
As Japan's largest airline, the carrier looks to expand brand awareness therefore connecting Japan to the global market. The partnership comes in conjunction with the beginning of a five-year ANA Star Wars Project and agreement with Walt Disney Company (Japan) Ltd. ANA hopes this initiative will mark the carrier as the "Inspiration of Japan."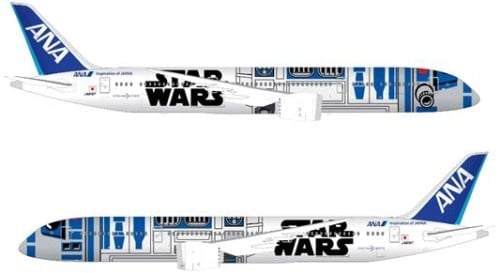 "ANA boasts an extensive international network, along with convenient connections between the U.S. and a wide variety of destinations throughout Asia," said Takashi Shiki, ANA Executive Vice President, Sales & Marketing. "The R2-D2 motif works well with ANA's blue logo design on the aircraft's fuselage, and many people associate R2-D2 with competent and reliable service—also hallmarks of ANA's 5-star service."
The airline begins this project just before they launch service from Tokyo to Houston in June although routes and flights operated by the aircraft with Star Wars livery have not been determined.
It appears as though we'll be hearing a lot more from ANA in the future as the ANA Star Wars website makes note that the airline is "embarking on a range of novel initiatives as we head into the future." We'll keep you updated on the latest new initiatives.
In case you missed it, here's the new Star Wars movie trailer: