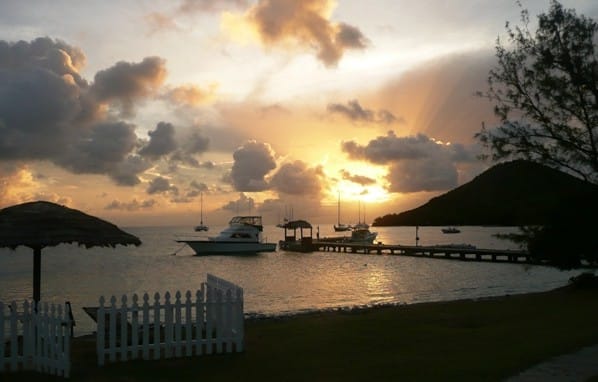 My tour of St. Vincent and the Grenadines included five islands and three hotels in five days: St. Vincent, Bequia, Mayreau, Tobago Cays, and Petit St. Vincent. Their slogan is "Do 32," because there are 32 islands in all.
Traveling to the land of Pirates of the Caribbean (where it was filmed) was a trip back in time to a simpler life. St. Vincent has not been spoiled. It is abundant in wildlife, with volcanic hills covered in lush greenery that spill down to black-sand beaches and the Caribbean Sea. For the eco-traveler, St. Vincent has a lot to offer. For the vacationer that wants to get away from it all, the isle of Petit St. Vincent can't be beat.
I flew from JFK on Jet Blue direct to Barbados, which took about four hours. The next flight to St. Vincent via Grenadine Air Alliance was a breeze, and took about half an hour. I was through customs in two minutes. Expecting a flower lei, a rum punch, and maybe some musicians welcoming me to the island, I was caught off-guard by the less-than-friendly St. Vincent customs people when they asked to see my return ticket home. I guess some visitors try to stay forever with a one-way ticket to paradise. Luckily, once I cleared customs, all the other islanders I met were extremely nice.
My first night was spent on the main island of St. Vincent at The Grenadine House. A quaint boutique hotel, The Grenadine House overlooks Kingstown harbor and offers a unique glimpse of Caribbean city life from high up on a hill. The hotel has charming gingerbread details, high ceilings, and a reception bar that was actually an old hot-air-balloon carriage. The 18th-century hotel's lobby was humid with an atmosphere of antiquity, giving it a timeless feeling, but fortunately my room was air-conditioned. Dinner was at their restaurant called The Sapodilla Room, where the local chef creates specialties in Creole and Western fusion cuisine. The lower-level room is completely stone and therefore refreshingly cool. I felt like I was in an old wine cellar. The colonial furniture complements the ambience of the 1765 building.
Dinner that night was five courses, starting with a St. Vincent pumpkin soup, followed by fresh (right of the boat) tuna sushi, mango champagne granita, and lamb chops with an unusually delicious curried potato. Dessert was coconut custard. The wine list spans the globe; we had a red wine from South Africa recommended by the chef. I was up early in the morning and enjoyed breakfast on the terrace overlooking the harbor while listening to a harmony of island sounds: dogs barking, roosters crowing, and children playing. It felt so good to be back in the Caribbean. Breakfasts range from continental to farm style to St. Vincent favorites such as fish and potatoes.
After breakfast, I was scheduled to join a group for an island excursion to the national parks, beaches, and lookouts. Check out the website for eco-adventures, diving opportunities, and bird watching. I particularly enjoyed the Belmont Look-Out, the Dark View Falls, and the Owia Salt Pond. Our all-over island tour ended in Georgetown for a tour of the St. Vincent Distillers. It was built in 1928 and famous for Sunset Very Strong Rum (which you cannot take back on the plane because the proof is so strong that it might blow up!). The distillery was interesting; it had lots of pipes and bottles, and the people were very sweet.
Our group was guided by Sailor's Wilderness, which I highly recommend along with our driver, Ozzie, who would be our tour escort for the next three days. Ozzie doubles as a valuable hiking companion, and has a vast knowledge of St. Vincent flora and fauna. He accompanied a photographer and me on a difficult hike called the Vermont Nature Trail, where we were in search of the elusive St. Vincent parrot. St. Vincent is known for its abundance of colorful birds, and I am happy to report that we did see the parrots along with a multitude of interesting insects and amphibians. The La Soufriere Volcano hike is even harder. Another perk of Sailor's is their very comfortable air-conditioned mini-bus. We explored the Black Point Tunnel, part of the national park system, which slaves dug to make it easier to transport rum to the export boats. The park is on a volcanic black-sand beach and has gazebos for lunching.
I reluctantly departed the mainland for a quick water taxi ride to Young Island Resort. It was 10 minutes from Kingstown and famed for being the out-of-the-way spot where certain famous actors stayed during the Pirates of the Caribbean shoot. My first cottage was #26, 86 steps up and set aside in a private nook. As a single gal traveler, I enjoyed the view, but felt a little nervous being so far away from other people. The room had a king-size bed, wall-to-wall louvered windows, and an outdoor shower. I changed to a cottage even higher up, #29, with a plunge pool that overlooked the Caribbean Sea, and a colleague stayed in the cottage right next door. Heaven and peace!
One of the great things about Young Island Resort is that you can rent the entire island–all 29 cottages–for a wedding or private party. You can also stay for five nights on Young Island and two nights on their private yacht . The cuisine was good, and you can have breakfast brought to your room. (I felt sorry for the waiter who had to walk the 125 steps up to my room!) It is easy to venture off the island with the 24-hour water taxi to restaurants right across the bay and within walking distance. The French Veranda Restaurant and Driftwood Restaurant offer delicious dinners from French island fare to pizza.
Island of Bequia
Bequia is accessible by ferry or sailboat and is seven square miles as compared to St. Vincent's 133 square miles. Bequia is the place to beach it. White-sand beaches and quiet coves have drawn sailors to this island for years. St. Vincent's black-sand beaches are fascinating, but their dark color changes the water to a mysterious green rather than your typical Caribbean blue. My favorite beach was in Bequia and called Lower Bay Beach. It is a bit off the beaten track, but Bea's Place Cafe is right there on the beach if you get hungry.
Coco's Restaurant was without a doubt the best restaurant I dined in on my trip to the Grenadines. Coco is the cook and owner, and his authentic Caribbean cooking included conch chowder, curried conch, and fish soup. It was out of this world! Did I mention the ocean view and its reputation as the friendliest pub in the Grenadines? The phone number is 784-458-3463. The Sargent Brother's Model Boat Shop is in town and an awesome place to visit and buy small hand-built model sailboats. The friendly carvers are willing to stop their craft and answer any questions and take special orders as well.
Old Hegg Turtle Refuge in Bequia is one man's effort to try to help seriously endangered sea turtles. Orton King and his assistant, Brian, have personally released almost 900 sea turtles back into the ocean. The problem is that it is still legal to hunt these magnificent creatures. Sea turtles, which can live to be 200 years old, are protected in Tobago Cays, where I snorkeled among the wild, gentle beings and could touch them. Next time, I will stay on Bequia for a few days–maybe at the new Bequia Beach Hotel, decorated in colonial style with its own private beach and wonderful restaurant.
My next flight was to Union Island on SVG Air in a small 20-seat puddle-jumper. The price is cheap, around US$35, so you can't complain about the lack of air-conditioning! Even though the plane was small, I felt safe thanks to the experienced pilots. Our next stop, Rustic Union Island, is small, but we didn't have time to explore (I would have liked to peruse the colorful outdoor markets). Instead, we hopped aboard a catamaran from TMM Charters. The yacht can be hired for the day or week, and has comfortable sleeping cabins. Captain Seymour Browne was energetic and fun, and his wing man, Pete, cooked the most delightful lunch while we sailed to the magnificent and protected Tobago Cays. On the way there, we stopped at rural Mayreau Island for a glimpse of the tiniest island in the Caribbean. We hiked up the steep hill to a charming Catholic church and had a fantastic breakfast at the Combination Café, where owner Zanny Adams cooked for us. He also served as our guide to walk us to the other side of the island, past an old cemetery with historic headstones and goats, down to a palm tree covered beach where we swam and then took the Zodiac back to the yacht.
We snorkeled in the Tobago Cays; it was the most relaxing afternoon. If I could have, I would have stayed there for days. An animated St. Vincent native dressed as a pirate scooted around on a speed boat offering to make a picnic lunch on an island. Other than that, there are only sailors, snorkelers, and turtles!
We did have to leave eventually, but our short sail to Petit St. Vincent was beautiful and breezy, and I was about to visit a unique "get-away-from-it-all" resort of a lifetime!
The catamaran docked at the pier on Petit St. Vincent, where we were greeted by the owner, her yellow lab, and several staff members. Piña coladas were handed out as we disembarked. (Finally!) A Mini Moke was carefully driven onto the dock to handle our luggage. We were told where to meet for dinner, and each guest was personally escorted to their own private bungalow. Mine had a bedroom and living room separated by an outdoor patio. There were two outdoor chaise longues under a straw umbrella on "my" private beach. The only thing missing was someone to share it with! The "mini-bar" was a cart with pint bottles of gin and rum, and a cooler filled with ice, water, soda, and St. Vincent peanuts. There were no phones, TV, or air-conditioning. If I wanted something I needed to put a request form in my "mailbox," hoist a yellow flag, and the form would be picked up by a driver in a Moke. Breakfast is delivered every morning or you can have it in the open-air restaurant. Early-morning coffee delivery is also an option; it comes in a wicker thermos and is delivered to a shelf near the mailbox. Every time a member of the staff comes by, (which is hardly ever) he or she rings a loud bell to alert you. If you don't want anyone to come by, you hoist a red flag. The nearest cottage was about 100 yards away.
I was assured that the island was totally safe, and that only the guests and staff live there. Still, one night I awoke to a rat-a-tat-tat, and I quickly shone my flashlight in the direction of the intruder. It revealed a guilty-looking land crab; he eyed me as I ordered him out through the screen door. He obediently left, still giving me the eye. Other than that, the only sounds I heard at night were pigeons mating in the bushes. Their cooing was a nice contrast to the tree frogs of Young Island.
The open-air restaurant always has a breeze, and the bar is a place to meet other guests and order exotic island concoctions. There is also a Friday-night cocktail party; everyone is invited. Petit St. Vincent is the most ideal spot for honeymoon couples or others that want to get to know each other again, without the distraction of the world. Another perk of PSV is the pass for the comfy Barbados airport club, which provides free snacks and Wi-Fi. This was much appreciated, as the rest of the airport did not have comfortable places to wait.
St. Vincent and the Grenadine Islands is a place to discover the flora and fauna of the Caribbean, dive or snorkel, and wonder at the spectacular sea turtles and magically colored birds, as well as experience authentic Caribbean cuisine off the beaten track. It is a rustic, quiet place where you can explore lush tropical mountains, walk beaches with sand the color of black onyx or fine sea salt, and enjoy a laid-back vacation.
WEB RESOURCES
NOTE: This trip was sponsored in part by St. Vincent & The Grenadines Tourism.