Our Seabourn Quest cruise ended in Monte Carlo. My dad and I wanted to stay in Monaco, but a huge conference was going on and the whole country was sold out. How many countries can do that? We were a bit bummed but it ended up being a good thing because we got to explore Nice, which had more things to do and reasonable prices. We planned on taking the train from Monaco to Nice, but to our surprise Seabourn had set up a free shuttle between the two so we jumped on that. The 40-minute drive was insanely beautiful, especially when we passed the village of Eze. I just wanted to shout to the bus driver, STOP THE BUS so we could explore–but not with our luggage.
Best Western Hotel Roosevelt
I waited to the last minute to book our Nice hotel in the hopes something would open up in Monaco. Two days before arrival I started scouring the Internet, and the best deal I found for a three-star hotel was the Best Western Roosevelt for $175 a night on Hotwire. The Seabourn bus dropped us off in front of the Le Meridien Hotel, which is right on the famous Promenade des Anglais. We were about to take a taxi but the Le Meridien bellhop said our hotel was just a few blocks inland from there, so we walked. It was five blocks, to be exact.
The Best Western Hotel Roosevelt is a solid three-star hotel. We arrived at 11 a.m. but check-in wasn't until 2 p.m., so we stored our bags in their unattended closet (I put my computer bag in their back office). In the two nights we were there this is what I learned:
The best rate for their hotel is not on Hotwire. If I had gone to the hotel's website it would've only cost me 108 euros (US$157.98) a night, including breakfast. If you don't book directly from Best Western, breakfast costs 12 euros (US$17) per person.
The lobby is small but has a new contemporary design with two computers for guests to use for free. One's a Mac, the other a PC.
There's also free wireless Internet access throughout the hotel just like at all Best Westerns.
The rooms are clean and basic but have comfortable twin beds, soundproof windows that open, air-conditioning, a work desk, a 26-inch flat-screen TV with 37 international channels and 3 movie channels, a tray with tea and coffee, a small fridge, and an individual safe.
The bathroom was new with a shower, two mini bars of soap, toiletries, and a hairdryer.The lone elevator is small, so pack light.
Most staff members speak English and are friendly.
Even if you prepay, at check-out you have to pay the Nice city tax, which is 90 euro cents per person, per day.
The only problems I could find with this hotel is that I could hear people walking in the room above ours once in a while, and the shower isn't very wide–so don't drop the soap if you are overweight.
Best Western Hotel Roosevelt, 16 Rue Marechal Joffre, Nice, FR, 06000; Tel.: 011 33 49 38 79 47 1. Here's a deal: Stay 3 Times, Get a Free Night at Best Western.
Highlights of Nice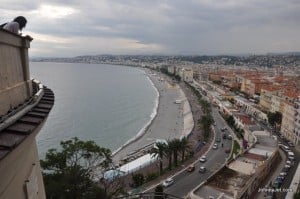 Highlights of our trip to Nice were:
J. Multari Patisserie
J. Multari Patisserie: Just a block down a beautiful tree-covered street from our hotel was the city's best bakery, J. Multari patisserie. We just stumbled upon this little slice of heaven that has the freshest croissants, brioches, baguettes, and cakes. My go-to treat was the Nutella-filled croissant for 1.40 euros (US$2). To pay, patrons would just insert bills or coins into the machine and it would automatically give change.
Castle Hill
Going up Castle Hill: It's a beautiful park just south of the Old Town. It's free to walk up or to take the elevator, and you won't want to miss it because the views are incredible and the park is so peaceful. You won't find the old castle except for some ruins, but you will find solitude and a perfect backdrop for photos.
Nice to Airport
At our hotel's front desk they recommended we take the bus to the airport because it's so much cheaper. Bus 98 departs every 20 minutes, costs 4 euros per person (they take bills or coins), and takes 25 minutes. The stop is closer to the Le Meridien Hotel than the Best Western Roosevelt, but it makes just a few stops along the way. FYI: Find out which terminal your airline flies out of. Delta is at the first stop (terminal 2), but signs aren't that clear and the driver's not that helpful.
Nice Airport
When we arrived to the airport there was a huge line at the Delta check-in counter. It turns out their computers went down so they had to check everyone in by hand. I was kicking myself for not doing it online the night before, but I had my Dad keep our place in line while I tried one of the airport kiosks machines that the passengers around me said didn't work. They worked for me, and once we got our boarding passes we were able to go to the next obstacle–an interview by agents who ask old-school security questions like who packed your bags, have they been with you, did you take stuff from strangers. They also had police with machine guns nearby, so it was a little nerve-racking. We then went through security, where they had a dedicated line just for the NY flight. Same procedures as the USA: shoes off and laptops and liquids out. They busted my dad for his liquids. Once you clear passport control there's nothing much at the gate–just a little duty-free shop and one snack bar. No newsstand or gift shop, so buy stuff or get food before going through. BTW: You won't find any reasonably priced bottled water at the airport. At Paul they sell small bottles of Evian for 3.25 euros, but the vending machines by the gate were a bit cheaper (2.50 euros).
Nice to New York on Delta
In the security line I met one of the Delta pilots, and he was kind enough to bring me and my dad up to cockpit before departure. It was cool and his colleagues were all really nice, so I had to reach in my bag and give both the pilots and the flight attendants a box of chocolates I had bought from Galeries Lafayette. They were really appreciative, unlike the crew coming over, and they took good care of us.
Our flight had 20 empty seats in business class and 50 in the back, which is unusual for a European flight in the summer. I tried to upgrade us at the gate but the agent said it has to be done a day before. FYI: I tried weeks before and learned our ticket fare wasn't upgradeable, but I thought I would try again anyway–you never know.
We could've bought Economy Comfort, which has extra legroom, among other privileges, for $60 since I'm a Silver member ($160 for folks with no status and free for Diamond members).
The flight attendants were all nice except a French one. They were all NY based and loved Nice. As soon as I saw how empty the plane was I moved my dad from our exit row to a whole row in the middle so he could lie down and sleep. It was a good move. During the meal service I would go back to eat with him.
It gets cold on these planes so bring a sweater.
Delta does give passengers blankets and pillows.
The takeoff from Nice is magnificent, and the flight attendant near me agreed.
The seat-belt sign went off pretty quickly and didn't go back on until 30 minutes before landing.
After takeoff the FAs served peanuts and drinks. Thirty minutes later they came around with lunch: Chicken or pasta. The chicken was pretty good. The rest of the tray had cheddar cheese, crackers, salad, and a chocolate biscuit for dessert.
The FAs then served drinks again along with coffee and tea. They picked up the trays 30 minutes later.
Each seat has an individual entertainment system–no live TV but HBO, movies, TV shows, games. The screens are small so it was difficult to play video games.
To our surprise there was no line at passport control or customs. I asked the agent if it's always like that and she said no–we were just the first flight out of eight that were about to arrive.
Second Trip to the South of France
Last week I made my second trip to the south of France in six weeks. This time I went for my cousin Abraxas's wedding. How my girlfriend Natalie and I got there is a long story, but we arrived into Paris's Charles De Gaulle airport Terminal 1 from Oslo at 7:30 p.m. a day earlier than planned. We had train reservations for the following day and were told that since everyone is on holiday in France in August we wouldn't be able to change it. Luckily we didn't listen to the naysayers and took CDG's tram to Terminal 2 (T2). We stood in line at the SCNF office for a few minutes and the agent was kind enough to change our ticket. The last train was leaving in 15 minutes, so we were lucky it was 10 minutes late. Here are some observations about our trip from Paris to Nice:
We were in comfortable first-class seats in the quiet car. Each seat had a tray table and an electrical outlet (need a European adapter).
An American woman was complaining there wasn't enough storage for bags–it's important to pack light. You probably don't need that much stuff.
The girl sitting across the aisle from us had a cat on her lap hidden under a blanket. She was thoughtful enough to pick up the cat's hair when she left.
The cars have an upstairs area with more seats and a café. Since we didn't have time to buy food in the station we bought two sandwiches, bottled water, Coke, and cookies for 20 euros. It wasn't a bad price, but the food wasn't too good. FYI: Our credit cards didn't have a chip like European cards do, so we had to pay cash.
The ride took 3 hours and 50 minutes; on the way back it took three hours and we left from Marseilles, which is further away. BTW: The Marseilles train station has to have the best view of any station of all time.
We got our tickets in advance (before we left North America) from RailEurope.com.
Friday Night
Since we were arriving a day early and didn't have a hotel reservation, we rolled the dice. We took a taxi from the Aix en Provence TGV train station to the Best Western Le Galice where we had a reservation for Saturday and Sunday nights. The taxi cost 35 euros (US$49), and our driver in his shiny Mercedes drove 150 km an hour to get us there–it took only about 15 minutes. It was 1:30 a.m., and to our dismay the clerk said there was no vacancy (I knew the tour bus parked out front was a bad sign). He then said the whole city was sold out. When he saw I didn't believe him, he gave me a phone book and his phone and I quickly learned he wasn't lying. I asked if we could sleep in a conference room or even in the lobby, but he said it's illegal. The only place he knew that had one room left was the Best Western Sévan Parc Hôtel 25 minutes away. He reserved us the room for 121 euros (US$172) and ordered a taxi. The driver and his pissed-off girlfriend pulled up a few minutes later in a new BMW station wagon with euro dance music filling the air. He drove 160 km an hour and no one talked. I felt sick when the taxi meter read 56 euros (US$79).
Best Western Sévan Parc Hôtel
When we rolled up to the Best Western Sévan Parc Hôtel the clerk was outside smoking a cigarette. He didn't speak English (unlike the day staff), but luckily I had Natalie with me so she could talk him into including breakfast in the rate (normally costs 11 euros). The 46 contemporary-styled bedrooms are basic with twin beds and thin walls, but they have a French flair with flowers painted on the desk chair and headboard. There was a separate room for the shower/tub and toilet, both with yellow tiled floors. The tub was so skinny it was tough not to get water on the floor when you stood up. Just like all Best Western Hotels, we had free Wi-Fi (the French pronounce it "weefee"), so that was a good thing.
In the morning we saw how beautiful the hotel was on the outside. It's set on seven acres of landscaped grounds with olive and palm trees, rose bushes, magnolias, lavender, and rosemary. It has two restaurants; we ate at their breakfast one. We sat outside overlooking one of the best-looking Best Western swimming pools you've ever seen. Do you agree?
The French Are Friendly
Whoever thinks the French aren't friendly has never been to the south of France (or the north, for that matter). Our day of friendly people started with the clerk at the Best Western's front desk. She took the time to figure out the cheapest way back to the Best Western Le Galice to avoid another 56-euro taxi. I also watched her give detailed directions to a lost American woman who wasn't even a guest. We ended up taking an 8.60-euro (US$12.23) taxi from the hotel to the local bus/train station. It took eight minutes, and once we got there the bus drivers and locals all collaborated with each other so they could figure out where the Le Galice Hotel was so they could drop us off at a special stop. By the way a one-way ticket from Pertuis to Aix en Provence only cost 1 euro a piece (I wish the bus operated at 2 a.m.). Then later that day when I was with my sister and brother-in-law looking for the château, two locals got in their car/scooter and led us to it since we were in a hurry (note: the first guy couldn't find it and took us to the wrong one). No matter what, we were all very impressed with the French hospitality.
Best Western Le Galice
We got dropped off four blocks from the 90-room Best Western Le Galice. This hotel was by far the least attractive of the three I stayed in, so I won't go into too much detail. First of all, it's not in a great location (about a 10-minute walk from downtown Aix en Provence), and it was just kind of dreary. The good news is the rooms were clean, with a comfortable bed, air-conditioning, a trouser press, long towels, a bidet, firm water pressure, and free Wi-Fi. Note: Breakfast isn't included in the rate. Best Western Hotel Le Galice, 5-7 Route De Galice; Aix En Provence, France; Tel.: +33 4 42527527
Aix en Provence
On Sunday Natalie and I walked into the center of Aix en Provence. I wasn't impressed with the city from what I saw of it until I went downtown. There was the famous fountain and an open-air market (takes place on Saturday), and everything is themed around from their famous ex-resident Paul Cezanne.
Abraxas and Dounya's Wedding at Chateau de Grimaldi
Without a doubt, the highlight of the trip was attending the wedding of my cousin Abraxas (AJ) to Dounya. They picked the absolute most incredible backdrop of all … Château de Grimaldi. What's crazy is that I met the owner (she's from San Francisco) in Fiji about seven years ago and then again at her other château outside of Paris, Château Villette. If that name sounds familiar, it's because it's where they filmed the movie the Da Vinci Code. I also filmed a pilot TV show there a few months later. Since then the owner, Olivia Decker, sold it, and she now rents out Château de Grimaldi.
Château de Grimaldi
Unfortunately, no one in the town knew of Château de Grimaldi, and they didn't put the signs up until 30 minutes before the wedding. We were arriving a couple hours early so we could change and spend time with my family members. Besides, my brother-in-law Tom and sister Carol were staying in one of the château's 11 bedrooms. Once we pulled up and we realized that we would make it to the ceremony on time, all of our frustrations went away.
Château de Grimaldi offered total privacy and serenity for my cousin and his guests (some were very high powered). Grimaldi is a magnificent 17th-century château located in Puyricard, about four miles north of Aix en Provence (23-euro taxi ride). Along with Château de Grimaldi's 11 bedrooms there are 9 bathrooms and 12 acres. The place once belonged to Cardinal Jerome de Grimaldi, who held court at the property from 1655 to 1685. The château has been completely updated to today's standards of comfort and luxury while maintaining its French country charm and history. To rent it is not as expensive as you might think.
The Wedding

Abraxas and Dounya's wedding started at 7 p.m. The ceremony took place in the Château's chapel and afterwards everyone went over to the cocktail reception which was held near the pool that is surrounded by the Château's ruins. I felt like we were in Italy, Greece, or Turkey. About an hour after mingling, dancing, drinking, and eating all of the wonderful hors d'oeuvres, we walked over to the dinner tables all set up under white lights hanging from trees in front of the main house. The tables were named after French painters. The food was amazing and they started with seared scallops and the main dish was Dover sole. Afterwards they served the salad, which was accompanied by raisin bread. Then the cheese came out and of course the deadly desserts.
The wedding cake was made of French macaroons and the dancing didn't stop into the wee hours of the night. To accommodate all the people they brought in the Rolls Royce of Port-o-potties. Natalie really appreciated their basket full of Pashminas for women to cover their shoulders with when the sun went down. The following day they served brunch and close family and friends hung out around the pool either playing Pétanque (like Bocce) or other games. Later that night we ate leftovers and pizza on the back deck that overlooked the famous Mont Sainte Victoire. Ah, how I could spend my summers in the south of France. Château Grimaldi, Puyricard, Aix en Provence