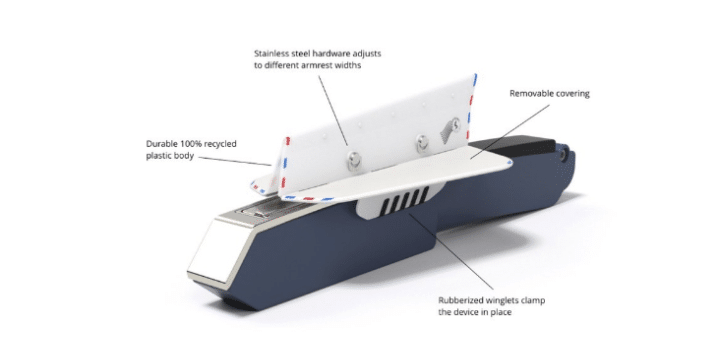 Most frequent travelers know that the passenger that get the person in the middle seat should get the armrest. After all, that person has to sit in between two people. But people don't always know that/believe that, and I've seen firsthand people elbowing each other to take control of the armrest. Heck, I've even done it when I end up in the middle.
Well, a new travel gadget called the Soarigami (sounds Japanese, doesn't it?) solves the problem of having to fight for armrests. You simply clamp the Soarigami onto the armrest to provide you and your neighbor wth your own arm space, thanks to the divider now between you. It's fully adjustable and it works on most armrests from 1.5″ to at least 2.75″ in width. Its tapered wings are designed to not cut into your side (insider tip listed on Amazon: install the device "reverse").
The Soarigami folds flat, is lightweight (8oz), and is made of recyclable plastic and high-quality leatherette parts. Grab one on Amazon for $29.