If you're ever in doubt that international news fails to affect the modern world, tell family and friends you're going to Israel and notice their reactions. Concern is definitely there. Worry too. The Middle East is a headline-capturing area and its political conflicts seem to be an ever-present dark cloud that hovers over the region.
But what you see and hear on the evening news only tells part of the story. Today, I'm happy to tell another tale. It's an account of my experiences in Israel during a five-day trip to Tel Aviv, Haifa, and Jerusalem.
It's a story of peace, love, and food, the universal equalizer that unites us all. Is it shocking like the stories that filter through news desks around the world? No. Is it worth your time and attention? I think so, but you decide. Let's go!
First impressions and meeting new friends
When I landed in Ben Gurion Airport, I immediately noticed a pleasant melding of old and new architecture. Soaring ceilings and stately columns that stand alongside bright, open and spacious gift shops.
Shira greeted me with a giant "Taste of Israel" sign and a bright smile. She's one of several organizers representing Stand With Us, an international, non-profit organization works to promote peace in Israel. With a warm hug, Shira said she was so happy to meet me. I immediately felt welcome and then the lovefest began. Getting to know some of these wonderfully warm locals who came together to plan an awesome itinerary and share awesome experiences together was the highlight of this journey.
I was traveling with the students of Technion and Haifa University and six food bloggers from the U.S. and Canada. The students fundraised and worked with local businesses to help provide a wonderful five-day foodie extravaganza that took us to restaurants, food markets, and cooking classes too. The goal: Taste Israel. Get to know the food, people, and places that make this place truly special.
First stop: Tel Aviv and Jaffa
Israel's second most populated city (with about 410,000 residents), Tel Aviv is the state's financial hub.
On a bus ride to the city, I noticed many skyscrapers and palm trees and city-standard grid-like streets and blocks spanning all the way to the Mediterranean Sea. It's a modern city with restoration and new construction going on in various areas.
Guided by Avigail Kuperman, our pretty, witty tour guide, we took a walking tour around the Old City of Jaffa. You can book her by calling +972 54-656-5082 or emailing her at puypuy@gmail.com.
History immediately unfolds in the port town's architecture with scenic stone buildings all around. Winding cobblestone paths and alleyways take you through the heart of town.
There are galleries, shops, restaurants, and ocean-view buildings that boast prime real estate. And then there's a seemingly humble dwelling that's a popular tourist attraction: Simon the Tanner's house.
According to the Old Testament (Acts 10:9-47) the rooftop at Simon the Tanner's house is where St. Peter had a vision that inspired him to ultimately convert the gentiles (non-Jews) to a newfound church. It would be the start of Christianity and a separation from Judaism. It's also where Peter prayed over Tabitha's dead body before she was miraculously brought back to life (Acts 9:36-42).
While you're walking alone the scenic paths be sure to check out the Jaffa flea market where you can shop for antiques, jewelry, table linens, souvenirs, cookware, and more. It's a shopper's heaven, a busy part of the city, and a great place to snap some postcard-worthy photos.
Next stop: Haifa and Mount Carmel
Mount Carmel is a mountain range in Northern Israel and it spans from the Mediterranean Sea to the southeast regions of the land. This place matched the rugged, rocky, dirt-path visions of Israel I imagined before arriving. Red earth and craggy cliffsides give way to sweeping views of the area.
It's believed to be the site where the Elijah challenged prophets to a contest to prove which God controlled the Kingdom of Israel. The God who'd light a fire on a sacrificial altar would prove itself to be true.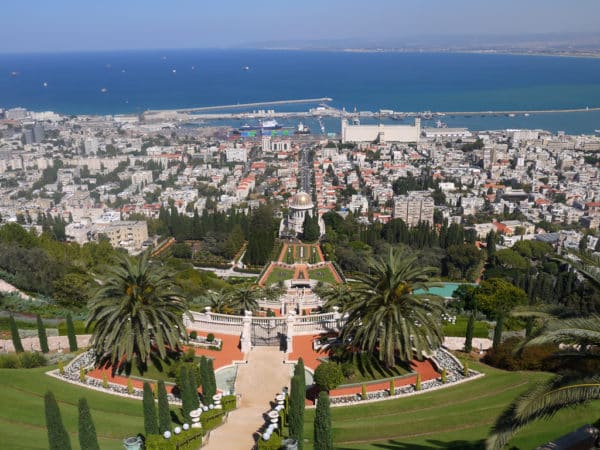 Haifa is Israel's third-largest city, home to the University of Haifa and the impressive Bahá'í Gardens.
I discovered Druze culture and hospitality there and got to know the Taste of Israel crew better as we cooked an al fresco meal together at Haifa University. The lovefest continued as we chatted about cooking preferences, studies, future plans, and the details that make up one's life.
Continue to Israel sightseeing, part 2: Masada, The Dead Sea and Jerusalem>