Be like Chico and send your pet on a jet, first class-style!
American Airlines just wrapped up a super cute photo shoot at LAX showing off its new and exclusive first class pet cabins. Travelers can find these new pet cabins aboard the A321T for flights from LAX and SFO to JFK. The adorable Chico, the pet of an American Airlines employee, has racked up some frequent flier miles of his own and in the photos, kindly models the compartment aboard the A321T.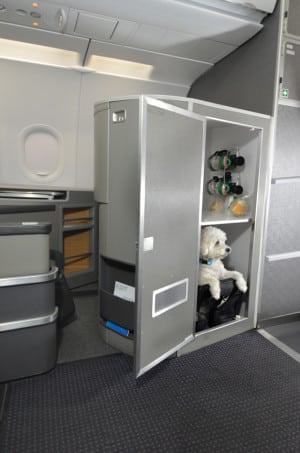 First class passengers can reserve their furry friends a spot by providing proper documentation from the vet. American Airlines says the pet must also be at least eight-weeks-old, the pet must be fed and offered water within four hours of its arrival on the airplane, and the owner needs to have instructions on feeding and watering for a 24-hour period. Additionally, the pet must be visibly attached to the outside of the kennel and be able to stand up, turn around and lie down in a natural position in the kennel. (They can be a maximum of 19 in x 13 in x 9 in.) Before you pack up your pet, check out all the details here.
The pet cabins are located within the first two seats up front of American's A321T first class cabin. The cabins to keep your pet have a door with ventilation to hold the pet kennel for takeoff and landing. A carry-on pet is an additional $125 per kennel.
As always, first class passengers can take advantage of additional amenities like the Admirals Club, private check-in, expedited TSA check-in, gate escort and car service are available.
Photos courtesy of American Airlines