Greetings from Southern California! So I needed to be back home in Los Angeles for an important meeting and to catch the Manhattan Beach Open. Instead of taking Alitalia's nonstop service from Rome to LAX I went through London on two UK-based airlines, British Airways (BA) and Virgin Atlantic. Yeah, I know, two of the airline world's most bitter enemies. If talking about planes or beach volleyball doesn't float your boat, then I bet Lisa McElroy's trip to the Big Island of Hawaii will. Wanna make a bet?
ROME TO LONDON TO LAX
I took the Leonardo da Vinci train from Rome's Termini station (main train station). It was a long walk to Track 28, so I don't recommend going browsing the shops thinking that you have plenty of time—it took a good seven minutes. The train is the quickest (30 minutes) and most economical way to Rome's Leonardo da Vinci–Fiumicino Airport (FCO); it costs 15 euros each way (you save 2 euros if you buy a round-trip ticket). If you have a Eurail pass, like I did, the trip is free. Just be sure to write in the date before getting on. The nonstop train leaves every 30 minutes (:22 and :52 past the hour) and was packed mostly with Americans and their large suitcases.
GOOD TO KNOW: For those planning early-morning flights, the first train doesn't leave Termini until 5:52 a.m.
FCO AIRPORT SECURITY
The train deposits passengers in a central location at the airport, and it was a short walk to T3. Earlier I'd checked in online with British Airways, and since I wasn't checking any bags I went straight to the gate. Security was lax—I didn't take any of my liquids out and kept my shoes on and breezed right through. FYI: Laptop computers do need to come out.
OOOPS
What's crazy is that when I grabbed my bag off the X-ray machine, I accidentally knocked off one of the security guy's old-school computer monitors. He was not happy, to say the least, but when I tried to help he shooed me away.
PASSPORT CONTROL
Just 10 steps away was my next stop, passport control, where just one agent was glancing at them (he didn't even hold it) and there was no exit stamp.
THE FRENCH GO ON STRIKE
I thought I was leaving plenty of time in between my two flights (over three hours), but wouldn't you know it—the French air-traffic controllers were on strike that day (it always seems to be someone in Europe, right?). They were causing all kinds of delays in and around Europe. The good news is there are plenty of places to eat, drink, shop, and plane spot at FCO.
HELLO?!
The worst part is that the Italian workers for BA did a terrible job of keeping passengers informed. In fact, they provided no updates, as everything read "on time" but there was no one (nor a plane) at the gate. And when I asked an agent working another flight he said, "I don't know." I only found out about the delay in advance by getting on the Internet with my BlackBerry.
BACKUP PLAN
While boarding I overheard a flight attendant say to another that there were over 50 Americans transferring to the U.S. so everyone was inquiring about connections. I thought for sure I was going to miss my connection, so I'd already started making plans (hotel and dinner) in London. It's always a good idea to have a backup just in case you miss your connection. I usually scout out places where I would stay and carry phone numbers/email addresses of hotels and friends so I can quickly and easily contact them.
ROME TO LONDON
A few weeks ago I flew to Italy (Naples) on British Airways from London's Gatwick Airport, and our plane was a 737. This time I was flying into Heathrow on a 767. I prefer the latter since it's larger with twin aisles. I scored the first row of coach—12B—which was one of the best seats out of the 221 in all of economy as there were no seats in front to recline into me. BY THE NUMBERS: The seat pitch is 32–33 inches (pitch is defined as the distance between the same position in two consecutive rows; in plain English it means the amount of legroom); the width of the seats is 17 inches.
FOOD
I sat next to a pasty-white young English guy who didn't say a word until he ordered a tea and a brandy with his sandwich. Food and beverage are free on BA, which is very cool especially on such a short flight. Sandwich choices were either ham and cheese or cucumber with soft cheese and the flight attendants passing them out were extremely pleasant. I went with the cucumber and cheese and a spot of tea and ate while staring out the window.
BRING A SWEATER
When I fly I always bring a sweater or jacket because you never know how cold the plane will be, even in the middle of summer. Sure enough, the a/c was kicking, so I was sorry I didn't bring a hat and gloves.
AN HOUR BACK
Since the French air-traffic controllers were striking we couldn't fly in a straight line over France but had to be re-routed over German and Dutch airspace. So the 2-hour-and-27-minute (896-mile) flight was longer than usual, but fortunately, the time in England is an hour earlier than Italy, so I was doing better on time than I originally thought.
LONDON
We ended up landing at 2:10 p.m., and my Virgin Atlantic flight was at 3:45 p.m. It was still a challenge since the cut-off for check-in is usually an hour before and I hadn't checked in. On top of that, Virgin Atlantic's T3 was a ways away from BA's beautiful new Terminal 5 (T5). I was the first off the plane and darted to passport control/customs, as I was told by some official earlier that I had to go through them. There was a long line so luckily I double-checked with the agent patrolling the area and he told me I could go straight to the flight connections bus, which saved me big time. I quickly popped downstairs and the "T5 to T3" (Virgin's terminal) had just pulled up so I hopped on for the 12-to-15-minute ride.
HEATHROW'S T3
We were dropped off right in front of security. Naturally I picked the shorter line, which of course ended up being a longer wait because of a first-time traveler with a baby who had no idea you can't bring liquids on board, and in England they are very strict with carry-on bags. Basically they have the same rules as the U.S. when it comes to the amount of liquids. Actually the Brits are the ones that started that rule, and guess who just happened to be in the Gatwick airport at the very moment it was implemented? Talk about a hassle—here's that story.
WELCOME TO UPPER CLASS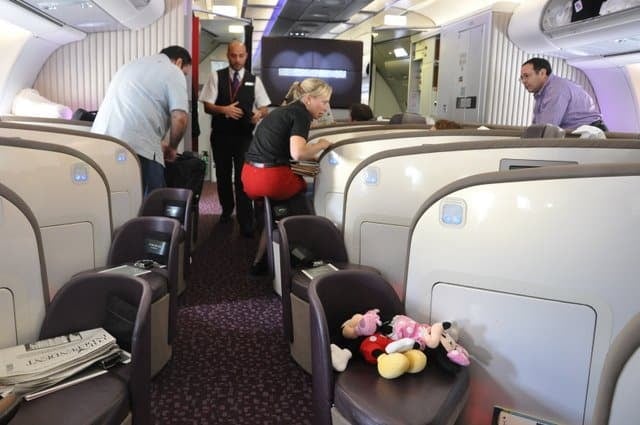 Once I cleared security I made my way to Virgin's check-in desk before the cut-off time, just like OJ used to run through the airport in the old Hertz commercials. I waited just a minute or two for an available agent and I was golden. Not only did I arrive just in time, but my space-available upgrade (that was arranged through a friend) went through. What a relief, and I was so excited to be flying Upper Class for the very first time.
VIRGIN ATLANTIC'S PREMIUM ECONOMY
In case you missed it, to get to London (from New York) I flew in Virgin's Premium Economy. Here's that slide show.
UPPER CLASS LOUNGE
The agent informed me that they were already boarding, so I needed to go straight to the gate, but after I told her how much I'd heard about Heathrow's Upper Class lounge she said, "It's on the way, so quickly pop your head in." I did. The host watching the door welcomed me and said, "You have time—they haven't even started boarding Upper Class yet." I celebrated by grabbing a cookie from the good-looking lunch buffet. Unfortunately, right when I sat down I heard on the PA, "Final boarding for flight 23 to Los Angeles" and I panicked like a rookie who was going to miss his flight. I hustled down to the gate with crumbs on my face only to find a long line waiting to board. What an idiot I am. Next time I will have to do a separate story not only about what a fool I am but about the lounge. I did notice its complimentary restaurant, spa, hair/nail salon, plenty of chairs, free Wi-Fi (the code is on the menu), and clean bathrooms. The design kind of reminded me of LAX's Encounter restaurant with its space theme.
UPPER CLASS
Not surprisingly, Richard Branson had a beautiful flight attendant welcoming passengers on board with a huge smile, like he does for all his airlines (Virgin America, Virgin Blue, V Australia…). I was shown to my seat, 4D, and although I had never flown Upper Class before I was still familiar with the seats because other airlines like Air New Zealand and Jet Airways (two of my favorite airlines) also have them. However, Virgin Atlantic had a five year exclusive from the manufacture for them but that deal is up.
CONFIGURATIONS
On the Los Angeles route Virgin Atlantic flies an A340-600, which is a beautiful new wide-body plane with two aisles. Upper Class has a unique 1-1-1 configuration. That means passengers have their own personal space and don't have to step over anyone. Love that! After seeing the 45 flat-bed pods I realized my seat wasn't the best for someone traveling alone and wanting privacy. That's because I was facing the folks across from me. The optimal seats for privacy are 3K to 6K and 8A to 17A. To get a better idea, see this SeatGuru link.
FIRST IMPRESSION UPPER CLASS
During boarding, Virgin had the music pumping and everyone was staring at one another trying to figure out who was a celebrity. I seriously felt like I was in the lobby of a South Beach luxury hotel over the holidays. But after boarding was complete, all that changed. The music turned off as soon as the door closed, the cabin lights were dimmed, and the passengers began reclining even farther down once airborne, so I couldn't see anyone's mug except for those directly across from me.
INTERESTING: I heard the gate agent tell the purser before they closed the door that we had 276 passengers and 13 crew on board.
UPPER CLASS SEATS
The flight crew were personable, and I liked that before takeoff the flight attendants came by and personally greeted the passengers in their section, introduced themselves and explained the functions of the seat and its amenities. With her cute little English accent, my flight attendant told me that on my stool I would find my menu and amenity kit with eye mask, earplugs, socks, and toothbrush/toothpaste (they also have pens, lip balm, moisturizer, and stain remover for anyone who asks). She pointed out that in the side pocket of my seat was a bottle of water and headphones. She then asked if she could bring me a pre-takeoff drink.
FYI: They have pajamas, but according to my loud seatmate they aren't offered freely anymore—passengers need to ask for them, which he and his buddies did.
BY THE NUMBERS
The seat dimensions are 79.5-inch pitch and 22-inch width, and the seat turns into a lie-flat bed. To turn the leather-armchair seat into a flat bed, one needs to flip over the seat; usually the flight attendants do this. Behind the seatback are the duvets, pillows, and mattress-like pads.
DID YOU KNOW: The seats are so state-of-the-art that passengers can be reclined even on takeoff and landing?
SEAT POWER
Each seat has a huge table, which is perfect to get some work done, but the seat's power port doesn't accept common electrical plugs. Instead they have EmPower ports, which require an adapter. That was a bummer because I didn't have mine with me, and I wasn't going to spend $55 on another one from their onboard duty-free. Instead I worked til my battery died and then watched movies.
ENTERTAINMENT SYSTEMS
You won't be bored in Upper Class—if you aren't taking advantage of the fully flat bed you can enjoy a 10.4-inch screen and the entertainment system. This plane had the V-port system, which offers 300 hours of on-demand movies, TV shows, and music. There is also a choice of 14–20 video channels, plus 9–14 audio channels and 10–15 games, depending on the aircraft. There were so many movie choices that I decided to watch a couple travel-related movies (When in Rome and Leap Year). Other functions include live maps, games, news, and a kids' zone—to keep them from screaming.
WINDOW SHADE
One reason to sit in a window seat (not that you can look out without turning your head 180 degrees) is so you can control the window shade. This was a day flight, which chases the sun, and everyone had the shades down so it was dark, making it difficult to fight off the jet lag.
SERVICE

Right after takeoff the flight attendants came around with hot towels, drinks, and potato chips served on china. When I told her all I would be drinking on the plane was water, she said, "Sparkling or still?" "Still, please." "How would you like a tall bottle?" Now that's service to me.
A few minutes later it was meal time, and the menu was as follows:
STARTERS
Poached flaked salmon salad with avocado
or
Virgin Mary soup (they offered to pour a shot of vodka in it for a true bloody Mary experience)
WARM BREADS
The bread choiceswere roasted red pepper, sesame, and poppy seed with olive oil or extra virgin olive oil and basilMAIN COURSES
Lavender- and garlic-infused lamb with crushed mint, new potatoes, green beans, buttered carrots, and thyme gravy
or
Braised flaked ham hock in summer vegetable consommé, topped with Y-Fenni cheese
or
Chickpeas, chile, and coriander cakes with cumin-roasted sweet potatoesWINES
All throughout the meal service the flight attendantscame around with fine wines, and they didn't push any annoying carts during service.CHEESE AND DESSERT
I skipped the wide selection of cheeses and went straight to dessert, which was either clotted-cream cheesecake with strawberry compote or summer berry pudding with chopped pistachio nuts. ICE CREAM
They weren't done there with the sweet stuff. Most people watched multiple movies, so they came around a couple of hours later with snack-size ice cream containers, either Kelly's honeycombor Häagen-Dazs vanilla.
AFTERNOON TEA
There were four seats at the bar—that's right, the plane had a stocked bar at the rear of Upper Class—but every time I went back there the same three dudes were sitting around it hogging most of the seats. I didn't care much since I was content with my seat, but when I saw some cupcakes (dark chocolate, cherry, or coffee and walnut) for tea time I had to reach over their shoulders to grab one. A few minutes later the flight attendants came around serving them to passengers in their seats. Like a good English tea, they had a variety of finger sandwiches(tandoori chicken, egg mayonnaise, or prawn mayonnaise) and warm sultan (raisin) scones with clotted cream and jam. LITTLE BITES
Little bites, as they call them, were offered throughout the flight (chicken tikka masala, mackerel filets, and red Leicester and tomato focaccia) but I didn't try any since my belly was already full enough.
ARRIVAL
As you can see, 11 and a half hours in Virgin Atlantic's Upper Class goes by way too fast, making the 5,440-mile flight from London to Los Angeles a complete joy. If I didn't have the photos to prove it, I would've thought I was dreaming.
MANHATTAN BEACH OPEN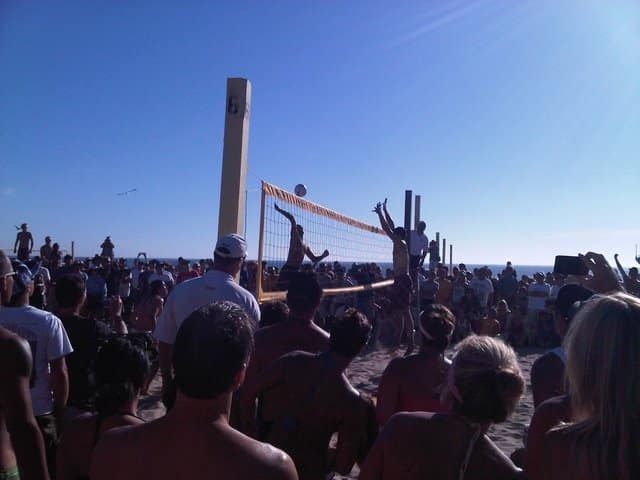 This past weekend I attended the Manhattan Beach Open, which is known as the granddaddy of beach volleyball tournaments. Unfortunately for the players, the Association of Volleyball Professionals (AVP), which ran tournaments all over the U.S., ceased operations just last week. That left the CBVA to step in and bring back the tournament old school. If you ask me, it was perfect timing because 2010 marks the 50th anniversary of the Manhattan Beach Open.
OLD SCHOOL
Instead of having a huge commercial ruckus where fans have to pay to get in, sit on uncomfortable bleachers and endure TV cameras and railings blocking the views, everyone gathered 'round in beach chairs. Or they watched from the Manhattan Beach Pier, which is where the winners' names are memorialized with a bronze volleyball-shaped plaque on the "Volleyball Walk of Fame", which spans the whole length of it.
THE PLAYERS
This year's winner was Sean Rosenthal and Aaron Wachtfogel for the men and Tealle Hunkus and Heather Lowe for the women. Each team split a prize of $4,000 a huge drop compared to last year's $20,000. What was also different were the rules and size of the court. The court was bigger and there were no antennae so there was a lot more ground to cover. They used a different ball, no hitting the net with a ball on the serve, and games were played side out scoring to 15. I loved it. FYI: Six out of the 10 top AVP teams competed but Olympic champions Dalhausser/Rogers and May/Walsh didn't. They are now touring where the money is with the FIVB in Europe.