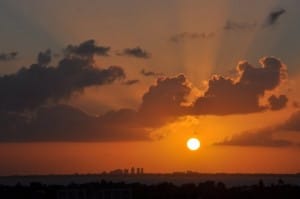 A couple of days later I flew five hours from LAX to Miami on American Airlines. I chose American's 9:30 a.m. flight since it was on a 767 and all those planes are outfitted with Wi-Fi (on domestic flights). When we landed my seatmate said to me, "You worked the whole flight," and I said, "Ah, that's the beauty of laptops and Internet in the sky"–it makes the time fly by.
RITZ-CARLTONS IN SOUTH FLORIDA
What's nice about being a guest of the Ritz-Carlton is that they treat you like gold. The moment I made it to baggage claim (yes, I checked a bag, since I'm on a multi-country/climate trip), their representatives were waiting with a sign. Once my bag came out (took 25 minutes), they escorted me to the waiting car for the 25-minute drive to Key Biscayne. NOTE: The Ritz-Carlton has several hotels in south Florida: South Beach, Fort Lauderdale, Palm Beach (my niece had her birthday party there), and Key Biscayne.
RITZ-CARLTON KEY BISCAYNE
The moment my car pulled up, it was attacked by bellmen, and I was escorted into the hotel by their General Manager (GM), who does a fine job managing this property. After asking him how many roses there were in the lobby centerpiece, I quickly learned that the hotel has 490 rooms: He explained that they order 500 roses, because guests usually take out about 10 of them, leaving 490–one for each room.
MY ROOM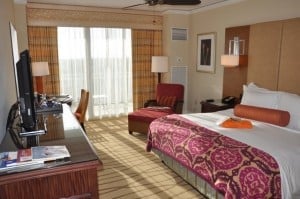 I was on the eighth floor (out of 14) and not facing the ocean, and I still enjoyed my view—especially the sunsets. All rooms have balconies, and the consolation prize for being on this side of the hotel is that your cell phone is guaranteed to work (cell service is patchy in secluded Key Biscayne). The room was really comfortable, with its soft bed (again, the pillows were a little too squishy for me, so I'm starting to think it's a personal problem), large flat-screen TV, ceiling fan, air-conditioning, and a bathroom with a separate shower stall and tub. The only negatives I could find were that the curtain didn't fully close (always bring a safety pin if you like total darkness), the walls weren't completely soundproof, and the Internet ($11 a day) wasn't lightning fast, but hey–at least they had Wi-Fi.
SERVICE
For the most part the service was top-notch, and all of the workers–no matter their job–went out of their way to greet or help guests. The one time I had a problem was when I needed to get my pants pressed for my talk, which I didn't notice until midnight the night before. It took two calls (35 minutes apart) to get someone to fetch them, and I made a mistake by saying it was really important that I get them by 9 a.m. Then at 6:25 a.m. the phone rang once and woke me up from the best dream (I was just about to get the keys to Uncle Hugh's Playboy mansion). As I went back to sleep, trying to figure out who the heck it was that called, the phone rang again. I answered it, and was told that my pressed pants were waiting outside my door. Ugh! I hope that next time they will just slide a note under the door to say my dry cleaning is ready for pickup, or illuminate the message light on my phone.
A BLESSING IN DISGUISE
In the end I can't complain about the early phone call, because it actually turned out to be a blessing, forcing me to snap out of the inevitable jet lag. Instead of sleeping late, I went to the fitness center to try and work off my Buddha belly and instantly got adjusted to East Coast time.
FITNESS CENTER AND SPA
The hotel's state-of-the art gym is located in the Spa, which has a beautiful serene entry and reminded me a lot of their Kapalua, Hawaii, property. When the hotel's PR person asked if I would like a spa treatment, of course I said yes. I told her to sign me up for whatever is their signature treatment and just pretend I'm a Spa slave. They signed me up for the Baborganic body treatment (80 minutes/$210). When I arrived, the men's room attendant was very attentive and showed me around before assigning me locker 25, which had slippers that fit my size 13 dogs and a soft warm robe. The waiting room was filled with fresh fruit and skewers to create your own fruit kebabs, so I made some pineapple and strawberry ones and like a good boy passed on their mini-muffins and other devilish treats.
BABORGANIC BODY TREATMENT
My Taiwanese-born therapist was really cool and was like a young yogi with strong hands. She handed me too-small paper underwear that fit like a thong, so I felt even more naked than I do when I'm naked. When I quipped that I'd hate to see how long it takes for the other dudes who weigh more than me to put them on, she laughed and said she could drape me with a towel instead if I liked–I liked.
MASSAGE
First came the gentle cleanse: hot water brushed onto my skin followed by soft, white powder crystals that are "snow flaked" onto the skin for an exfoliation. Once exfoliation was over it was time to rinse off in the room's shower (no soap, blotted dry with a towel). Then my back pressure points were targeted with a crystal from the Swiss Alps, followed by molten soy wax that was dripped along my body and incorporated into an ultra-indulgent back massage. The treatment felt so good, and I kept dosing off only to awaken to my own snoring–so embarrassing. The highlight was when she rubbed my head and did some reflexology after I was complaining that my feet were sore.
DINING
I ate way too well on this trip, and it all started when the Ritz gave me access to the Club Room on the ninth floor. Man do they have good grub (and drinks) up there all throughout the day and evening.
BOATERS GRILL
My first real meal was dinner at the Boater's Grill (LighthouseRestaurants.com), which is inside Crandon Park on Key Biscayne. It's exactly what I was looking for: a casual place, outside, not too far from the hotel (five minute drive) with some Cuban specialties. I passed on the house recommendation of whole fried fish and went with their chicken pasta, which was surprisingly really good (there was nothing Italian about it). I also had some of my friend's tasty plantains. We were all going to decline dessert until they said we had to try either the key lime pie ($5) or the Matrimonio ($7). Matrimonio is Spanish for "marriage," and the dessert was supposedly created by the owners, a couple whose grandmothers were both known for making the best dessert–one made rice pudding and the other made flan. So instead of fighting over who made the best, they saved their marriage by merging the two desserts–they pour rice pudding over the flan–and I loved it.
IL GABBIANO
The following night we drove to downtown Miami (20 minutes), where one of Miami's finest Italian restaurants is on the ground floor of a sleek new apartment building. The place to sit at IL Gabbiano is outside, so you can enjoy more than just the food. Since I didn't bring my camera I just have just these pics that I took from my BlackBerry and my colleagues' iPhones, which we posted on Twitter (my handle is @JohnnyJet). FYI: I had the Insalata Mista ($12.75), which comes with mushrooms, and then the Pappardelle alla Pomodoro ($26.75) and orange sorbet served in a hollowed-out orange.
VILLA G
My final night, the Ritz-Carlton rented out The Villa By Barton G. (TheVillaByBartong.com), a boutique luxury hotel, restaurant, and event space that's housed in the former Versace mansion in South Beach. I had no idea that since March 2010 this 19,000-square-foot property has been a hotel with 10 custom suites (rates start at $1,500 a night). We all got to take a tour of the mansion, including Gianni's private bar, shower with 8 or 10 showerheads that looks like it belongs in a Turkish bath, but the best views were from the top deck. I also loved the Versace-designed tiles throughout the building, including in the pool.
CONFERENCE
Our social media panel took place in the Ritz-Carlton's Ballroom, which without a doubt had the most comfortable chairs for a meeting room ever–get this–they had couches instead of the usual chairs. Up on stage, our panel was treated like a live one-hour TV show. We were indeed being filmed just like in a studio, and our moderator was longtime news anchor Kathleen Matthews, who now works for Marriott International as the Executive Vice President of Global Communications and Public Affairs (Marriott is the Ritz's parent company). FYI: My fellow panelists were Scott Mayerowitz (@ScottABCNews) from ABC News, Spud Hilton (@SpudHilton) from the San Francisco Chronicle, and Wendy Perrin (@WendyPerrin) from Condé Nast Traveler.
BEACH CLEANUP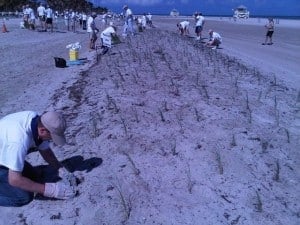 After the panel, lunch was served outside, and all the GMs and company were shuttled by three buses to nearby Crandon Park (five-minute drive) for an optional Community Footprints Event. We first learned about the area's sea turtles and then cleaned up the trash before planting sea oats to help secure the sand dunes we were creating. It's pretty funny watching these mastermind GMs work. The only road block to finishing the project surfaced when it was time to water the plants; we were directed to a truck with a water tank parked a couple of blocks away and just a few buckets per group, and these guys went into action. They all suggested the same thing–why can't we drive the truck to the plants? They first looked to tip the driver to drive on the beach, which he obviously was doing before we got there because there were tire tracks but no one was around. After they couldn't find the keys to move the truck themselves they started finding nearby faucets and began filling the limited buckets we had–even cones–whatever it took. It was really hot out, but the hotel set up a sweet snack/drink table and then had cold towels and ice cream as a reward at the end.
SIDE NOTES
-What's interesting is that out of the 70 Ritz-Carlton Hotels worldwide, there are 11 female General Managers. -It's amazing to hear the stories of GMs who have worked in hotels from around the world and have lived in multiple countries on multiple continents. They are the ultimate travelers.
Web Resources
Note: This trip was sponsored in part by Hilton Bora Bora Nui Resort & Spa