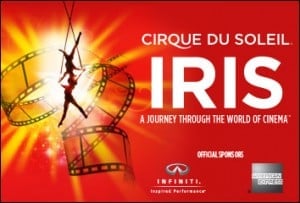 By Jim Milio:
Imagine you're fully immersed in a completely captivating, multi-million dollar 3-D feature film, brimming with spectacular special effects, jaw-dropping stunts, and frenetic images that blend together to form something unlike anything you've ever witnessed.
But what if it's not a movie….
What if the magic that has you under its spell is actually happening live — right in front of your eyes, with human performers exploring the boundaries of what's possible on a live theater stage?
That's what the Cirque Du Soleil extravaganza "Iris" feels like.
Housed at Hollywood's Kodak Theater, home to the yearly Academy Awards show, "Iris" is an homage to the movies…not any movie in particular, but to movies as a enchanting experience.
"Iris" plays off the concept of sitting in a darkened theater while flickering images wash over you, transporting you to another time and place, filling you with wonder and awe, and sometimes overloading your imagination.  That's what Iris does…for two thrilling hours.
There's a love story, acrobats, a criminal caper, dream sequences, comic relief, more acrobatics, flashbacks, and astounding moments of utter splendor — many of them happening at the same time, so that it's virtually impossible take it all in.
I've been to at least a half-dozen Cirque shows over the years and as their productions get bigger and more elaborate, each one feels increasingly like you are living inside someone's elaborate fantasy.
Under the guidance of writer-director Philippe Decoulfle´, "Iris" plays like a Cecil B. DeMille production of a Peter Jackson epic as re-imagined by Andy Warhol, a pastiche of movie genres come to life via graceful performers, ornate and sometimes outrageous costumes, precise choreography and a haunting score performed by a live orchestra. The music, written by Hollywood icon Danny Elfman ("Beetlejuice", "The Nightmare Before Christmas," and more than 50 other films), lays the foundation for every set piece, whether it's a gymnastic ballet of mobsters or a slapstick farce of Hollywood wannabes.
There are times when "Iris" feels almost overwhelming and its creators seem to know it. A few of show's most powerful moments come when there are only a few performers onstage, creating the kind of athletic magic that is possible via the wonder that is the human body.
For anyone who loves live theater and wonder of cinema in its many forms, "Iris" is a must-see.
About the Author
Jim Milio is co-chair of MPH Entertainment. Although Milio has written and produced hundreds of hours of television series and specials, his most significant productions are his two children.