Take the Plunge: Become SCUBA Certified Overseas
By: Rebecca Harris 
If you don't have the time at home or, like me, you dread the thought of swimming in water under 75F, consider a dive certification program on your next tropical vacation.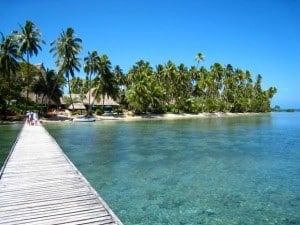 I didn't mean to become SCUBA certified on my recent vacation to Fiji, but 1.) I was staying at Jean-Michel Cousteau's Resort (the man's father basically invented diving); 2.) the water temperature was a lot warmer in Fiji than back home in Los Angeles; 3.) the visibility was between 50 and 100 feet; and 4.) the snorkel just wasn't a long enough leash.
Just Three Steps to SCUBA Certification
1. Classroom (videos, reading, and quizzes)
2. Pool Training
3. Ocean open-water dives
Trading in the Snorkel for an Air Tank
During my first day at Cousteau's I wandered down to the L'Aventure Dive Shop on the resort grounds to pick up my snorkel gear. I was so excited to explore the soft corals and the array of tropical fish and marine life that Fiji is famous for. Right off the resort boat dock, Nemo and a myriad of his fish buddies were swimming in and out of their bright coral neighborhoods.
I left the underwater world and walked back down the long boat dock and ran into one of the dive masters. He told me that a beginning dive trip was planned in the morning and there was still space if I wanted to join. This dive was for non-certified divers-no experience necessary. He didn't need to twist my arm. I signed up.
Before leaving on the dive boat that morning, Geoff, the dive instructor, took our group into the resort pool to learn key diving skills:
1.) breathing underwater through a regulator
2.) learning how to use our BCD (Buoyancy Control Device-the dive jacket that inflates and deflates)
3.) grasping an understanding of different dive signals-our new underwater sign language for phrases such as "OK" and "low on air."
The pool experience was a piece of cake and made me feel quite comfortable with the awkward equipment and breathing underwater. I was ready for the open water!
Or So I Thought…
The dive boat took our group of four about 10 minutes from the resort to a dive site called Whale's Shale, a large coral reef system surrounding the Savusavu Lighthouse. The waves were a little rocky as our group jumped into the ocean and prepared to descend, following a rope 40 feet into the sea. I started to panic. The clouds had rolled in quickly so I couldn't see past the surface of the water. I felt as if I was hovering over a black hole. I took a deep breath and took the plunge into the South Pacific. Our group was already descending down the endless rope and I was the last to join. It must have been a combination of the waves smacking against the boat and a darkening sky, but my mind began to race and I forgot how to breathe underwater. Are you kidding me? Twice I tried descending along the rope and both times swam back up the few feet to the surface. Was I going to have to throw in the towel?
But It Did Happen!

My amazing instructor Geoff looked at me and laughed. "It's ok," he said. "We'll go to the shallow area next to the reef and start from there." He was already pulling at my arm and guiding me over. He wasn't letting me get out of this so easily. I took a few deep breaths. I could now see the bright coral formations and as Geoff and I descended together, I was breathing nice and slow as I had done in the pool. Looking through my dive mask to the most colorful coral I had ever seen made me laugh that I had been so nervous. I joined the rest of the group 40 feet below the surface, gave the "OK" sign, and we were officially scuba diving!
The hour spent exploring the reef went by way too quickly. We swam with thousands of tropical fish, including pufferfish and even a sea horse! Somewhere between the parrotfish and the moray eel (yuck-I don't like eels), Geoff pointed into the distance-SHARKS…gulp. I thought I was going to completely flip out having to swim near white tip and reef sharks, but instead the sharks just minded their business and swam away. OK, I'll admit it, they were pretty small sharks. But still!
I was glowing on the ride back to shore. The dive had been successful, and with sharks for that matter! My short-lived fear of diving was gone and I was hooked. A friend I made on the dive boat told me that we were only one dive away from getting PADI certified. My new friend David from Newcastle, Australia, was literally jumping up and down in his wetsuit and said, "We only have to watch a video, take a quick quiz, do a few more pool techniques, one more ocean dive, and we are PADI!" Well, it was a little more than that, but surprisingly we ended up PADI certified the very next day of the trip. This certification is great for beginners because you are certified to dive anywhere in the world, but can only go 40 feet deep (all the cool stuff is above 40 feet anyway!) and must dive with a dive master/instructor. This certification never expires and can be used towards the full Open Water certification that allows you to dive on your own.
There are a variety of different recognized certification organizations, but Cousteau's Resort uses PADI (Professional Association of Dive Instructors), which is one of the larger groups.
Short On Time and Don't Want to Go Deeper Than 40 Feet? PADI Scuba Diver Certification Is Fantastic

This course requires less time than the PADI Open Water Diver course, and covers three of five sections of knowledge development (the classroom portion), three of five pool sessions, and the first two of four open-water dives. During your two ocean dives you practice skills you learned in the pool such as removing your mask underwater (much easier than it sounds), sharing air through your dive buddy's spare regulator, practicing buoyancy, and ascending back to the surface. This is a perfect certification if you would like to dive in the company of a dive guide or if you have limited time on your vacation to devote to the complete PADI Open Water certification.
Fast Facts: PADI Scuba Certification
Never expires and recognized worldwide
Dive under the supervision of a divemaster or instructor
Dive to a maximum depth of 12 meters/40 feet
Receive an official PADI certification card to keep with you for your next dive adventure
Obtain air fills, rent or purchase scuba equipment, and participate in other diving activities
Continue dive training (2 more quizzes, pool time, and 2 additional dives) to become a PADI Open Water Diverin no time (www.padi.com)Fast Facts: PADI Certification at Cousteau's in Fiji
10 years of age or older can participate
Time Commitment: About 3-4 hours in classroom (videos & quizzes), about two hours in the pool (this depends on the size of your group), and two 1-hour ocean dives, 40 feet under
Cost $279USD pp (see FijiResort.comfor most current rates).Another Great Option-Referral Program
If you have time at home before your trip, log on to PADI's eLearning program and take the classroom portion of the certification online before your trip. Really, who wants to sit inside a classroom when you are in the tropics! PADI's eLearning can be found at Padi.com.Other Beginner Diving Tips
I would recommend purchasing your own mask and snorkel before your trip. This way you know you have a mask that fits you and is comfortable. Fins are tough to fit in your suitcase if you like to pack light like me, so you can always rent/borrow them from your resort if available.

De-Fog = your best friend. Sure, spitting in your mask works for a little while, but when you are 40 feet underwater, spitting in your mask would be pretty difficult. Professional de-fog keeps your mask crystal clear so you won't mistake a dangerous lionfish for a cute clown fish.
WEB RESOURCES