How to Fly with a Cowboy Hat
Each Friday, we feature a reader-submitted tip as our Travel Tip of the Day. This week's tip comes from a cowgirl I met in Colorado, who says:
"If you want to travel with your cowboy hat but don't want to bring a hatbox (carry-on) or risk having it crumpled in the overhead bins, this is a great option. You need one trash can elastic band and one 7-8 inch mini bungee cord. Simply fold the seat tray down, hook the trash can elastic over the top part of your hat and secure the ends of the elastic band on the back of the tray with your mini bungie. Fold the tray back up and secure for a 'hands free' way to travel with your cowboy hat!"
See below for a picture illustrating how this works—and follow her and her team on Instagram at coloradoranch!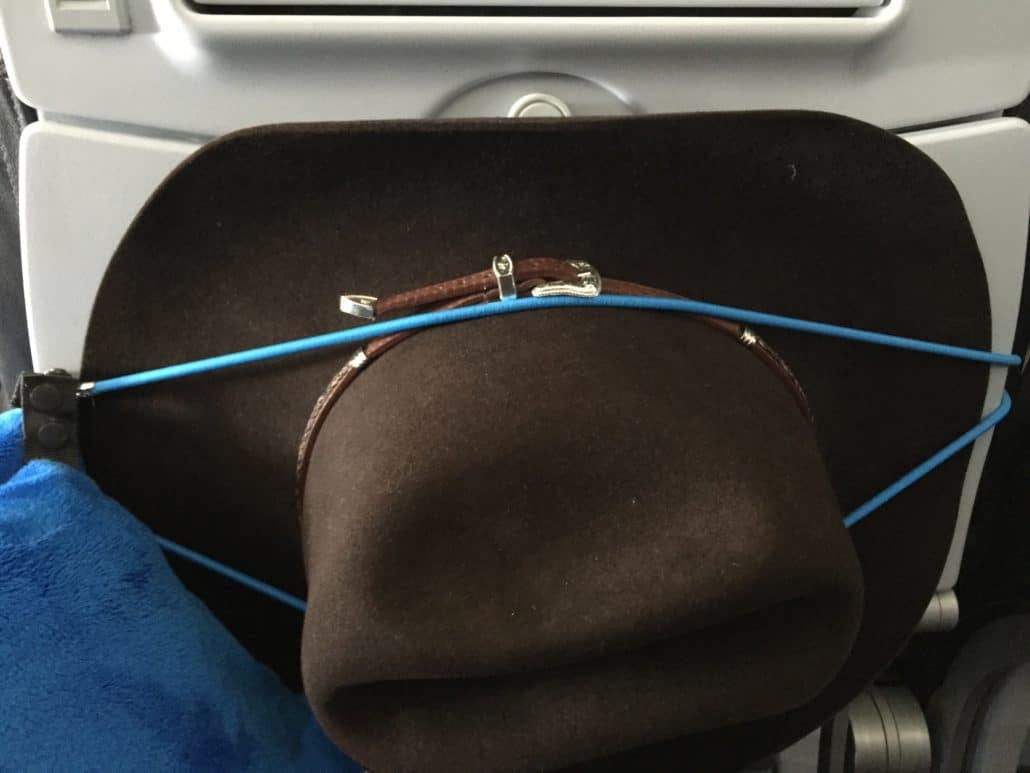 ____________________________________________________________
Tried this tip? Let me know in the comments!
Have your own tip? Email it to whitney@johnnyjet.com!
Want to see more tips? Click here for all 698!
Want even more travel tips? Subscribe to the Daily Travel Tip newsletter! All you have to do is sign up for the weekly newsletter by filling in your email address and checking the Daily Travel Tip box in the top-right corner of the homepage.
If you already subscribe to the newsletter, fill in your email and check the Daily Travel Tip box in the same top-right corner of the homepage and you'll receive an email with a link to update your JohnnyJet.com preferences. On that page, just click the Daily Travel Tip box and Update Profile and you'll have Johnny's best tips, straight to your inbox each day. And don't worry—it's easier than it sounds!