This post contains references to products from one or more of our advertisers. We may receive compensation when you click on links to those products. For an explanation of our Advertising Disclosure, visit this page.
When I travel, there are three things that I absolutely need to have on me at all times: my smartphone, my passport, and a power bank. Ten years ago, that list would have been much longer. I would have wanted a phone, an iPod, a map, my wallet, a book, maybe even a portable DVD player. Now, my smartphone is all of those things wrapped into one.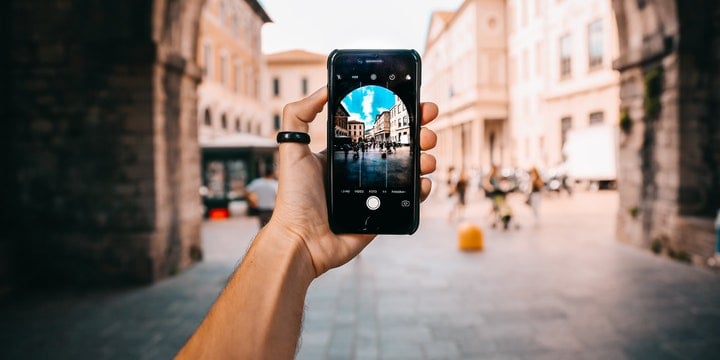 It makes traveling super convenient, but also makes my smartphone absolutely indispensable. If my phone runs out of juice at any point, I lose my map, my contacts, my music, and my entertainment. Suddenly my multi-media powerhouse becomes nothing but a really fragile brick. That is why I always carry a power bank.
The RAVPower Xtreme 26800mAh Power Bank
The RAVPower power bank is a fantastic option for anyone looking to extend the life of their smartphone between outlet charges. The folks over at RAVPower sent us one to test out, and we are happy to report that it is a fantastically designed little device.
The RAVPower power bank comes in a well designed, easy to open box. Inside you will find your pre-charged power bank, a mesh sleeve for the bank, and two USB cords (one long, one short). The power bank itself contains three USB Outputs: one that offers 2.4A, one that offers 2.1 A, and a third that offers 1A. There is also a micro-USB input that offers 2.1a.
The power bank itself is fairly large and heavy, measuring 6.5" x 3" x 0.5". The front of it houses a power button and an indicator light. To use the bank, simply connect your phone to one of the USB outputs either using one of the provided USB cables, or your own lightning cable for iPhone. The bank starts charging your phone automatically.
To see how much juice the RAVPower power bank has left, just tap the power button and the indicator lights will come on. Four lights means your bank is fully charged. I was able to charge my iPhone X Max from 10% to 100% in just two hours using the 2.4A USB output, and I was able to charge my phone 2.5 times before needing to recharge the bank.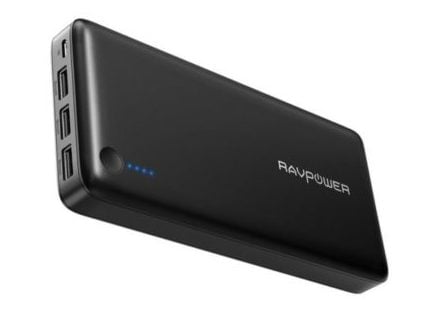 Pros and Cons
Overall, this is a great product that is easy and intuitive to use. It works the way it says it does and is clearly well made. That being said, there were a few areas upon which I believe the bank can be improved. Below is a list of pros and cons.
Pros
3 USB outputs. This means that if you are traveling with a partner or group, you can all charge your devices at once.

The mesh carrying case. I like to store my charging cords right in the mesh case with my power bank. That ensures that everything I need to charge my phone is readily available the moment I need it. Not all power banks come with a bag, and that makes it much harder to organize charging cords.

Power button. I have seen charging bricks without charging buttons, or with touch-screen buttons that are really hard to find. The power button on this bank is easy to spot and easy to use. No confusion here.

2 Micro-USB charging cords. You will need a USB cord to recharge the power bank, but if you have an android you will also need one to charge your phone. The different length USB cords offer options, which I really appreciate.
Cons
Size and weight. For a charger this size, I would expect it to recharge my phone eight times over. It doesn't seem powerful enough for how large and heavy it is. It would be difficult to fit into a pocket or small purse, but would easily be tossed into a backpack.

No outlet brick or lightning cable included. That means that when you want to charge the power bank, you have the appropriate cord, but no way to actually plug that cord into the wall. Also, if you have an iPhone, you will need to supply your own lightning cable.

The mesh bag doesn't fit tightly over the power bank. I said before that I like the bag, which is true, but it is important to note that the drawstring bag cannot be pulled all the way closed over the power bank. It is just a hair too small. The cords may be able to fall out during transit if this brick is kept in a crowded bag.
But while the cons are important to consider, the pros really outweigh them when it comes to this particular product. This power bank can charge three phones at once, charges fairly quickly, and is easy to use. No more guessing how you need to activate your power bank, searching for a USB cord, or wondering how much juice you have left. This product design has solved for all of those problems.
Summary of the RAVPower Power Bank
The next time you leave home, make sure you have a fully charged RAVPower power bank with you. With this travel gear essential, you can go days without plugging your phone into a wall. Plus, for all of the avid travelers out there, isn't that the dream? Pick one up for yourself, or as a stocking stuffer for the traveler in your life, and never experience low battery anxiety ever again.