Qantas A380
G'day! This is a special post to give you the inside scoop about Qantas' A380, the world's biggest commercial aircraft, which you have probably seen all over the news this week. As you can see from the picture, I was fortunate enough to be one of the 150 guests to go on an exclusive two-hour "VIP" flight that included Qantas ambassador John Travolta and Australian singer Olivia Newton-John.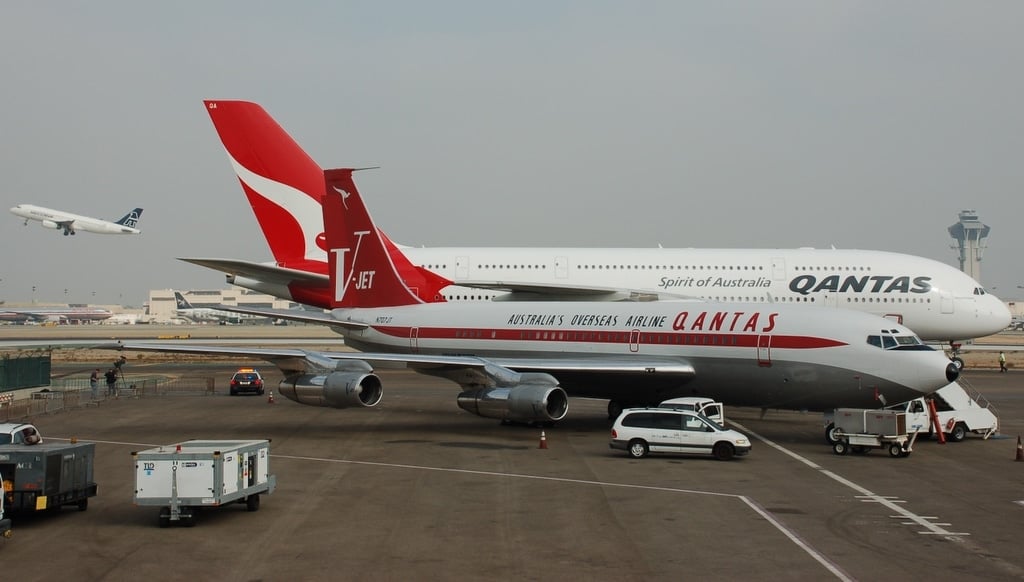 A380 With Paying Passengers Lands at LAX
The day began after the Qantas A380 made its maiden voyage from Melbourne to LAX. This isn't the first time an A380 has been to L.A. but it was the first time paying passengers were on board. The start of regular commercial service to LAX is what made this event historic and newsworthy. DID YOU KNOW? One daily international roundtrip of an A380 jet to LAX generates up to $623 million in economic activity annually. It also adds more than 3,000 local jobs and $156 million in wages.
Flight Path Museum
I showed up at LAX's Flight Path Learning Center at exactly 9:30am; it's a great little museum that's open Tuesday through Saturday, 10am to 3pm and admission and parking are both free. Lots of private industry functions are held here so keep that in mind before coming. When I pulled into the parking lot, there were a few police officers directing traffic and a small army of TSA agents who had two metal detector machines and screened every guest entering the museum. It's one of the fastest airport security screenings you'll ever go through, as there were no X-ray machines for bags. However guests still needed to take off their shoes so they could be hand examined … and you thought your job sucked! Once inside, there was already a crowd gathered of anxious, well-dressed VIPs, mostly media and Qantas business partners.
Press Conference
Parked just outside the museum and off the runway was John Travolta's Boeing 707 jet. The classic plane used to be a Qantas passenger plane but it was retired long ago. In 2002, Qantas struck a deal with Travolta for him to be their ambassador; I think he gets all the maintenance paid for and who knows what else! Then, the A380 made its way from the Tom Bradley International Terminal — they had to drop off the Australian passengers, clean it, pick up the VIPs and then they parked it right next to the 707. It was amazing to see Qantas' past, present and future all together, which happened when a Qantas 747 took off right behind them. Around 10am, out popped Qantas' flight attendants, Los Angeles' Mayor Antonio R. Villaraigosa, Olivia Newton-John (dressed in Qantas' new flight attendant uniform) and John Travolta in his Qantas pilot suit. At the brief press conference, I sat directly behind Olivia Newton-John who looked incredible (I can't believe she just turned 60) and in front of John Travolta and the other Qantas executives.
Fast Fact
Only 20 airports worldwide are currently able to handle the giant A380, which needs extra-wide runways for its long wingspan and two-tiered facilities for loading and unloading passengers.
A380 Dimensions
The overall length of the A380 is 239 feet, three inches (73 meters). The height is 79 feet, seven inches (24.1 meters) and the wingspan is 261 feet, eight inches (79.8 meters).
QANTAS A380 Configuration
Afterwards, those lucky enough to be holding a ticket (LAX to a fictitious point) walked the red carpet onto the double deck super jumbo. The A380 is so large that it could carry up to 853 passengers but Qantas configured it for 450. The plane has four sections: economy (332 seats), which is downstairs behind first class (14 suites). Premium economy (32 seats) is upstairs behind business class (72 Skybeds). First class does look sweet but a roundtrip ticket in that phat seat goes for $27,655 … Yikes! I took my economy seat 59A with joy. My buddy Ben Mutzabaugh from USAToday's Today in the Sky was seated beside me on the aisle. We were right on the wing so we didn't have a great view, except of the wing. Did you know that during takeoff, the wing will flex up to as much as 13 feet? I didn't notice it probably because the plane is so smooth and quiet. What's cool is that each seat has individual entertainment systems that include a tail cam and flight map and have power ports for both electrical and USB. I will go into real detail about the plane's amenities and Qantas' service when I make a trip down to Australia sometime in the near future, hopefully, on January 14th, 2009 when they begin flying another A380 from San Francisco.
John Travolta and Olivia Newton-John
Before takeoff, John Travolta (who wasn't flying the plane) got on the P.A. (you can hear part of his speech in my video below) and said that once we took off, he was "going to walk through all the cabins in hopes to meet each and every one of you." He did, with Olivia leading the way. When he came to me, I introduced myself and he said, "Johnny Jet? I love that name! That should be mine!" He was really cool and later, I got to chat with him one on one.


I can't remember everything because I was thinking to myself, I can't believe I'm talking to John Travolta but I do remember that he said he hasn't flown commercial since 2002 and that he usually goes to Australia once a year though he hasn't been in about two years. He'd just flown in from Paris where he's making a movie and he flies about 300 hours a year. He also admitted to being the first non-test pilot to fly the A380 and that it was awesome.
Buzzing San Francisco
As if having John Travolta and Olivia Newton-John on board weren't enough, Qantas also served fine champagne, tasty hors d'oeuvres and other treats. For the grand finale, they received special clearance so we could buzz the city of San Francisco and the Golden Gate Bridge! We were flying so low it was surreal. At one point when I looked out the window and saw the Golden Gate Bridge, I actually felt like I was in the James Bond movie A View to a Kill. This plane and airline rocks and the entire experience was special — one I will never forget.
Video
Here's the two-minute video of my two-hour Qantas A380 flight.
U.S. to Australia for $380* Each Way
FYI: Qantas is the third carrier in the world to take delivery of the European-made A380. Singapore Airlines was the first and they now have five! Emirates received theirs a couple months ago, which is currently flying between New York's JFK and Dubai. I was lucky enough to take part in Emirates' VIP flight; here's that story and video.
To celebrate the arrival of its A380, Qantas is offering a great deal to Australia from $380* each way. This is without taxes/fees (which add $150 to $200) and needs to be booked by October 31, 2008. Qantas' A380 is flying between Los Angeles and Melbourne (once a week) and Sydney (twice a week) but the fares are available for their 747s as well. Here's Qantas' schedule so you can make sure you book the A380.