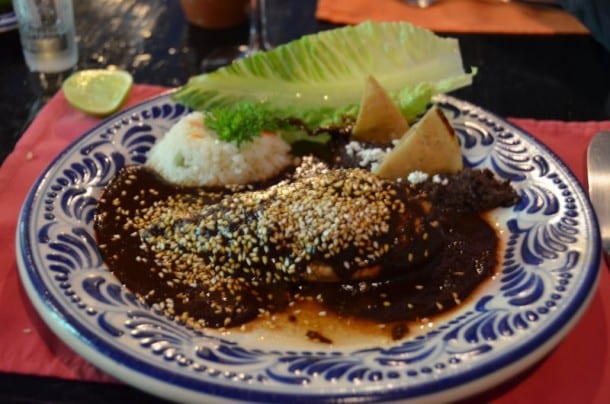 A city with as much gastronomic history as Puebla undoubtedly has more restaurants worth visiting than the ones named here; nevertheless, I strongly urge you to try these restaurants based on the meals I enjoyed there.
Mesones Sacristia de la Compania: Located on a picture-perfect pastel-colored street, this restaurant opens into a courtyard whose rich pink walls and rustic furniture set a fitting stage for its traditional Pueblan cuisine.  Mesones Sacristia also offers hotel accommodations as well as cooking classes including the one where I learned to make mole adobe.  In the course of two meals, I enjoyed the mole poblano served over a massive chicken breast as well as a fish stuffed with cheese covered in a green pepitos mole and the special Sacristia mole with chipotle. Most significantly, I first tried cremita, my new favorite dessert, at Mesones Sacristia.
Casareyna:  Another hotel/restaurant that also has a talavera pottery boutique, Casareyna has incorporated ancient stonewalls from an original building into its modern design with quite a wonderful result.  Happily the meal that I had was as delicious as the surroundings were beautiful. Of the multi-course mean, I especially liked the salmon in tamarind sauce and their sopa de esquite – traditional corn on the cob soup with mayonnaise and fresh lime-juice and chili flecks.  Sounds terrible but I was begging for seconds. Since there is always room for ice cream, I had Nieve de Mamey, made from a Mexican fruit.  The perfect endnote to a perfect lunch.
El Mural de los Poblanos:  Right in the heart of the historic district, El Mural de los Poblanos does a lively business with tourists and natives alike. One enters past a massive mural depicting the Battle of Cinco de Mayo; other large murals decorate the restaurant inside. After starting with mezcal, I enjoyed a tasting menu of Puebla favorites, two of which I will highlight because I have not mentioned them before.  The traditional sandwich of Puebla is the Cemita.  Ours basically took the ingredients of a chalupa and put it between a roll.  More successful in my opinion was the chicken skewer served with three different moles – adobe, pipian verde and pipian roja. I took one of their excellent rolls to finish the moles. It was at El Mural de los Poblanos that I dined on fried larvae before enjoying two desserts – my favorite cremita as well as a Pan de Elote, a cornbread concoction. El Mural de los Poblanos also offers a full line of mezcals as well as a wonderful tamarind margarita.
La Noria: Though outside the historic district, I recommend La Noria for two reasons. Natives eat here; I saw some of the most elegant diners ever in this renovated hacienda that has a sleek modern vibe in both décor and cuisine.  You will find traditional Pueblan fare here, but you will also find excellent non-traditional cuisine such as the delicious steak with a three mushroom sauce.  Which brings me to my second reason for the recommendation – after eating mole at every meal, I enjoyed my well-prepared meal sans mole.
MORE ON PUEBLA: