Greetings Johnny Jet followers!!  It's Johnny's Cousin Arty here with a review of a pocket sized rechargeable battery bank that might be the solution to your wireless travel needs.
The Innergie PocketCell Rechargeable Battery Bank is small enough to fit in the palm of your hand, versatile enough to charge just about every gadget, and powerful enough to keep you plugged in from point "A" to point "B."
Lets start with some Product Specifications: The IP houses a 3000mAh battery that's more than twice the capacity of most cell phones. The input is 5 VDC / 1.5 A (max). Output is 5 VDC / 2.1 A. Product dimensions are 90.0 x 29.8 x 21.1 mm / 3.58 x 1.17 x 0.83 inches. Product weight is 72 g / 2.54 oz
There are also some protection systems to ensure you don't cook your batteries or short your devices, such as Over Current Protection, Over Voltage Protection, Over Temperature Protection, Over Power Protection, Short Circuit Protection.
Operation is very simple.  The IP came from the factory, pre-charged and ready to go at about 75% capacity.  It can be charged through USB connection off a computer, through the Innergie 15w Dual USB adapter sold seperately (plugged into a wall) or a car lighter connection.
A completely exhausted IP takes about 2 hours and 33 minutes from the mMini AC 15 Dual USB adapter (sold separately) and 2 hours and 3 minutes though the "Magic Cable Trio" 3 in 1 USB cable connected to a computer via USB (included). The Magic Cable is what makes this little power pack an extremely versatile  emergency power solution.  With the Magic Cable, the IP can be used to charge a variety of devices that accept a USB Connector, Mini USB, Micro USB and of coarse the Apple Connector.  That pretty much covers the majority of your Apple, Android and Blackberry devises.
For the sake of this review, the IP was tested with the HTC Nexus One smart phone which houses a 1400 mAh li-ion battery used in many cellphones today. Also, I chose to test it on the Samsung Galaxy Nexus, which contains a larger 1850 mAh Li-ion battery necessary for the newer juice draining LTE devices.  Lastly, I wanted to see what kind of boost it could give the Asus Transformer Prime tablet using a 25 Wh li-polymer battery.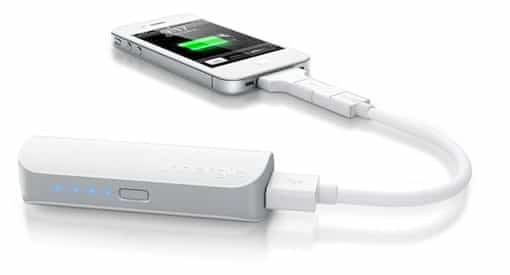 OK, here is the raw data:
HTC Nexus One:
Charging time: 2 hours and 40 minutes (Fully Discharged with phone off while discharging)
Percent of battery charged: 100% (25% was left on IP)
Samsung Galaxy Nexus:
Charging time: 4 hours and 11 minutes (Fully Discharged with phone off while discharging)
Percent of battery charged:  92% (IP was completely discharged)
Asus Transformer Prime:
Charging time: Roughly same discharge time as above mentioned
Percent of battery charged: 28% (IP was completely discharged)
I've had a chance to pack the IP on a couple of trips and found it very useful and will probably never travel without it again! It's small enough to forget you even have it, but will provide the necessary boost to make it to the next outlet.  The IP retails for $79.99 and includes the "Magic Cable Trio" 3 in 1 USB cable.  The mMini AC 15 retails for $24.99.
So there you have it, it's up to you to decide how much your peace of mind is worth.