Planning a European bike tour isn't complicated. With a few tips and some solid support from a bike touring company, the planning, packing, and training are part of the fun. Let us help prepare you – and dispel at least some of your reservations.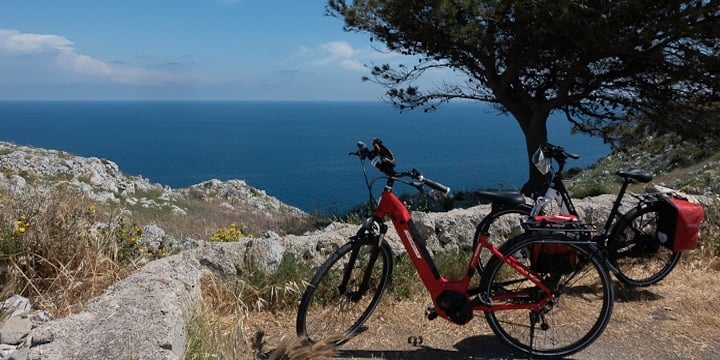 Believe us when we say we know your nagging concerns; we ventured out on our first European bike tour with plenty of questions and a bit of self-doubt. We were over 60 years old, after all, and not terribly sure of our biking level nor our general stamina. But we knew we wanted to give cycle touring a try.
Now, with two bike holidays under our belts, we're planning our 3rd and 4th routes.
Why choose a bike tour?
Trust your instincts. If traveling by bike has crossed your mind, you are probably already keyed into some of the benefits of this sort of travel. According to research by the Adventure Travel Trade Association (ATTA) in conjunction with Outside Magazine, increasing interest in cycling, hiking, and other "soft" activities go hand in hand with the changing trends in adventure travel. "The most important components of an adventure experience are (1) being in a natural environment, (2) learning, (3) meaningful human experiences, and (4) experiencing a new culture," their research revealed.
Instead of seeking thrills in high-risk activities, travelers are more likely to be tuned to the mental health advantages of their soft adventure. Of course, we like the health benefits of active travel, but we also appreciate the intimate views of rural and natural environments, of small villages and local customs that travel by bike affords.
Versatility
Another reason for bike tourism's popularity is that it's easily combined with other travel interests. Travelers can satisfy multiple passions in one trip. Many tours accommodate a foodie focus; other cycling itineraries might be arranged in combination with luxury lodgings, farm visits, eco-tourism, historic sites, or cultural events.
And let's not forget the small perks. We love riding bikes without excess baggage and worries. For both our tours to date (in Brittany, France, and Puglia, Italy), hotels were booked in advance and our luggage was transported for us.
Bike touring is an affordable way to travel and, like adventure travel in general, keeps travelers' dollars close to the local economy. ATTA's 2018 Adventure Travel Trends Snapshot indicates 66 percent of adventure travelers' trip costs remain in the local region.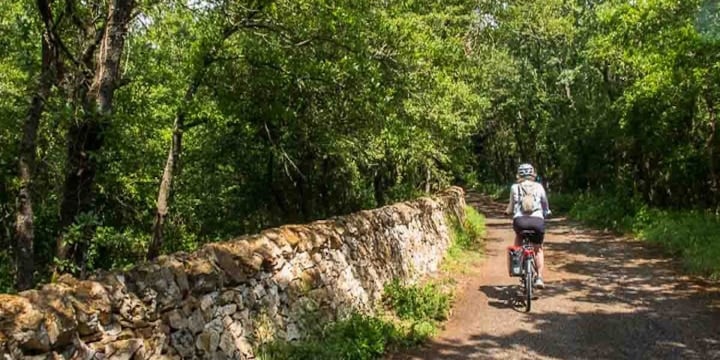 Planning basics for your European bike tour
Select a bike tour company
With the increased popularity of European bike tours, there are plentiful choices of companies and bike route planners to work with. Several big tour companies like Backroads, Exodus Travels, and VBT, offer bike tours as one channel of their programming. We've appreciated BikeTours.com, a small U.S.-based company because its sole business is European bike tours.
In addition to their direct experience with the local operators, they are accustomed to preparing bespoke itineraries. If you want rest days every other day, for example, just ask! If you want to save on hotels and focus on food, just say so.
Group or self-guided European bike tours
Next, decide if you prefer to ride with a group or on a self-guided tour. Group tours have the advantage of a local guide at your side who can narrate your itinerary, a repair van close at hand, and comradery, not to mention you can follow the leader without worrying about getting lost. Self-guided tours come with detailed directions, a GPS device to help guide you, plus notes about scenic stops and recommended restaurants along the way.
This is the route we've chosen for our first two rides. The advantages are that we move at our own pace, start and stop when we want, and detour as we wish–great for those of us used to independent travel. We're known to pull over frequently for photos and greetings with farm animals out to pasture.
Select your destination and itinerary
This is the fun part of planning, isn't it? Three basic ways to get started are to a) select the country you want to visit, b) think about your special interests beyond the ride itself, and c) look at the level of difficulty of the ride. Consider using a credit card that comes with plenty of travel benefits, such as the Chase Sapphire Preferred.
We chose a ride in southern Italy because we'd never visited that region of Italy and we were interested in seeing the UNESCO World Heritage Sites on the itinerary. The difficulty level of 3 on a scale of 1 to 5 suited us fine.
Select your bike
Serious riders can opt for road bikes or mountain bikes of various levels, based on their itinerary. For us more casual riders, the choice is to use a regular bike (usually a 21-speed cross bike) or an electric-assist bike. We've ridden both types and were happy with our decisions both times. I'll hasten to add that there's no shame in using an electric assist bike as riders are still engaged in constant motion.
We especially recommend e-bikes when you are recovering from an injury, riding in challenging conditions, or riding with a group of mixed ability. Yes, moms, you can enjoy a European bike tour riding in the mountains with your avid cyclist adult kids.
Packing for your European bike tour
On the two occasions we've toured by bike, our trips have been sandwiched between other travels in Europe. Our bicycle gear was mixed with packing for a river cruise and other urban Euro travels, so we were grateful to have our luggage forwarded daily. 
Here's what we consider the best cycling gear for a comfortable ride:
Helmet. Take your own helmet to be assured of comfort and fit. I simply clip my helmet to the exterior of my carry-on bag when it's not in use.
Bike Shorts. Save on saddle discomfort by investing in a couple pairs.
Hydration pack. We prefer readily available sips of water from a backpack over a bottle mounted on the bike, but this is optional.
Sunscreen. A must, and don't forget lip protection.
Long and short sleeve layers. Your clothing doesn't have to be professional bike garb. However, do look for quick dry and high visibility qualities.
Optional gloves. Many riders use cushioned gloves to prevent their fingers from tingling. Be aware that bike adjustments can also alleviate unnecessary pressure on your hands.
Waterproof panniers–satchels that fit on the bike–are generally provided with the bicycle. This is where we stashed cameras, extra layers, and snacks.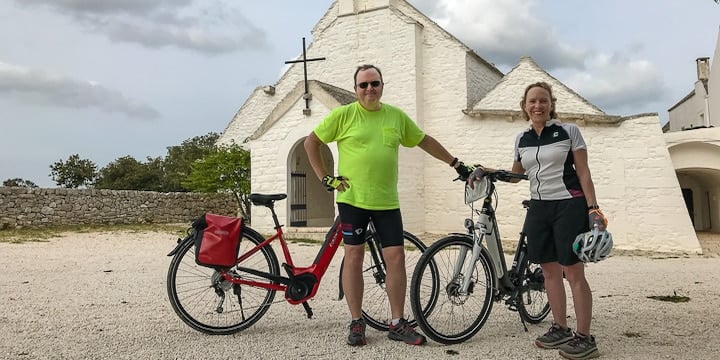 Training for your European bike tour
Do as we say, not as we do. Because we're based in the Northland, a spring bike tour may find us starting out with very little road training. The main objective of training is to prepare for the saddle time. Tour operators report complaints of sore butts are much more common than sore muscles.
While most tour rides don't require extraordinary conditioning, Biketours.com recommends you train by riding your tour's average daily distance a few weeks in advance. You can then work up to multiple rides per week. They also recommend riding on consecutive days.
We recommend riding with the approximate gear and weight you'll be carrying. This provides good practice for packing up and getting started each day. If all else fails, go to the gym and get on a stationary bike.
Fortunately, resources for first-time bike tourists are abundant, including the bike touring companies themselves. Though we are primarily independent travelers, we love tours like this that take us where we might not otherwise go and inspire us to participate, stay active, and engage with our surroundings. It isn't as difficult as one might think to plan for their European bike tour.
At the end of a day traveling by bike, we are satisfied with our efforts. We are happy to enjoy a good meal and pleased to be able to recount all the things we saw and learned–most of which we'd have missed had we been traveling by car or train.
Kristin Henning and her husband Tom Bartel have been traveling steadily since 2010, visiting over 65 countries by foot, bike, and various motorized means. They share travel tips, photos, and stories on their blog, Travel Past 50.