I first visited Alberta, Canada, in the summer of 2012. It was my first-ever press trip, a winding sojourn through the Canadian Rockies that included 117 holes of golf in six days. It also included the best steak I've ever eaten (Rustica Steakhouse), bears running alongside our luxury media caravan, snow-capped mountains that cradled the road like a grooved track, and some of the sweetest, cleanest breaths of air I've ever taken in. There was a lot to write about:
The Canadian Rockies—Much More than America's Hat
Banff to Jasper on the Icefields Parkway
Introducing Canmore and Kananaskis Country
7 Must-Play Golf Courses in the Canadian Rockies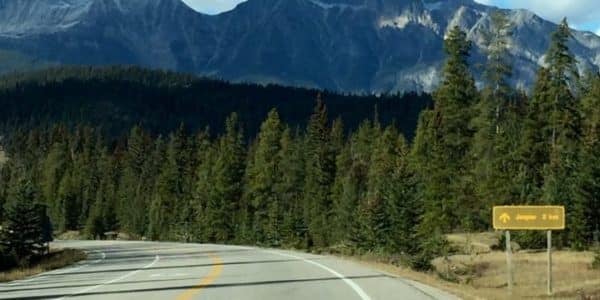 Road to Jasper from the Jasper SkytramIt was more than the travel writing world should have allowed me as a first assignment, but in any case, that's how I came to discover the Albertan Rockies as an extraordinary travel destination. It (the area) was so just effortlessly vibrant, so confidently in deference to the earthly architecture beside and above it. Fierce mountain peaks and bear-proof trash bins and highway overpasses for wildlife were part of the daily routine, and inside each little brewpub or lodge with a fireplace were locals of the most memorable content wanting nothing more than this life necessitating bear-proof trash cans. It was a treasury of Rockies, warmth, and wild.
At the turn of November of this year, I finally, after three years, returned to the Albertan Rockies, to their Jasper National Park, the more expansive (4200 sq miles to 2500 sq miles) and less-touristed sister of world-famous Banff National Park (the two are connected by the Icefields Parkway, one of the world's great drives). This time, I was to embrace fall instead of summer, with an assignment to spend three days doing the very thing I loved most the first time—looking up—at the 2015 Jasper Dark Sky Festival. It was to be a celebration of science, space, and the night sky, and indeed it was. For me, the visit was a celebration of Jasper and the Canadian Rockies, as well.
Looking up: The 2015 Jasper Dark Sky Festival
Jasper National Park holds the distinctions of being Canada's largest National Park, UNESCO-recognized, and what's known as a Dark Sky Preserve. There seems to be some disagreement in the international community about designatory authority, but in Canada, at least, the Royal Astronomical Society awards Dark Sky Preserve status to areas with "limited light pollution that creates ideal conditions for dark sky viewing." High and walled off in the Rockies, hours from urban spill, Jasper is by its Dark Sky designation one of the world's best places to view the night sky.
This means that any time of year, after sundown, the infinity cresting above the Rockies is sharp and twinkling with starlight. I recalled this visual from my first, summer visit. Since 2014, though, the Jasper Dark Sky Festival has been empowering the Jasper fall as an appealing alternative to the summer rush by tapping into its so-heralded Dark Sky reserves. For ten days this year—October 16 to 25—the tiny town of Jasper (distinct from, but within, the National Park) hosted an assemblage of people interested in space, the Northern Lights, science television, exploration, urban relief, fresh air, and combinations thereof at a spaced-out Centennial Field (in the heart of town). All were welcome to engage and to learn in the mountain air, for free.
One girl I spoke to had trekked from Seattle. Another couple claimed a life in Portland, Oregon, was waiting for them after their stay. Many of the others wrapped in winter clothes were Jasper locals, but there were no geographical divisions in the crowds that flowed in and out each day. It was Jasper, as usual, restorative mountain town that it is, with a configurable and non-committal space education available each day. For me, it was poutine and then a Northern Lights panel; later, a high-altitude hike preceded by an astronaut meet-and-greet inside a mountain chalet. There was also free-flowing (temper expectations), festival-inspired beer, which I drank.
Among the other highlights: Inside a white tent full of brisk air and warm jackets, the Northern Lights, black holes, and Fermi's paradox (a logical evaluation of extraterrestrial life) were dismantled on stage by those who knew how. During one of these sessions, it was established that I should download this app:
Northern Lights app: Aurora Forecast (for iOS and Android) was recommended by a man who chases and photographs the Northern Lights as his livelihood. The app projects the likelihood of visible Northern Lights in near real-time wherever you are.
Elsewhere at Centennial Field for the Dark Sky Festival: science-minded puzzles, space-related exercises, and rocket-launching stations were laid out on tables and on damp grass to be tinkered with by curious minds of all ages. Amateur astronomers lent their expensive telescopes and topical enthusiasm to show attendees solar definition, Venus, and more. One guy's eye-safe, the sun-specific telescope was apparently a purchase of $5,000. The day's other astronomers were either jealous or very happy to be around it. I'm not sure which.
On each of the final two nights, for which I was present, special on-theme guests—legends of TV-age science—took to the stage. On Friday night, for a paid ticket, it was singing astronaut Col. Chris Hadfield, and on Saturday, for a separate fee, three of the Mythbusters (Kari, Tory, and Grant) delved behind the scenes of their iconic show—both to resounding gloved applause.
Hadfield deserves special mention as a truly outstanding and deserving presenter. The guy tells stories in which being in space is the beginning, end or entirety, and all are intensely captivating for all of us stuck on Earth. He spoke of spacewalking through the Northern Lights, selecting socks on launch day, and managing return-trip nausea in Kazakhstan, and he answered questions about modern space programs, space movies, risk-taking, and more with great poise. The Mythbusters were really cool, as well, but look, they haven't been to space.
Good show, Jasper.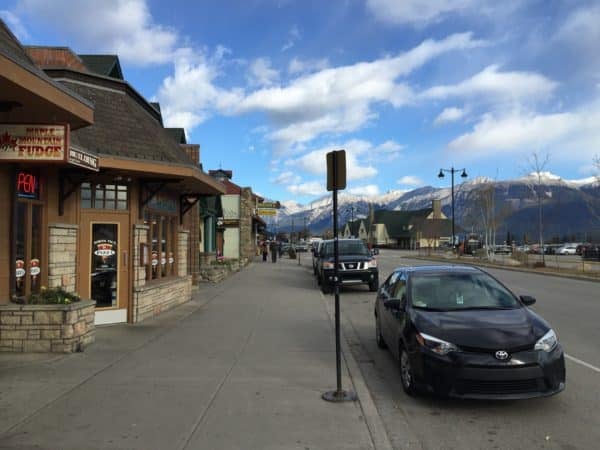 Jasper
Host Jasper is a town, not a city, and it's shaped like a town-sized "J," as seen from atop adjacent Whistlers Mountain (named for the whistle of the resident marmots). The full-time population rests at just under 5,000 people, which is a long, relieving way from Banff's overtouristed five-figure numbers. It's Rocky Mountain suburbia complete with a near-grid of house-lined walking streets and a few main thoroughfares (like Connaught Dr). Every shop and eatery is a one-off serving some form of poutine, and none is more than a brisk walk from Centennial Park and the center of the Dark Sky action.
Because said Dark Sky action can be taken on any schedule, there was plenty of time for me to discover a few Jasper mainstays:
SnowDome, 607 Patricia St — A downstairs, coin-operated laundromat that serves possibly the best coffee in Jasper. The "Warden" cookie was also delicious.
Downstream, 620 Connaught Dr — Locals get deals, everyone gets great poutine.
Jasper Brewing Co., 624 Connaught Dr — The brewpub is likely the busiest spot in town most nights (especially during ski season), and it also might be the best. The food is fine, fresh, and inspired, and the solid beer list included two Dark Sky Festival-inspired brews, including a great Dark Sky Dark Rye.
Jasper SkyTram ($37) — Whiz to the top of Whistlers Mountain and hike in the high altitude to the top (30-45 minutes each way). The views of the worlds below are amazing even if you take no steps on the footpath. Get a Mountain Express to and from the base.
Mountain Express Taxi — Taxis, which take cash and may not use the meter. Also operated by classically solid Canadian guys, one of whom rounded down my $21.75 fare to $20.
The Fairmont Jasper Park Lodge
Rarely is a destination's number-one hotel an objective truth. I stayed at The Fairmont Jasper Park Lodge during my Jasper stop three years ago, and I stayed there again a month ago during the festival (thanks, Angela). JPL is the place to stay in Jasper. Across a bridge from town, it exists almost as a compound detached from the streets of Jasper, but by most accounts, the cross-bridge relationship is now flourishing. JPL offers free drop-off and pick-up anywhere in Jasper, and one shuttle driver who waited for me at an in-town hotel seemed to know the receptionist very well.
JPL is like a camp for good-souled adults. On a sprawling property that includes two lakes (Lac Beaufort and Mildred Lake), guests can take canoes out on the glacial water, grab a basketball and shoot around, walk or hike any of the many circuits, play golf at what was back in 2012 the #1 course in Canada, and truly so much else. There's a classic and rustic elegance to this wooded wonderland that's best embodied in the stoically cavernous main lodge, which is lit with chandeliers and the flicker of its roaring fire against whiskey glasses. The food, including at the newer ORSO Trattoria, is also excellent.
There are luxury accents and technological services at other hotels you won't find here, but if you care about those things enough to pass on JPL, there's no hope for you. Get in a canoe and don't come back. This place is the real deal. (The provided bath products also smell as good as any I've ever found.)
Looking ahead: To 2016
Jasper, look, is amazing. The Rockies are spectacular. Visiting is both easy travel writing and easy travel, and that's that. I wield an unfettered and impatient travel energy, plus maps and colored pins desperate to display new paths, and yet this part of the world will call me back for as long as I'm able to answer. The Jasper Dark Sky Festival will unfold again, in 2016, over dates not yet determined. This is the place to stay updated. Until then, Jasper, and the Albertan Rockies, will be waiting.
For more on Jasper and the 2016 Jasper Dark Sky Festival, visit jasper.travel.