The dog days of summer will be here before you know it. A trip to Aspen, particularly during the more popular festival weekends, means planning ahead. While traveling with your dog requires extra effort, there's something to be said for having the companionship of your four-legged family member along. A dog provides an immediate bridge between you and a town full of strangers.
Bellmen, shopkeepers and the helpful woman at the info booth in downtown Aspen were all armed with dog treats. It was our five-month old Labradoodle Sandi's first vacation and we couldn't have picked a more dog-friendly town than Aspen. The guy selling raffle tickets at the Ducky Derby didn't just hand Sandi a treat, he fed it to her with one half of a dog biscuit in his mouth, beckoning her to practically kiss him on the lips for it.
Tail-wagging adventure
Besides simply strolling around the town of Aspen, and the multitude of hikes accessible from downtown (don't miss the Rio Grande Trail), there are many dog-friendly spots to hit in the greater Aspen area. The best of manners is expected (lesson learned the hard way when Sandi jumped up excitedly on a long-haired Dachshund whose owner shot me the stink eye) and dogs must be on leash.
Maroon Bells
Maroon Bells is hailed as the most photographed spot in Colorado. The two fourteener mountain peaks frame a reflective lake surrounded by meadows bursting with wildflowers. It's like walking through an Ansel Adams photo gallery. Sandi had never been on any hike. Ever. So, we set the bar high with this level of scenery. There's only one hike (full of moose) which is off limits to dogs. Our hotel shuttle dropped us off at the Aspen Highlands Ski Area where we purchased our bus ticket into the park.
John Denver Sanctuary
Dedicated to Colorado's iconic folk song hero, this botanical park is dotted with massive rocks, each etched with lyrics of John Denver's greatest hits. Strolling through the vibrant perennial flowers swarming with butterflies and stepping over the stones across the babbling brook, we broke into a little Rocky Mountain High.
Farmer's market
This farmer's market operates from mid-June to mid-October. Besides an array of seasonal fruits, vegetables and fresh-cut flowers, local artisans sell their wares from pottery and soaps to wood carvings and textiles. It also makes for some great people-watching.
Yoga atop the mountain
Practice downward or upward dog at 11,212 feet with a 360-degree view of Aspen. Five bucks includes the use of a yoga mat. Purchase a gondola foot pass at the bottom of the Silver Queen lift (dogs ride free) and check out the yoga/meditation schedule. We tied Sandi's leash to one of the picnic tables, then took her on a hike after class from one of the trails up top.
Rocky Mountain Pet Shop
Finding a DIY bath was a godsend discovery. Sandi's hiking trail dust coupled with an irresistible urge to attack some live sprinklers left her looking a bit transient. A 20-minute visit and we had our sweet-smelling fluffy Sandi back looking good as new again. Shampoo, conditioner, plastic apron (for you so you don't end up needing a bath afterwards) included.
Better-leave-your dog-at-the-hotel-to-catnap people fun
Aspen Center for Environmental Studies
Needles or leaves? Conifer or deciduous? Boost your aspen, spruce, fir, and cottonwood tree knowhow. ACES is an educational oasis with four sites in the area. We visited the Hallam Lake location to learn about native trees. My 10-year-old son Ames relished in flipping through the tree-finder booklet (yours to keep with a $5 donation) with expert guidance from an ACES naturalist.
Ames' tree-finder book brought hikes to life with a whole new lens to explore for the rest of our visit. ACES harnesses the brainpower of what keeps Aspen special environmentally. Its year-round programs and camps for young and old are well worth exploring on their website. Our trip happened to coincide with the Stars Above Aspen event, sponsored by ACES. It was an evening of astronomical activities and peering through telescopes atop the mountains.
Aspen Kayak and SUP Academy
Stand-up paddleboarding through the North Star Nature Preserve explores yet another hidden corner of Aspen. This three-hour guided adventure is ideal for novices and is free for guests of the Limelight Hotel (see below). All equipment is provided, including wetsuit and transportation to the Preserve. On almost glass-like water conditions, we learned to maneuver the board left and right, stop, and do 360-degree turns. Our confidence had time to build before we glided to the more challenging parts of the Roaring Fork River, which wasn't so roaring thankfully for the stretch we paddled. For those eager for more challenging rapids, the Academy has ample other spots to take you.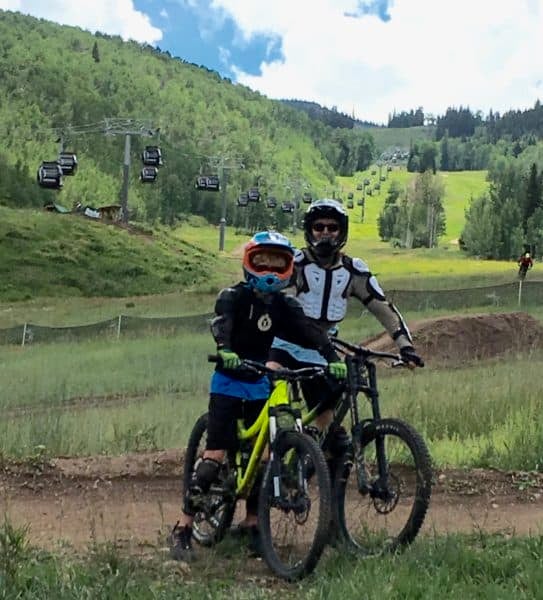 Downhill Mountain Biking Snowmass
Ninja-geared from helmet to shin guards with our trusty private guide, Piglet, we were ready to take on Snowmass Mountain. I'd learned to mountain bike in the 90s when road rash and bandages came with the territory. Ames was a newbie to the sport and I was post-elbow-surgery from a car wreck, so the added protection helped settle the nerves. Piglet had us master the basics of "active stance," braking and cornering down below before we loaded our bikes on the gondola and headed to higher altitude. Ames learned to navigate increasingly more challenging logs, rocks and other obstacles. As with skiing, a private mountain biking lesson is well worth the investment for instant success and fun. (Spoken from experience from a prior mountain biking trip that resulted in lots of tears for Ames sans expert guidance.)
Hotel cruiser bikes
All four of the hotels we stayed in offered bikes to cruise around town for free. This mode of transportation led us to bike trails that wound through neighborhoods and places cars can't venture. You can bike from one end of downtown Aspen to the other easily and there's much to explore on the outskirts of town.
We biked over to the Aspen Institute and eavesdropped on a concert tent's spectacular symphony. Then along the stretch of the Roaring Fork River that winds through the city of Aspen and over to the old Aspen's neighborhood with homes dating back to the 1800s. Be sure to pop into the Aspen Historical Society while there on Bleeker Street.
Dog-friendly digs
We sniffed out two four-star and two three-star hotels that welcomed furry friends:
Sky Hotel (****)
This luxe Kimpton boutique hotel welcomes dogs with their very own dog beds and bowls, doggie bags, and maps of the best spots to squat. Located just steps from the base of the Silver Queen gondola. Its outdoor pool/bar is also one of the hippest happy hour spots in town.
Limelight Hotel (****)
High end and happenin'. Located across the street from a lovely park (frisbee anyone?) and a street over from the heart of downtown Aspen. The breakfast in the lounge (included) is as hearty and yummy as they come. An Adventure Concierge can direct you to each day's adventure. Be sure to take advantage of the complimentary SUP lesson (detailed above). Limelight's Lounge is another of Aspen's "it spots" around town.
Molly Gibson (***)
Down to earth meets downhome. One building surrounds a pool, the other a courtyard with picnic tables, the site of a weekly summer BBQ (complimentary). Rooms have a more apartment-style feel with full kitchens. Breakfast in the basement is included.
Hotel Aspen (***)
A sister hotel to the Molly Gibson across the street. The vibe is mid-century modern motel with hip West Elm-ish décor. The hotel backs up to our favorite neighborhood with many turn-of-the century homes we explored on the hotel's complimentary cruiser bikes.
Where to chow
If a restaurant has a patio and your dog is well-behaved (a portable dog bowl on hand is key) your pooch is typically welcome. Two spots we loved:
Pyramid Bistro (located upstairs in the Explore Bookshop)
Features "Nutritarian Cuisine" from Chef Martin Oswald. We loved this restaurant so much we visited twice, which gave us another excuse to lose ourselves for an hour or so in the book shop.
Meat & Cheese
A European-style restaurant offering counter service by day and casual full-service by night. Its farm shop features local meats, artisanal cheeses sourced from sustainable farms, seasonal produce, gourmet dry goods, select housewares, fresh juices, and craft beer and wines.