Last week I wrote about London's brand-new and incredible St. Pancras Renaissance Hotel that's located in St. Pancras International station. It's home of the Eurostar, which whisks passengers practically every hour to and from Paris (up to 20 trains per day), Brussels (up to 10 trains per day), and Lille (up to 8 trains per day). Imagine that? Literally just a few steps from the lobby, you can begin to make your way across Europe. (Click the "NEXT" button below the photo).
St. Pancras International
Even if you are not staying at the St. Pancras Renaissance, the station is one of the easiest to get to in central London as it has direct links to six underground lines and mainline trains. I first learned about it in 2008 shortly after it reopened. It was built in 1868 and has a train shed arch designed by the engineer William Henry Barlow that spans 240 feet and is over 100 feet high at its apex–at the time it was built, it was the largest enclosed space in the world. The station, unfortunately, went down the tubes in the 1980s, but it was recently restored and it's now one of London's greatest Victorian buildings. It has impressive Victorian Gothic architecture and a replica of the famous St. Pancras station clock. The station is now actually a destination in itself. Walking through it, you can understand why so many locals come here just to shop, eat, or meet at Europe's longest champagne bar, which is over 90 meters long.
London to Paris via Eurostar
Without a doubt, the easiest and quickest way to get from the center of London to the center of Paris (or vice versa) is by taking the Eurostar. It's a high-speed train service that goes up to 186 mph, traveling between the two cities and a number of other destinations. Travel time is just 2 hours and 15 minutes. Service began in 1994. I must admit, my first time doing this (five years ago) I was a little nervous because it travels under the English Channel for 23 minutes. I used to think that the Channel Tunnel must be a prime terrorist target, but after doing some research, I realize that it would be very difficult to do any significant damage. The 31-mile-long tunnel (24 miles are actually underwater) runs 150 feet below the seabed. That's not easy to blow up. And even if something as unthinkable as this happened, it wouldn't fill with water. Both entrances are heavily guarded and passengers go through airport-style security checks as well as passport control for both countries before getting on. NOTE: When I left London we just went through UK passport control, but when you depart Paris (for London) you first go through both French and UK passport control.
GOOD TO KNOW: I didn't need to wait more than five minutes at either passport control or at security, and you can leave shoes on and computers in bags.
Eurostar Business Class
Thanks to Renaissance hotels, who bought me (and the other writers) first-class tickets so we could check out their hotel(s) in Paris. I've traveled on Eurostar in coach class before, and it's basically the same except you get a bit more space in first-class and served a free meal, drinks (including Champagne), and hot towels.
Breakfast on Eurostar
Within a few minutes of our on-time departure, the pretty English conductor came down the aisle with the drink cart and passed out food menus. Since it was a 9:22 a.m. departure, breakfast was offered with a choice of a cold (cereal and yogurt) or hot (eggs) meal. I wasn't hungry since I had just eaten in the hotel, but my colleagues ate on the train and said it was good–and it looked good.
Eurostar Prices
My seat was comfortable and there was a power port to connect to, but you have to share it if you are in one of the quad seats. If traveling alone or with one other person, be sure to get the single seats along the window. A good website to check out for train travel advice and seating charts around the world is Seat61.com. Eurostar prices are reasonable, especially if you book in advance. Prices start at £69 (US$112) round-trip (or "return" as the Brits like to say) for coach class. DID YOU KNOW? You can get your tickets online from RailEurope.com before you leave North America.
Gare du Nord

We arrived on time at 12:47 p.m. to Paris's Gare du Nord (note: France is one hour ahead–CET time). There was no passport control for France so we were free to move about the continent. On the train were about 30 English guys dressed up like French bakers going on a bachelor party–they were funny but luckily I didn't have to share a carriage with them.
Pack Light
Normally I would've just jumped on the Metro since it's so easy to operate and cheap, but Renaissance arranged vans for us (there are taxis waiting too). One of my best tips for traveling by train (especially in Europe) is to pack light. Trust me: It will make your travel experience so much easier. Just take one rolling bag and a smaller tote/backpack/camera bag as the maximum to carry. These are the bags I travel with.
Paris Weather
Although it was early May, it felt like July–it was 25 degrees Celsius, which is 78 Fahrenheit. It was picture-perfect weather and the sidewalk cafés were jammed with Parisians and tourists alike. Here's Paris' 10-day forecast via weather.com.
Place de l'Opéra
On the scenic 20-minute drive to the hotel, we passed by the famous Place de l'Opéra, and it was the first time I can remember seeing it without scaffolding on it–it looked so shiny and more beautiful than ever. We also went down the street that has the original Chanel store (a sarcastic woo hoo).
Renaissance Le Parc Trocadero Hotel
Our first stop was at the recently made over Renaissance Le Parc Trocadero Hotel. On March 28th the hotel reopened after four months of full renovations. The hotel has 122 elegant hotel rooms and suites spread out in several low buildings that circle a courtyard/garden. The hotel staff actually had a garden party to welcome us, complete with a guitarist, a French lady making flowered rings, a chef serving foie gras, and bartenders concocting flower-inspired cocktails. I never thought rose, jasmine, and lavender could taste so good.
Renaissance Le Parc Trocadero Rooms
Architect-designer Jean-Philippe Nuel redesigned the hotel, set out to keep the traditional romance of Paris life but in a contemporary fashion. Each room has new headboards, flat-screen TVs, Wi-Fi, and of course plush bedding.
Restaurant Le Relais du Parc
The hotel has one restaurant, Le Relais du Parc. I had breakfast there and some snacks when we first arrived, like mini croque monsieurs, cheeseburger sliders, and an array of delicate sweet treats. My favorite part of the restaurant besides the food is the Paris street map covering the wall and ceiling.
Renaissance Le Parc Trocadero Extras
I didn't see any of the hotel's five meeting rooms, or exercise in the 24/7 free fitness gym, or have a drink in their bar, but I saw a bunch of guests doing it. Next time I will check it all out when I have more time. Nightly rates are from 309.00 euro (US$434)
My Hotel Notes from Renaissance Le Parc Trocadero
-All the Renaissance hotels are different–they try to incorporate the neighborhood they are in.
-The building next to the hotel used to be Alfred Nobel's house–that's right, the man the peace prize is named after.
-The hotel has an outrageously friendly staff, and they answer the phone right away.
-The Internet wasn't too fast and isn't cheap. It costs 6.95 euro (US$9.77) for an hour, 19.95 (US$28) for 24 hours, 99.75 euro (US$140) for a week, and 379.05 euro (US$533) for the month.
-The shower has one of those sleek glass half doors that I despise since I usually end up getting water all over the floor–and I did.
-My room had a view of the top of the Eiffel Tower from the window.
-I didn't hear any street traffic–it's nice sleeping above a garden.
-The night maids come by with one of the best turndown treats ever–a designer chocolate pop that's outrageously delicious.
La Plage Restaurant

The first night we all went to La Plage for dinner. It was a 10-minute, 15 euro (US$21) taxi drive, and it sits on the Seine River. La Plage is definitely the in spot for Parisians–I didn't see any American tourists, and that's probably because they don't have a menu in English–I had no idea there were still restaurants in Paris without one — I love that; it makes you feel like you're really in a foreign country. In the warm months, you can dine inside and out, but beware–the bugs came out around 9 p.m.–they don't bite, but they were a nuisance. Our group raved about the calamari, scallops, and beef stew, but the filet mignon was just okay–it was overcooked for most people's liking. One thing for sure: the chocolate fondant dessert was the best ever.
Paris's Statue of Liberty
La Plage is right near Paris's second Statue of Liberty–did you know Paris has not only one but two replicas? This one is 37 feet tall and sits near the Grenelle Bridge on the Île aux Cygnes, a man-made island in the river Seine. It looks southwest, downriver along the Seine, and it's been there since July 4, 1889. Here's some more info on the Statue of Liberty's around the world.
The Trocadero
What's really nice about the hotel, besides the fact that it's down a quiet street that's just a few blocks from happening restaurants, crowded sidewalk cafés, and a metro stop, is that it also is near the best of the best viewing places of the Eiffel Tower–the Trocadero. We visited twice, once at night and once during the day.
The Eiffel Tower
No matter how many times I go to Paris, I never get sick of staring at the Eiffel Tower–especially at night when it sparkles for five minutes on the hour. But it's also nice to walk underneath it even when I have no intention of going up (I've been up a couple of times already and I don't have the patience to wait in the lines, and I've never been when there wasn't one, even in the winter). This was the first time I saw French military training by rappelling from the first level? Here's some info if you plan on visiting the Eiffel Tower.
Walking Tour of Paris
It was a beautiful day, so instead of taking a taxi to our next hotel in Place Vendôme, we sent our luggage with our group and walked there, taking the long route. Our first stop was the Eiffel tower, which was just 10 minutes away.
The Alma Tunnel
We then made our way to the Alma tunnel, which is on the north bank of the Seine and is the site of the accident of Princess Diana. All along the stone overpass were messages for Diana from people all over the world. The most heartfelt was this one from a Canadian. I didn't realize that a life-size copy of the Statue of Liberty's torch (Flame of Liberty) is above the entrance to the Pont de l'Alma tunnel. The torch has now become an unofficial memorial to the Princess.
America Is Back!
I thought this cover of France's Le Point magazine (I think it's the equivalent of Time magazine) that I spotted at this newsstand was pretty cool. It was right after Osama Bin Laden was killed and the French were obviously excited, along with most of the world.
The Arc de Triomphe
We then walked to the Arc de Triomphe, which is at the Place Charles de Gaulle. The Arc was designed in 1806 to honor those who fought for France in the French Revolution and Napoleonic Wars.
Champs-Elysees
To get to Place Vendome was just an easy, straight but long walk down the Champs-Élysées. Even though the Champs is always crowded and everything is way overpriced (except maybe Monoprix, France's version of Target), it's still fun to stroll down.
Ladurée
The one shop I will actually spend money in on the Champs is Ladurée. It's the Parisian pastry shop that dates back to 1862 and is known for the best macaroons in the world. The crispy-on-the-outside macaroons are filled with a smooth, soft ganache filling. There's always a line here too, but it's worth the wait and it moves quickly.
PHOTO CREDIT: Natalie Bahadur
Renaissance Paris Vendôme
By the time we reached our hotel a few hours later, our dogs were barking and we must've walked at least five miles. We checked into the swanky 97-room Renaissance Paris Vendôme. Although it's just a few miles from the Le Parc Trocadero, the Renaissance Vendôme is completely different. This is a luxury boutique hotel that was awarded the prestigious five-star classification, so you know it has the highest standards of luxury in both service and facilities. The rooms are small but they are luxurious with king-size beds, Bulgari bathroom amenities, and Wi-Fi for 7 euros (US$9.85) for 1 hour or 15 euros (US$21) for 24 hours. They too have a free fitness gym and indoor swimming pool and sauna. One of the coolest parts of the hotel is their Bar Chinois, which is small but lovely with its Chinese antiques. Nightly rack rates from 409 euros (US$575).
My Notes from Renaissance Paris Vendome
-The hotel has a great location–two blocks from the Ritz and Tuileries Gardens, just to name a couple notable landmarks.
-The room had two electrical outlets for US-style plugs.
-The bed was ultra-comfortable, as were its pillows–I could've slept there all day.
-The elevator is small but has personality, just like the hotel.
RLife
Did you know Renaissance Hotels inspired a new era in hotel-branded entertainment when they launched their RLife LIVE? It's an entertainment and music platform that provides hotel guests and local patrons the chance to engage with musical talent on-site at Renaissance Hotels. The interactions vary from acoustic performances, unexpected DJ sets, post-concert events, and meet-and-greet opportunities. No wonder Adrien Brody and DJ Cassidy were at the St Pancras hotel opening.
Brasseries Flottes
We had dinner three blocks from the hotel at Brasseries Flottes, which was recommended by the concierge. It was really good; instead of sitting in their non-charming downstairs section without windows we opted for the bar. It was the next best thing to one of their sidewalk tables. The french onion soup (9 euros, US$12.67) and chef salad (13.50 euros, US$18.99) with chicken and ham really hit the spot, and they had menus in English.
Best. Walk. Ever.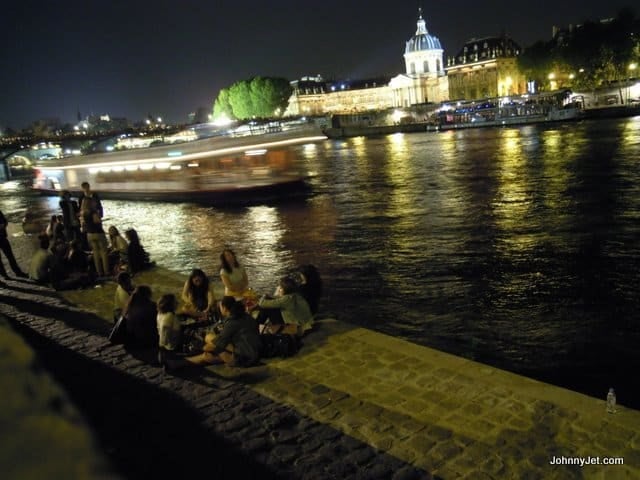 Afterward, we decided to walk to the Latin Quarter, which is another long walk–probably two miles. You can go through Tuileries Gardens and then through the courtyard of the Louvre, then walk by the River Seine either above or alongside it. We walked above and next to the river, and since it was Saturday night it was packed with people having picnics and parties, including Le Pont des Arts, on one of the pedestrian-only bridges we crossed to get to the Latin Quarter. We arrived around 11 p.m. and walked around and then grabbed Nutella and banana crepes (3.20 euros, US$4.50) from Café Richard. So good. We then walked by Notre Dame before duplicating our steps home. It was magical, and on a clear, warm night I don't think there is a better walk in the world. Photos, videos, and words can never describe it–you just need to live it.