By Francis DiScala Jr.
Everything is starting to feel the same. I can't tell the difference between Disney World and Venice. Cultural adventure is harder to find.
And for that very reason alone it is worth the 15-hour flight and the expense to travel to the other side of the world. But for surfers, divers, bird-watchers, and hikers, traveling also provides access to some of the world's best places to enjoy these activities. Is Papua New Guinea (PNG) really "a million different journeys," "the most remote place in the world," "head hunter's paradise," and full of "the world's friendliest people"? Join me on my journey to an anthropological paradise to find out.
Don't come along if you're looking for fine restaurants, and be advised: I saw nothing resembling the Ritz-Carlton. But if colorful tribal and cultural diversity, untouched jungle lowlands, coral reefs, misty mountains, and rugged terrain are part of your diet, then you won't leave here hungry. And it's all largely untouched by time and the advances of economics and technology-it's a land raw and full. Papua New Guinea, about the size of California, is remote, removed, difficult to reach, and in many ways the most unique, indigenous place on the planet. Here is a land so isolated that it is still home to over 800 distinct cultures and languages-fully one third of all that exist on Earth.
Traditional tribal ownership and nebulous land claims protect these magnificent and fertile lands from development and, up until just recently, even thorough exploration. The country is comprised of over 600 islands in a region known as Melanesia, deep in the Pacific and surrounded by Asia to the north and Australia to the south. The largest island, New Guinea, is split in two and half owned by Indonesia. Over 6.3 million people live here, and there are three official languages: English, Tok Pisin, and Motu. There are approximately 860 other languages. Only about 350 of these languages are related, and Melanesian Pidgin serves as the lingua franca. Educated people and those living in the Milne province speak English, yet education is not compulsory and 43 percent of the population is illiterate. The place is tough and people don't live long here: Life expectancy is a mere 57 years. It is old-fashioned; at the time the first Europeans arrived, the locals were using bones, wood, and stones as tools, essentially living in the Stone Age with just the modern addition of coastal trade and a productive agricultural system. In 1545 a Spaniard named the country New Guinea because the indigenous folk resembled those he had seen in Africa. Shall we explore?
V Australia flight
First, we need to get there. Getting to Papua New Guinea isn't difficult or painful if you start by flying to Brisbane on Branson's V Australia. It's stylish, hip, and a very different way to travel. The gate is like a nightclub entrance: Passengers make their way to the front while a tall, handsome young man watches the crowd, seemingly playing the role of nightclub bouncer. On the plane, the lights are colorful and there's a private-club vibe-the smiley, fashionable, and delightful female flight attendants forget no courtesy, welcoming us with a calm, rested confidence that communicates their pleasure to be hosting us. It seems a far cry from the scolding the American Airlines flight attendant gave me when she told me to shut down my iPhone while flying from N.Y. to L.A.
En Route to Walindi Plantation Resort
We touch down at Papua New Guinea's largest airport, in modern Port Moresby, intent on catching a small plane to Hoskins Airport on the Island of New Britain. Port Moresby airport is packed with friendly people who look surprised to see our crew of white journalists. The thick, pungent air reeks of sweet perspiration, a vaporous stew of humanity lacking convenient and plentiful indoor plumbing. I search the eyes. No hostility. They're not aggressive, just casually curious of our arrival. From the modern airport we walk out into the heat and onto the tarmac to board an old Air Nuigini propjet. It's a little scary, but not bad, and the service is friendly.
We land on the remote airstrip at Hoskins Airport built by the Japanese during their WWII occupation. Now it mostly supports a palm oil plantation and the occasional adventure tourist. Much like in any Central American or Thai coastal area, the strip stops abruptly and we can see faces pressed to the wire fences as they anxiously await relatives. Sweating, betel nut–chewing men remove our luggage and we stroll, barely noticed, past people of all ages and into the awaiting van. (Hoskins Airport might just be my favorite anywhere. No formalities here. Don't want to stand in line for TSA to search through your bags? Not a problem. Just walk around to the back and slip through the cut barbed wire while the security guard smiles at you and chews betel nut.)
Our driver takes us along a well-paved road at 80 km per hour for 45 minutes, past groups of villagers walking in both directions. Some yell as we ride by them and the mile-deep neat rows of mature palm oil trees. Thehot, humid, and verdant jungle is all around.
The palm tree monoculture is shocking. Some small elevated primitive huts cluster in random villages. Pigs poke around beside the road, seemingly oblivious to the perils of the occasional car traffic. There's very little indication of ambition beyond the established and organized palm oil industry, and virtually no sign of independent enterprise. Yet, inexplicably, some barefoot folk have cell phones. Everyone looks fed and clothed. No one moves too fast here.
We turn into an opening in the palm jungle and motor down a short driveway to a gate, which is opened by a uniformed guard. We are now in the safety of Walindi Plantation Resort, where the beach stops the endless palm forest. Two mongrel dogs greet us with matched muted enthusiasm, and a calm native woman waits to show us the resort.
The comfortable, rustic lobby area is located on an elevated hardwood deck surrounded by simple huts. An Australian couple owns the resort and built it 25 years ago to access the reefs, jungle, and beaches. It's grown to about 12 thatched cottages and four plantation houses, all with full privileges to the sounds and sights of the jungle and beach, patrolled night and day by a team of mostly unseen uniformed guards. After we check in we join the other guests on the open-air deck overlooking a completely deserted stretch of beach and a dead-calm shimmering sea. Everyone is milling about drinking, smoking, and waiting for the 7:30 p.m. dinner bell to ring, signaling the start of a meal with local free-range meat, vegetables, and homemade ice cream for desert. The vegetables are crisply steamed and taste freshly picked, and the lamb, pork, and chicken each have their distinctly wild flavor.
Exhausted, we eat together, then have a beery try at the Wi-Fi connection, which is noticeably slower than my brain after thousands of miles and days of travel. I collapse in my bungalow, a clean three–room thatched-roof hut with everything I need to live a simple life by the beach in Papua New Guinea. Bugs, frogs, and other unseen tree creatures sing me to sleep.
In the dark jungle night, something magical happened. I got rest. A much deeper rest than any I remember.
I awake to tropical birds. Walindi has some of the most strange and colorful birds in the world. It's still dark, but the urgency of the cries of the jungle forecast that night will soon be over. I put on shorts, grab the big camera, and move into the dawn. In the far distance the clouds over the mountains are being split by the rising sun, and everywhere there are colors. I have never seen such a sunrise. I join three other photographers, silently snapping away at the rising sun.
I'm still tired, but inspired. We eat on the outdoor porch. I look out over the sunrise while I pour more delicious coffee and eat fruit fresh from the trees in the yard. Today, we will dive.
Kimbe Bay Diving
Visit the underwater world just off the beach of the Walindi Plantation Resort, and you won't see another boat, just the silent beauty of a calm blue sea and colorful sprawling reefs that have been covered in more scuba diving magazines than any other on the planet.
Papua New Guinea's diving is reputed to be world-class, and that alone is worth the trip to the other side of the world. It's certainly worth the mere 45-minute trip on the flattest calm and the clearest, bluest blue of the South Pacific bay that we are now crossing, clipping along across the span on a modern, comfortable 25-foot aluminum dive boat with large four-stroke outboard engines. The undeveloped terrain is almost shocking. Such unexploited beauty is rarely empty of modern hotels and condominiums, or of the commercial exploitations of an industrial world. Different tribal villagers individually own the reefs. And since they are not here today, we have them virtually all to ourselves. Viewed from the water, everything seems simply unscathed. Porpoises and fish splashabout; the water is clear to a hundred feet and warm enough to dive without a wetsuit. We're each equipped for the two-tank dive with new gear and dive computers for our wrists. Joseph, our captain and native dive guide, has twice gotten the bends (a serious and life-threatening medical condition caused by the accumulation of nitrogen associated with diving) and won't be diving with us. Although his body had lost enthusiasm for underwater pursuits, his eyes still want to go. He's excited about what awaits us under the sea. Some in our group will dive, some will snorkel the shallows, and some will stay topside and photograph the beauty.
Our boat ties up to a floating ball anchored in the reef below. Nowadays it's a prohibited to drop anchor on a reef, as it could easily kill the ancient coral. Below, we find sea fans and a staggering array of coral (350-plus varieties) providing colorful refuge for micro and macro sea creatures-over 850 species. Our expert guide, captain Anthony, seems to know the address of every creature, from pygmy seahorses and clown fish to tiny lobsters and too many others to identify.
We hit a maximum depth of 80 feet at Restof Reef, as well as at what is perhaps the most photographed reef of diving enthusiasts, Susan's Reef, both a 45 minute boat ride across plate calm waters. Shallows enchanted the snorkelers and our divers experienced well over 80 visible feet through blue water. Comparable to Bonaire in the Caribbean, Kimbe has now become one of my favorite dive locations in the world, thanks to the raw, undisturbed, unpolluted, vibrant, and healthy nature. Get here before hotels and agriculture destroy it. But there seems to be no rush, and here's one explanation why: traditional land ownership.
A roadblock to development is the utter lack of written land records; many simply verbal agreements exist amongst tribes. Villages and individuals own 95 percent of the land in PNG, and without clear ownership and boundaries, the resources, the beauty, and the conservation thereof are entangled in family feuds that sometimes become violent. Tansy Bliss, resident volunteer conservationist for Walindi Mahonia Na Dari Conservation and Research Centre, explains that multiple land claims, recorded by nothing more than oral tradition, torpedo many proposed property leases. Sustainable tourist efforts require funding and infrastructure, and land. Until land-use courts are able to sort out tribal claims to terra firma, PNG will remain remote and undeveloped. It's a two-edged sword, perhaps, as conservation also requires education and money.
I didn't expect to see big fish, and on this reef we don't. Man has killed 90 percent of the world's big fish in the last 50 years. Factory ships have taken the baitfish and fed them to our cats. And what big fish we haven't killed we've starved by taking their food. Or killing their babies in shrimp nets. And the big reef dwellers-the groupers and the snappers-seem to know they are tasty and are therefore shy. But the micro species cling to similarly colored organisms, hiding. Suddenly, a pair of triggerfish protecting their nest attack Terry, my dive buddy, and bloody her ankle. Not a big bite, but a nip.
Terry, undaunted, returned for the afternoon deep dive to see big fish, including sharks. I went to the hot springs deep in the jungle, and a tribal elder painted my face in war paint. If you are in fairly good shape, you don't want to miss the jungle birding hike when you visit Walindi. The views from the clearing at the top span the bay, and tropical plumage birds come regularly to our guide's calls.
Walindi Rates are $190 per cottage and $260 for the plantation rooms. Meals and laundry are included. For those who seek overnight diving adventure, Walindi has the MV Febrina, a seven-cabin vessel with a capacity of 12 guests that works the underwater world of Bismarck Sea. You can email the owners at mben@online.net.pg.
After another incredible sleep at my cottage in Walindi, we fly off-island again to Port Moresby, then board the private charter provided by Trans Nuigini Tours to head into one of the deepest and most remote jungles on earth. Welcome to the Sepik River Valley. We land on a strip of grass carved out for access to the lodge Karawari Lodge, accessible only by boat or bush plane. There is no road. The lodge, fashioned years ago to resemble a tribal spirit house, will be our base to visit the sons of the headhunters and to bask in the eerie humidity of hundreds of miles of unchanged flood plains.
In the Sepik River Region, people live as they have for thousands of years, fishing and subsistence farming. The staple food is the sago palm, from which flour is made from the center of logs cut along carefully managed sago swamps. In the balmy heat men cut mature sago palms and transport four-foot-by-one-foot sections via dugout canoes. They remove the inner heart while the women convert and strain the mashed pulp at the river banks. Children play nearby. Dogs roam and mosquitoes buzz. But the sun shines and the plants are green, and when the women fish they catch plenty: carp, catfish, some large piranha-type fish, and others, mostly introduced species. Every day seems to bring more water, more food, more fish, and life is simple. Since the first white man visited in 1886, not much has changed here. You will not hear a single power tool, motor, or electronic device, nor any other sign of modernization. Everywhere you look within the villages you see love and family. Everyone seems to help and everyone looks fit.
In 1938, while living in a Tambaran village, Margaret Mead commented that "the children play in the mud constantly but never leave without a grand wash and the people are exceptionally clean but not obsessively clean."
Trans Niugini Tours cleverly stages various re-creations of war dances, traditional dress, and fishing displays for our cameras and for an even greater purpose: to keep the memories of the traditions alive. The government put an end to tribal headhunting 60 years ago. But the antique skulls of the fallen remain, with their ironic smiles in the shadows of the spirit houses along the river.
In our lodge, water is accumulated from rain that falls onto the roof and is collected and stored in vats to be used for drinking and showering. There's even hot water, heated by solar energy. If it is sunny the shower will be warmer, but it doesn't matter if there's hot or cold water-soon you will be hot anyway!
The lodge overlooks the lowland tropical rainforest, and as far as the eye can see there is nothing but green, river, and, in the distance, mountains. This is the Arambak region, one of the most remote in PNG and in the world. By boat or by plane is the only way in and out. The resort has no phones. A two-way radio sends and receives messages. You are in the jungle, and life is simple, as it is for the natives. Once you get used to not having Internet, TV, telephone, Wi-Fi, cars, etc. you suddenly realize that you have everything you need.
Years ago a Toyota Land Cruiser was airlifted and dropped at the lodge. We take it to the river, climb out of the truck and load onto a pontoon boat. Down the winding Karawari we float, past the thatched huts that make up villages. Around the villages children play, while the older folks busy themselves with life on the river. It's easy to see how they don't need much. It's never cold, they don't need electricity, they don't need money-everything is free to eat and gather, catch and to kill.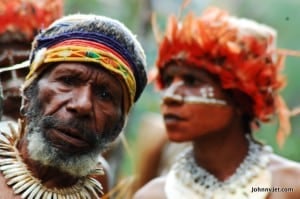 An hour boat ride provides direct access to the villages that line the river. At Manjamai, women in traditional costume fish, smoke, and cook fish and corn from a dugout canoe, all while their toddler children sit in back and watch the mosquitoes swirl from the smoke. Konmei villagers perform re-creations of war dances demonstrating the victories of a successful headhunting raid on nearby villages. In Tanganimbit's spirit house, six skulls on a shelf-reminders of the days when headhunting was not just a story that grandpa told-are surrounded by master carvings and guarded by the spirit-house master. The riverside villages are isolated and individualized with their own particular culture and traditions. The primitive artwork is collectible and inexpensive and offered after each enthusiastic exhibition. The spirit world is contacted via the mastery of woodcarving and the Tambaran spirit lodges remain intact as authentic representations of tribal life. Dugout canoes transport the people living in the jungle along the river. The Karawari Lodge has a dugout with a motor and a couple of fast pontoon boats to transport guests.
The land is full of magic. The river entertains and brings us to our next overnight at the Karawari Lodge. Tonight we will hear the music of the village as the Karawari band, , play at our lodge wearing traditional costumes.
In the morning I can hear the tropical birds alarmed at the rise of the sun. I emerge from my mosquito-netted bed in one of the 20 cottages with a porch and explore the landscape with a camera. Everywhere there is something to shoot.
Breakfast is American fare with eggs.
Karawari is not cheap, but worth the price of $350 per person per night but includes all meals.
The Highlands
We say goodbye to the staff at the Karawari and take a final look over the primordial landscape. We jump back into the ancient Land Cruiser and drive down the hill to the river for a last 20-minute float to the airstrip. PNG Tours supplies an amazing brand-new, New Zealand–made Pac750 nine-passenger bush plane for our touring comfort. There's plenty of headroom and huge windows extending from one's shoulder to the arch of the top of the fuselage. We return to Port Moresby for our one-hour flight to Mount Hagen and then a three-hour drive to Rondon Ridge. It's an easy flight, but the return to urban life is another contrast.
We fly into Mount Hagen, home to the Highlands Festival "sing-sing" competition. Mount Hagen is in the Western Provinces, and we'll explore the cool, high, misty mountains from an elevation of over 7,500 feet at the Rondon Ridge Lodge, within view of Magic Mountain (elev. over 14,000 feet.
The government-sponsored annual event brings out hundreds of tribesmen and -women to display their elaborate body paintings, headdresses, and dances. Starting in the 1960s, the government ceased the tribal rivalries and wars so the enemies could meet on neutral grounds under strict supervision. The colors and the human-hair wigs, bird feathers, and animal tusks make a photographic paradise.
We transport to the Rondon Ridge Wilderness Lodge in a nice new minibus. There's nothing primitive about the bus, but the roads need help. And the driver needs deodorant. The open windows don't help drain the powerful stench. The delicious wares of the roadside markets explain why people fly here for the produce. It's gorgeous, colorful, and huge, with carrots, potatoes, and lettuces of all kinds. Raw peanuts and fruit are inexpensive and organic.
The lodge is atop a mountain overlooking the cloud-laced valley. The air is cool and the humidity seems gone. We get some great beer at the bar and prepare for dinner. The lodge's 12 nice rooms provide a comfortable night's rest for the adventure that lies ahead: A visit to the mud men and skeleton tribes.
Rondon provides a van for the trip to visit the tribes that display the traditional ceremonies that make any photographer jealous. The colors of the headdresses, the body paint, and the dance amaze.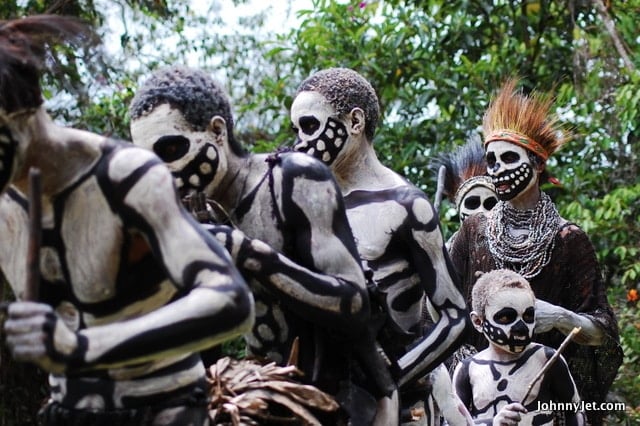 The guides take us to Mindima village, and we walk a short distance to a thatched lean-to and sit and watch two shows. Excellent performances re-creating actual tribal dances mesmerize and etch indelible memories in each viewer. We watch as the mud men emerge, with bows and arrows and spears, and then the skeleton people, who search for the monster responsible for taking away a child.
From the mountains and the cool elevations of the Western Highlands, I head back to the "real world" as it experiences the ravages of a recession, and I wonder if I will emerge with new appreciation for what we have, after seeing what they don't. The people of Papua New Guinea somehow still seem rich, and they live so happily in a primitive, undeveloped world. It hasn't changed much in 50,000 years, but get there quick before it inevitably does change. And don't forget your camera.
SUGGESTED PACKING LIST:
Mosquito Repellent
Sunscreen
Long clothing to protect against sun and mosquitoes; cotton pants and shirts are recommended in tropical conditions as they are lightweight and dry easily. Women are asked to dress modestly in the villages; long pants and T-shirts are appropriate for this.
Warm jacket or sweater for cool evenings in the highlands
Sun hat/cap
Seasickness tablets (if you are prone to motion sickness)
Walking shoes
Swimming gear for those wanting to snorkel or dive
For divers all gear is available for your use at Walindi Dive Resort. I brought my own fins and mask and used Walindi's additional equipment, which is very well maintained.
Papua New Guineautilizes an Australian-style plug for all electricity (220 to 240) but the hotel will supply one. For recharging equipment I suggest purchasing an extra one or bring a Belkin's mini surge protector.Currently passengers are restricted to 35 lbs. of luggage, plus a carry-on, for domestic and charter flights.
FINAL THOUGHTS AND INFORMATION
Entry Visa for PNG are needed see the Embassy linkfor details.
CURRENCY
The Papua New Guinean Currency is the Kina. Currently 1 USD buys 2.73 Kina per XE.com. Currency exchange is available in Brisbane airport via Travelex at set rates. It is suggested to obtain some Kina for use at markets, but credit cards are accepted at some hotels. Always remember to notify your bank of your travel plans prior to departing.
INTERNET
Internet connectivity may be limited or in certain locations unavailable.
WATER
Water provided by hotels is safe for drinking. Many hosts for day trips provide bottled water.
TIPPING/GIFTING
Tipping is not commonplace in Papua New Guinea.
If you choose to bring products to gift to local communities, the following items are suggested:
Pens, pencils, chalk
Coloring books or blank notebooks
Children's storybooks
Text/reference books
Soap
Sporting equipment, e.g., tennis balls/soccer balls
VIDEO: http://www.youtube.com/watch?v=AU8p3DpqfBc&feature=player_embedded
WEB RESOURCES
Note: This trip was sponsored in part by PNG Tourism.